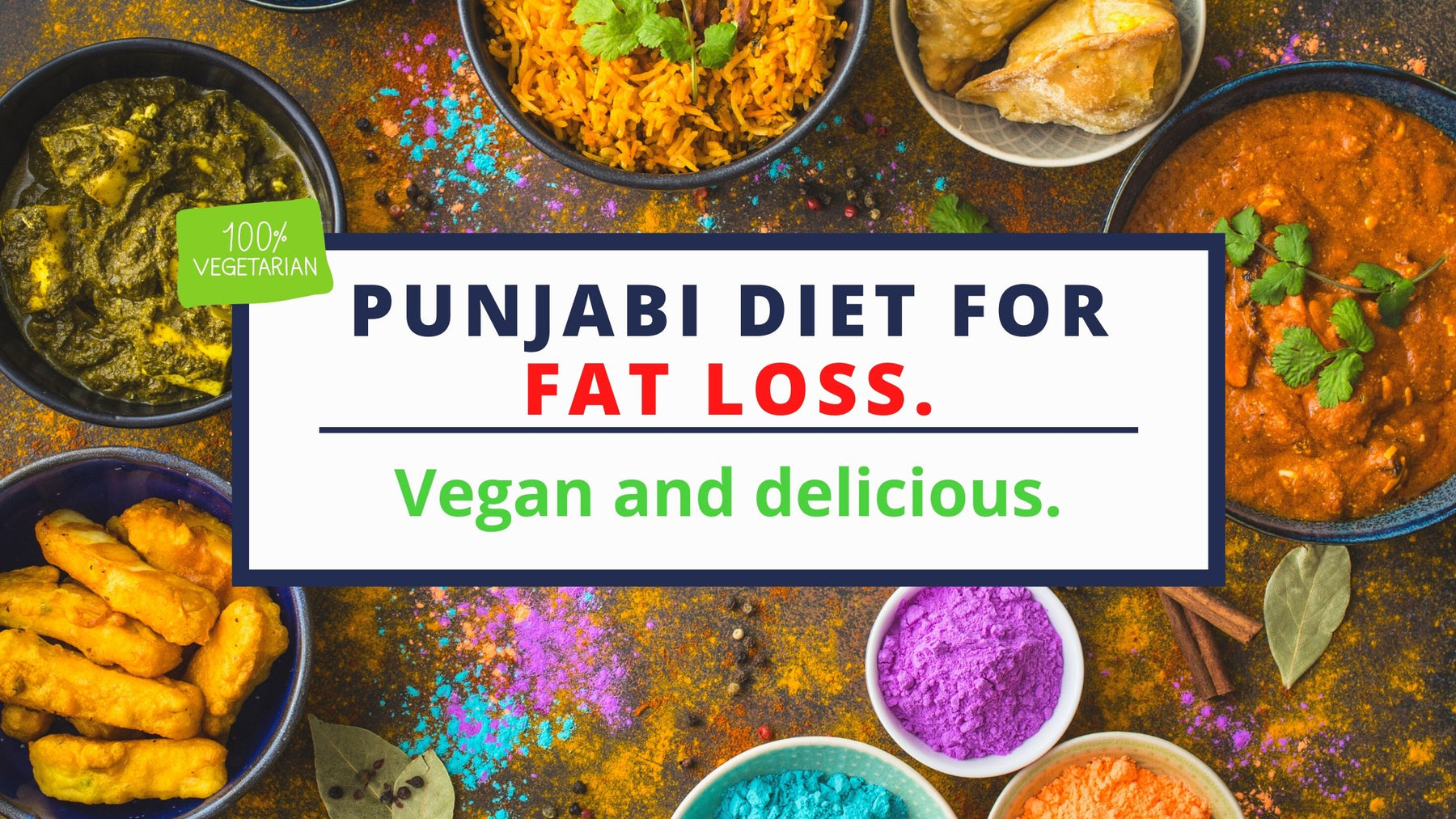 Healthy Punjabi Diet Plan For Weight Loss!

Can Punjabi food be tasty and still healthy?


Yes! I have included a sample meal plan at the end pf this blog to prove the same to you!
Full of life, robust and rich- these adjectives pretty much sum up Punjabi khana and Punjabis. As you know, the Punjabi menu is all about hearty spices, ingredients, and bold textures. The mere thought of the delicious cuisine makes us drool as we sit down to eat and enjoy a glass of chaanch or lassi. Well, that's Punjab for you!
The heart of India's seasonal abundance presents varieties of lip-smacking food. it is incomplete without the generous servings of milk, curd, butter (makkhan), and cream.
But, But, but, does the food that fills our hearts and tummies with happy hormones can make us shed kilos? Of course, it can. That is because Punjabi food is not confined to masala lassi, dal/paneer makhni and butter chicken.
I feel restaurants are to be blamed partially as they have glorified only the fat-laden foods of Punjabi cuisine.
Trust me when I say that Punjabi cuisine can actually be healthy too and excellent for fat loss.
Before we go any further, have you already watched my top three lifestyle tips for fat loss? Please watch the same first. Just making the below changes will help you lose 500- 600 calories daily without the need to 'diet'. Please pay close attention as we will be using these changes to help with your fat loss goals along with a detailed diet chart:
Cooking in clay pot's and tandoor's:


The food fiesta in Punjab involves items made in an open fire (tandoor) and clay pots. This is essential as it takes away the toxins coming in from cooking in non- stick or plastic. But even more important is that minerals and vitamins remain intact as you cook them. This is probably way the Golden Temple langar actually tastes sweeter than anywhere else.
It is important to choose the right marination that is low in oil's and ghee though. Not adding too much sodium (salt) is also important to keep blood pressure levels in check.
There is another aspect of the Punjabi cuisine that impresses me a lot. It is cooking in handis or clay pots. A strict Indian Punjabi diet involves food cooked in handis with retianed heat and moisture.
For instance, daal/sabzi, cooked in a handi retain sulphur, magnesium, iron, phosphorus and other compounds. Our body benefits from such food as clay pots balance the PH level of a food item. Hence the food has an alkaline nature rather than an acidic one.
Punjab is also known for the delicious pickles made from diverse veggies. And pickles made in less oil contain beneficial bacteria that reduce the digestion time.
Remember Punjabi food can be just as nutritious and low calorie, if you simplify it. How? With lots of pulses, less salt, spices, and minimal oil! Read on to know the facts I share about Punjabi food and its effectiveness for weight loss.
Local produce:


Punjab (the country's breadbasket) has good soil composition. It is thus regarded as one of the most prosperous Indian states. The high nitrogen content in the soil helps the state grow the best quality grains, lentils, and beans.
The chole (chickpeas) is low in calories and high in protein and fiber. It is one of the best sources of iron, magnesium, potassium, and folate. Therefore, this protein intake can help you lose weight faster. They also control intestinal microbial composition for good intestinal health.
Masoor dal (red lentils) has high polyphenol content that reduces the incidence of cancers, diabetes, obesity, and other diseases. It is rich in carbohydrates that make you feel full and slows down the digestion process; hence you lose weight.
Soya bean and kidney beans (rajma) enhance satiety and reduce hunger. They help you with weight loss as beans have significant amounts of fiber and a bunch of vitamins.
You can sprout these lentils and pulses for a healthy snack.
The "lentil effect" helps in weight loss. The lentil effect phenomenon says that adding lentils to any meals cuts its insulin spike not only for that meal but also for the next meal you have.
But why is over 40% of Punjab overweight?


More than 40 percent of Punjabi population is overweight. Under half of the population has a high risk of contracting diabetes and kidney ailments. The first-of-its-kind survey conducted by the Post Graduate Institute of Medical Education and Research and Punjab was a telltale one.
As per the study, 2/5 of the state has been found to be obese. More than 1/5th of Punjab's adult population had increased triglyceride level.
A shocking 96% consume less than recommended 5 servings of fruits and vegetables daily. What's worse? About 27 percent of people are alcoholics and regular drinkers!
What about punjabi food could be so bad though?


Punjabi food is all about Makhan (butter), ghee (clarified butter), paneer (a soft cottage cheese), dahi (yogurt), malai (cream), and lassi (buttermilk). Watch this to understand why this is harmful:
Most of the Punjabi food has an overindulgence of makkhan and ghee. Daal is incomplete without ghee ka Tarka in a Punjabi household. And a simple bread-like aloo ka paratha that can be made healthy, has a massive dollop of makhhan.
Do we really need ghee and milk for our health though? Absolutely not. Dairy consumption has been associated with elevated body fat, cholesterol and diabetes. Read the below article for more:
You see why you are on the other side of the weighing scale? The fastest solution to drop your weight is to ditch fad diet's, drop dairy and try a Vegan diet!
Fill your plates with bhindi ki sabzi, aloo gobhi, rajma and chole. Have missi roti, makai ki roti and sarso saag without makhhan of course!
If you miss desserts then avoid rasmalais, jalebis, and imartis. Rather go for fruit based desserts with nuts and seeds.
Why ditch the dairy and meat completely?


Because milk and

milk products trigger Type-1 diabetes

. The protein found in milk destroys the insulin-producing cells. It also may reduce autoimmunity development.
Dairy food is associated with infertility due to the sudden hormonal fluctuations in the body. Dairy cows are given estrogen and growth hormone injections and all of this makes its way into your body.
Paneer usually comes from artificially inseminated cows and has traces of pus and manure.
Meat coupled with dairy or separately causes cancer.

In fact, animal-based proteins increase tumor development. While plant-based proteins decrease tumors.
Dairy consumption has shown an increase in prostate cancer, rectal, breast, and colon cancer probability consistently.
And no, you do not become less of a foodie if your plate is missing generous amounts of butter chicken. Include cashew cream instead of dairy cream and nut milk instead of cow's milk. There are multiple options available if you look.
Without the dairy and meat, I have food that is as delicious as yours. In fact, mine tastes better ;)
Meat has no flavor. Have you ever tried eating raw meat? No right? But you do have raw moolis, mangoes, and mosambis? Do you get what I am talking about? Plants and plant-based foods are not just healthy, but each one of them has a distinct taste.
Annar (pomegranate) tastes different than anananas (pineapple)!
Therefore try to make a rainbow of fresh fruits and veggies. If you see anything growing on the trees, pluck it and eat it. Try every color and flavor from the plant kingdom.
Few points to note:
Limit oil consumption to less than 1 tbsp per day. Explore oil free cooking. Try and cook paratha's without oil.

No dairy at all, no exceptions. You can include dairy alternatives as mentioned below.

I insist you include 3- 5 servings of fruits per day and add a raw salad for lunch. Feel free to add an oil free salad dressing.

As long as you stick to a whole- food plant- based diet and make the lifestyle changes discussed in the video above, you do not need to restrict calories. Eat as much as you want without over stuffing yourself.

Include as many different types of veggies, fruits, grains, lentils and pulses as possible.
Where can I find dairy alternatives?


Today, more than 60% of Indians are buying non-meat based alternatives.
Try the almond milk over cow milk. I know you may not like it the very first time. Just like we find the store-bought Dahi weird tasting over our Ghar ka bana curd? We do right? But eventually you will enjoy it. You can use the same for chai and coffee. To make your own milk at home, check this video:
And if you are too fond of paneer, then try tofu. Swap a bowl of Matar paneer with matar tofu. It is a great source of protein and rich in all the 9 essential amino acids.
Tofu contains vitamin B1, zinc, copper, magnesium and rich in calcium, iron, and other minerals. It reduces bad cholesterol, helps you watch weight, and even prevents obesity.
Checkout this webpage for many other dairy alternatives including Vegan ghee, butter and cream.
Reach out to me for a customised meal plan that is guaranteed to give you results. Fill up the form below.
Let's Just Talk. No Obligations.
I do free consultations every Tuesday's and Thursday's. Either way you will get some actionable tips to reach your fitness goals faster.