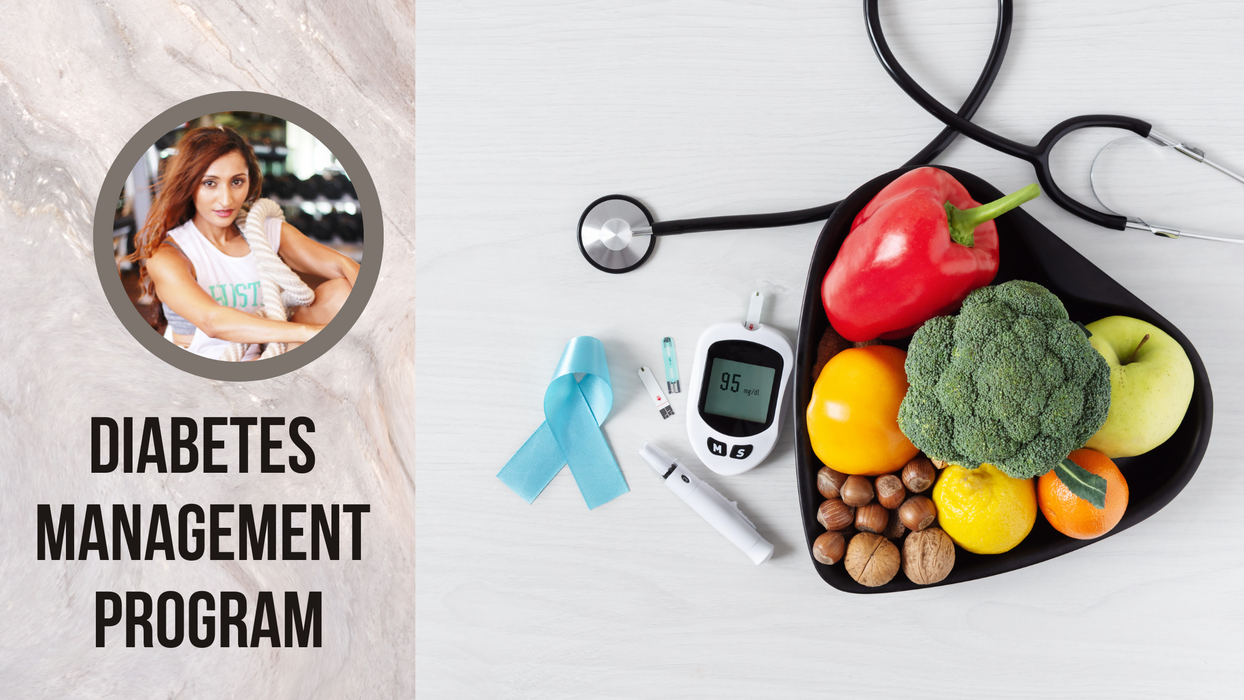 Diabetes Management Program
One in ten people globally is affected by Diabetes. India is globally known as the diabetes capital of the world. In fact, it is so common, that many people do not even think of reversal, but rather just accept it as is. 
But with lifestyle changes and a good nutrition plan, diabetes is not only preventable but also reversible. 

Note here, lifestyle changes come much before nutritional changes. 
So what exactly do you mean by 'lifestyle changes'?

Here is one example: 
Since the birth of the planet, people have been sleeping when the sun goes down and rising with the sun. We all have an in-built circadian clock, that determines the rise and fall of certain hormones in the body.
Now research shows that going off our natural sleep cycle even for a few days causes pre- diabetic markers for non-diabetic individuals. In fact diabetic patience who have bad sleep habits, have a 23% increase in insulin resistance and fasting blood glucose.  
Ironically, diabetes often comes with sleep apnea, making it harder for people to sleep restfully. 
So one (among 12) of the lifestyle changes that we will adopt is to develop specific strategies to help you sleep better. This itself (without nutritional changes) is enough to start seeing a difference. A nutrition plan is only an add-on benefit to see faster results. 
Through this program you will work alongside:
Roshni Sanghvi- Holistic Nutritionist and Lifestyle modification Specialist

Dr. Gurukrushna Mohapatra- R

enowned Diabetologist.



Neetu Thomas- Behavioral Analyst.

A Nutritionist and recipe creator.
Who is this program for?

This program is for anyone who wishes to:
Reverse/ reduce medicines for Type 2 diabetes.
Manage symptoms/ reduce medicines for Type 1 diabetes.
Manage geriatric diabetes.
Prevent diabetes (especially if you have a genetic predisposition).


What is the program structure like?
The program is divided into two parts:
1) Introduction to Lifestyle Changes: These are scientifically proven changes to help with diabetes management.
2) Accountability and Adoption Phase: Here we ensure to hand hold you so you never have to worry about the diseases coming back again. 
In the first six weeks, we will make 12 specific changes in your lifestyle that help you with disease management/ reversal.
Through years of education and experience, Roshni has hand-picked 12 specific changes she will walk you through pre-recorded videos. Your personal nutrition coach will further help incorporate them into your lifestyle. 
In the next phase, we will track your food diary more closely, assess weekly tests, and make sure your body is healing. Your medications will also start reducing in this phase. 
Will I have access to RS fitness and nutrition app?

Yes, you will have full access to the fitness/ nutrition app, including weekly lifestyle changes/ recipe videos/ daily motivational and educational content.
In the second part of the program, we will also be tracking your food diary on a weekly basis. The app also gives you 24/7 access to Roshni's private messenger so you are always connected. 

Does the program guarantee results?

Like any other program on this website, this program too guarantees you will be healthier than when you joined. While pre-diabetes and type- 2 diabetes can almost always be reversed, type-1 diabetes can be managed to a great extent, with minimal use of insulin. 

In most cases, our doctor will help clients get off medications, for some, we might only suggest reducing the medications and preventing future complications. 
Note here, this program focuses on 'lifestyle changes and not a temporary diet plan. Please do not join if you are looking for a 'quick temporary fix'. 


How often will I get to talk to Roshni?

One of the things we most pride in our organizations is the amount of individual attention our clients get from us. 
The client is made to stay accountable through the 12 weeks, especially since we make only two lifestyle changes per week, giving you ample time to make a change part of your lifestyle. 
You will have 24/7 access to Roshni and her team through the in-house app. You will additionally have weekly calls with the team and a bi-monthly progress call with Roshni or the Doctor.
What is the difference between a 12-week and a 12 month program?
For most people, a 12- week program works well as it educates and empowers you to change your lifestyle. All the education you need to help you reverse your disease is taught in the 12- week program. 
However, the year-long program will keep you accountable so you do not bounce back to your older habits. Most people do well when they have weekly accountability calls and someone to reach out to for motivation. 
Personally, I wish everyone would give us a year to work on their health goals, as it allows us to progress the program at a pace they are comfortable with. However, we understand people might have financial constraints, thus, have a 12- week plan available. 
Let's Just Talk. No Obligations.
I do free consultations every Tuesday's and Thursday's. Either way you will get some actionable tips to reach your fitness goals faster.