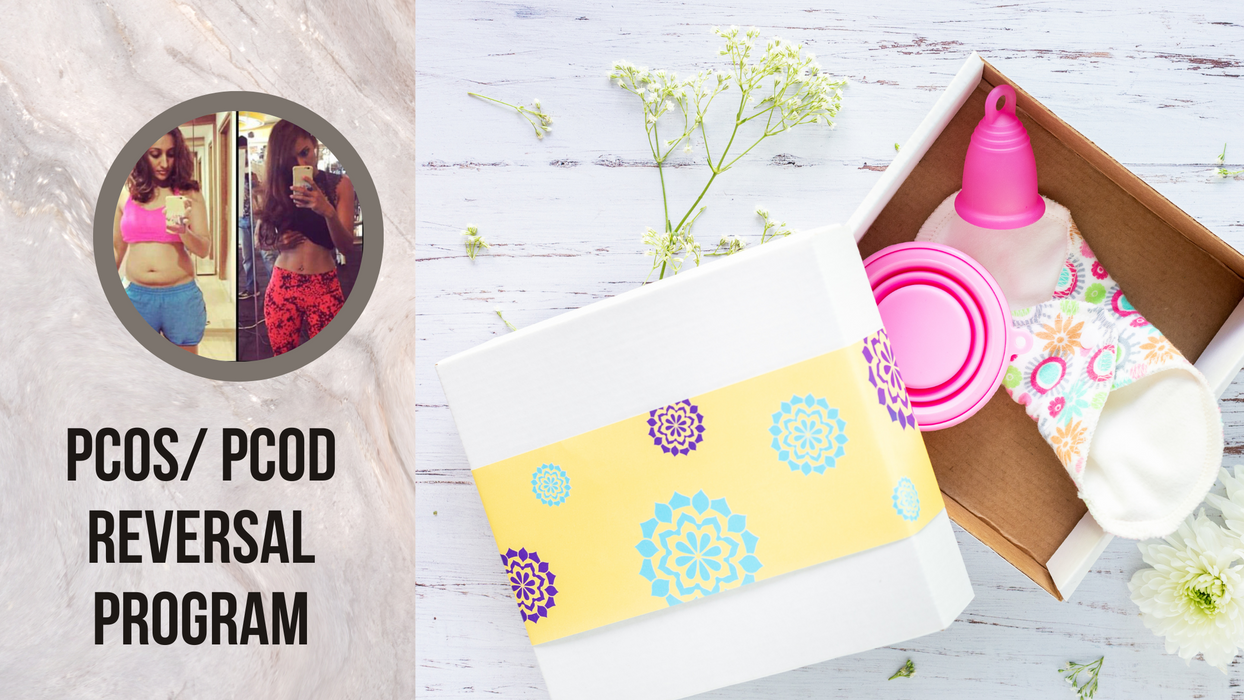 PCOS/ PCOD Reversal on an Indian diet.
Besides causing infertility and hormonal fluctuations, PCOS also increases the risk for various types of cancers. Whether the PCOS is due to blood glucose resistance or sex  hormone fluctuation, with structured lifestyle changes, PCOS symptoms can be reduced or even completely eliminated.
This program is a labour of my years of experience and expertise. I have handpicked 12 specific lifestyle changes that help you reverse your symptoms. Research shows that a low AGE, whole food plant- based nutrition plan is the best to help reverse PCOS. We follow the same through this program.
This program is geared towards lifestyle changes gradually made over the course of six- weeks to help you achieve the peak of health.
This program is to help you:
Educate
Besides being hand- held under the expert care of our gynaecologist and lead nutritionist, you will have access to 40 plus educational and motivational video's/ audio clips created by Roshni Sanghvi. These are short videos to motivate you every single week on your six- week journey to transformation and achieve better holistic health.
Modify
This step is crucial and personalised exclusively for PCOS management. We pick two lifestyle changes to work on every single week that specifically work on managing inflammation and oxidation, two major causes of PCOS symptoms in the body.
Eg: One important lifestyle changes for PCOS management is to get rid of 'hormone disrupting' products in your environment. The cookware you use, beauty products, air fresheners etc could actually be causing a hormonal havoc in your body. We provide a step by step guide to identify these and even give specific brand recommendations to switch to healthier alternatives.
Adopt
This is a time when you start making those modified lifestyle changes a permanent part of your life. Does that mean a very strict diet and exercise for the rest of your life? Absolutely not! Because we never went on a diet, you do not have to worry about sticking to one. We just made slow and consistent lifestyle changes and adopted them as part of you forever!
How do we monitor progress?
One of the reasons people love working with our team is access to experts from different fields under one roof. Besides weekly informative and motivational videos from Roshni herself, through your six- week journey, you will have access to:
A designated nutritionist.
A gynaecologist.
A psychologist (because we understand the importance of mental health and its impact on physical symptoms).
Live virtual fitness group training sessions (free access).
You will have a meeting calendar sent to you at the beginning of your program and weekly meetings set up to monitor your progress.
You will also have access to our low- AGE recipe cookbook with nearly 111 recipes dedicated to help with PCOS management.
Let's Just Talk. No Obligations.
I do free consultations every Tuesday's and Thursday's. Either way you will get some actionable tips to reach your fitness goals faster.