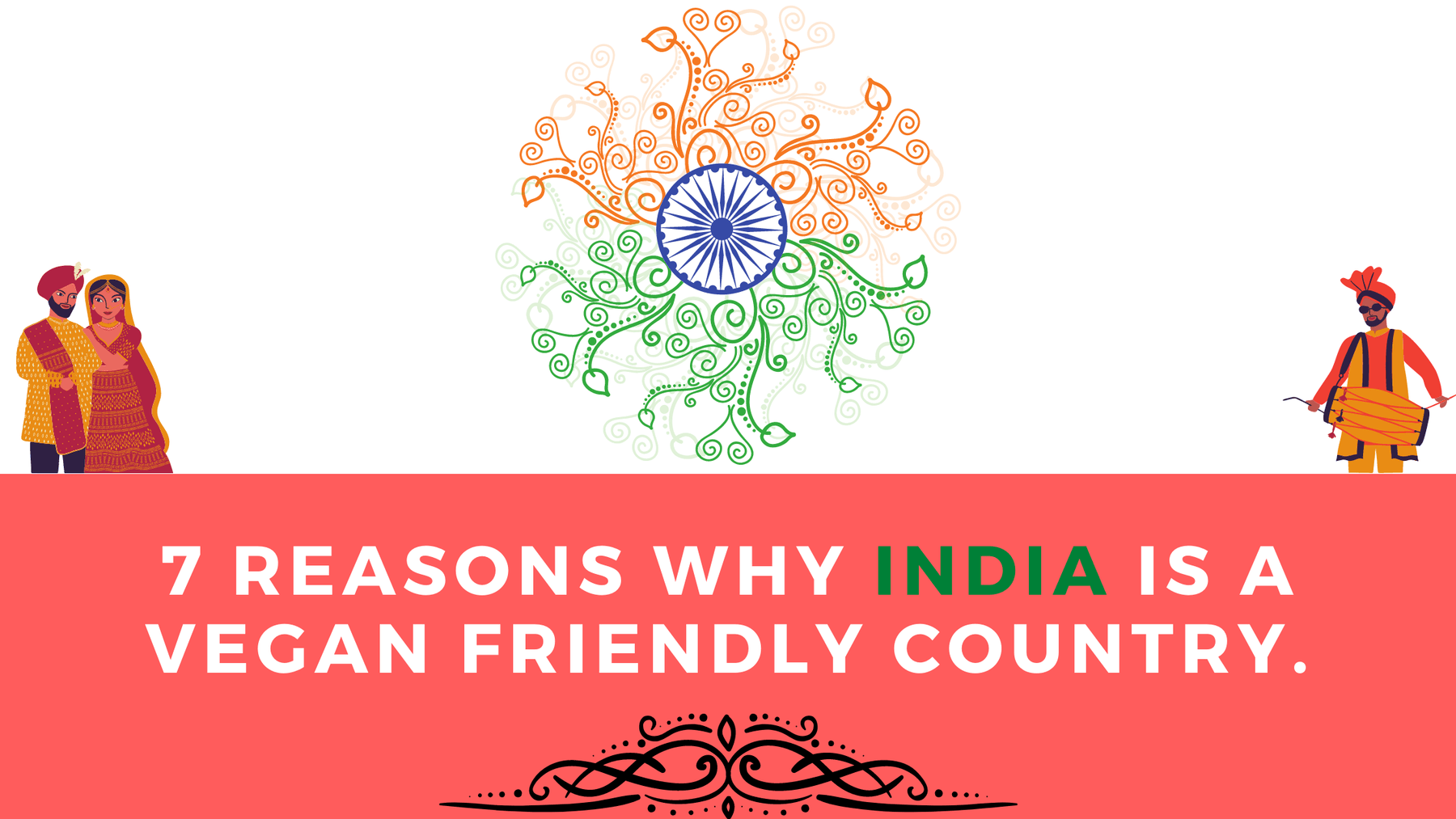 7 Reasons Why India is a Vegan-Friendly Country.

India is a foodie's paradise. And when I say a haven for foodies, I mean that it is the dream destination for any eater, vegans included. Though Indian vegetarian dishes are heavy on dairy products - curd, ghee-laden curries, lassis, and paneer dishes, India is a vegan's mecca. When you come to India, you realise how easy it is to customise meatless dishes that are vegan. That is because meat-free diets existed since time immemorial.
It should not come as a surprise to you when I say that there is extensive use of desi ghee in Indian cooking. However, coconut oil and mustard oil are perfect vegan replacements and ubiquitous in every Indian household. Besides, most street side vendors will happily avoid the ghee tadka or spoonful of cream on top of your dish, making it automatically vegan friendly.
Let's explore some of the reason this country is so vegan friendly.
1. Food diversity in every state.


India's diversity not only reflects in its multi-lingual and multi-religious people but also in the wide variety of cuisines that all Indians relish. Thus vegan food in India is no exception because it is equally diverse. You will find no flavour homogeneity when you travel from the north to the south or from the west to the east. But, the staggering wealth of flavours will surprise you. Checkout this blog I wrote about 51 different types of vegan foods:
When in the northern part of India, you can gorge on rajma chawal, aloo dum, chana masala with kulcha, mooli paratha, baigan bharta, and aloo paratha. Veganism is hardly a hassle in the southern part of India because pulses, cereals, and greens dominate the dishes. South India is itself a vegan paradise. Think sambar rice, idlis, appams, puttus, and the crispy masala dosas with coconut-based chutneys.
A good vegan meal in the western part of India comes with a touch of culture in it. The food options are unlimited and sumptuous. For instance Rajasthani cuisine, boasts of a never-ending platter of spicy starters, tangy drinks, and mouth-watering sabzis. You cannot miss out on the pyaaz ki kachori, the daal baati churma, the spicy gatte, and the Mirchi ke bade when in the desert state.
In Gujarat, you will come across the oldest Indian culinary treasures. The state has a unique cooking style and offers a variety of vegan dishes like chutneys, farsans, samosas, and undhiyus. You cannot miss out on the spongy dhoklas and the flavorful methi theplas.
Eastern and central India has equally popular vegan dishes to impress you. When in Bihar, you can try the sattu ke parathe, litti chokha, and daal pitha. And, if you are in the central part of India, then you cannot get enough of the deliciously delightful daal bafla and namkeen poha.
2. Ample street- side Vegan options.


Most people sigh at the scarcity of vegan options when dining out or at restaurants. In that case, it is high time that you acquaint yourself with everything from chole bhature to chaat. The Indian desi street food scene is commendable because there is an elaborate spread on offer every time. And, the good news- most of them are vegan by default besides being mostly nutritious. Try the inherently vegan puffed hollows called gol gappas filled with aloo, chana, sweet and sour tamarind water. You cannot go wrong with the spicy-sour-sweet bhel puri or the crunchy-crispy Sev puri. There are choices galore from the parathas to the aloo chaat, tikkis, kachori, and veg momos. You can greedily dig into any of the street-side foods without worrying about consuming milk solids.
3. India is the spice capital of the world.


Every Indian dish is a small flavour bubble because the spices used in the dishes have overriding importance. These spices have anti-inflammatory, anti-diabetic, and anti-proliferative effects. Thus they prevent you from cancer, arthritis, and other cardio-vascular diseases. For instance, turmeric (Haldi) is a universal ingredient that is added to every dish and is a source of curcumin. This spice is power-packed with anti-bacterial, anti-carcinogenic, anti-fungal, and antioxidant properties. The antioxidant properties of turmeric destroy cell-damaging free radicals.
Peppercorn (also called kali mirch or black pepper) is widely used in any vegan dish. It is known to balance your blood pressure, aid weight loss, and benefits diabetic people. Fenugreek is used in vegan Indian curries for the mild aroma it has. But, the spice helps improve eating disorders and reduces inflammation.
Saffron is used in many cashew-based gravies in Indian dishes. You must know that Kesar brings about a bright yellow color in your sauces and a mild aroma helps manage asthma. Nutmeg is used as one of the popular spices in Indian cuisine that detox liver and improves its texture.
Cinnamon is a part of the garam masala mix. It is quintessential in many dishes and is known for the anti-inflammatory properties. The spice mix also comprises cloves, cardamom, and bay leaves.
Meat by itself has no flavor, but get's its flavour from the spices added to marinate meat in. Marinating vegetables and dairy alternatives (such as seitan and tofu) is spices brings about authentic flavour and bold taste to Indian food without the need to include meat and dairy.
4. Traditional roots of India emphasises on a plant- based diet.

There is no other cuisine in the world that is so intricately associated with veganism as the Indian cuisine. The origin of vegan cuisine in India traces back to the time of Ayurveda that stressed on sattvic, rajasic and tamasic foods. The sattvic diet comprised pure foods high in energy or prana. And as per the yogis that practiced Ayurveda, only foods that had medicinal benefit and healing properties were to be consumed. Therefore, they advocated a vegan diet
that would keep the body's constitution balanced.
Another important thing to note about the Indian cuisine is that religion had a big role to play in it being vegan. That is because Hinduism along with its offshoots Jainism and Buddhism advocate non-violence (ahimsa). Jains follow an extremely strict code of diet. Check the below blog to know more:
This code also involves not eating vegetables with roots or bulbs because these two keep the plants alive. Most Buddhists consider killing animals as a wrong deed hence vegan food made its way. The Brahmins also did not eat meat because it was believed that Goddess Saraswati resided on the tongues. And that eating meat will drive her away. Hindus have shunned beef mainly because they revere cows. Hence, most Hindus are vegetarians by choice and mostly vegans by default. They ingest a balanced diet of grains, vegetables, and seasonal fruits.
5. Lot of South Indian food is vegan by default.


The savory specialties from South India are the various lentil delights and fermented rice. Therefore, the south Indian cuisine is called the global favourite with its sambhar rice, dosas idli, and puttus. A significant section of the south Indian cuisine is effortlessly vegan. This could be due to the abundant importance given to agriculture in this area or traditional vegetarian roots of the natives living in this area.
Try the podi idly's in Chennai or Mysore dosa's from Karnataka. You might have to request the server to avoid Ghee, but most of the dishes are vegan by default. Costal regions such as Kerela and Mangalore might be dominated with pescatarians, but you can still find coconut milk based curries and flavoured rice dishes that are vegan by default.
The southern Indian food is made from fermented batter, and you must know that fermentation boosts your gut health. It can be easily digested and also has a higher value of nutrition.
6. Availability of tropical fruits and vegetables throughout the year.


The ever so lovely tropical climate here permits the growth of exotic fruits. Prepare to find an impressive variety of citrus fruits, pineapples, bananas, and mangoes. Not only fresh fruits, but fruit chaat and coconut water stalls are a common sight on Indian streets.
If you crave snacks, you can easily snack on the deliciously crispy banana chips made from plantains and bananas. Another fruit that is popular as mock-meat in the world has to be the jackfruit that is eaten ripe, semi-ripe, or raw in vegetable curries. This fruit can be eaten dried, fried, and pickled. It is packed with minerals, Vitamin C, A, dietary fibers, and protein.
Coconut is another tropical fruit that is regarded as the vegan community's miracle food. They have the power to replace animal-based essentials like cream and butter in numerous recipes. The fruit is an eco-friendly and highly sustainable ingredient because people use all its parts. Refined oil from coconut is used for cooking because of its neutral aroma and taste. Coconut kernels are used to make coconut yogurt, and the milk from coconut is thickened to make the cream. This cream is added to desserts and traditional curries.
Prepare to be spoilt for choice when it comes to varieties of mangoes, plum's, custard apples and chikko (chocolate fruits!). I have been raised in India and am yet never surprised when I come across tropical fruits here that I have never before tried in my life. You will also find different types of fruits based on the part of India you are travelling in.
7. Number of growing startups investing in vegan business.


Many food-tech startups are investing in vegan businesses. More than sixty percent of Indian consumers are purchasing non-meat based alternatives regularly. Wegan Foods, for example, manufactures vegan cheese for commercial uses.
SAIN is another Delhi-based vegan startup that presents dairy-free almond milk while purecoindia. In has been making tandoori sausages made with mock meat, vegetables, and soy.
With an increased focus on wellness and health, veganism makes a bold mark into the Indian market scene. And several startups like Vegan Bites, Veganarke, and Cowvathi are cashing in on this grand opportunity.
Checkout my vegan fitness plan over here.

Let's Just Talk. No Obligations.
I do free consultations every Tuesday's and Thursday's. Either way you will get some actionable tips to reach your fitness goals faster.