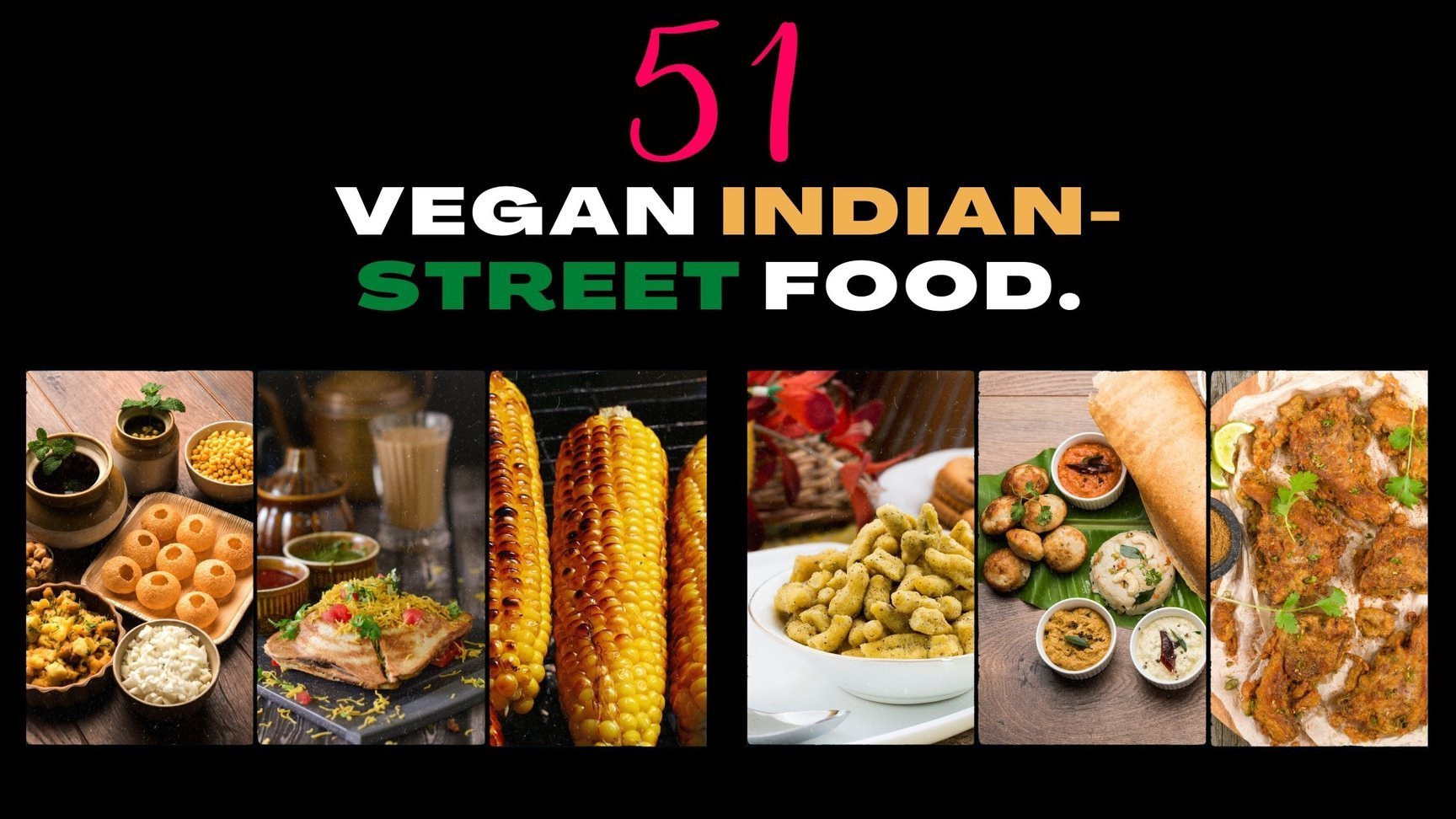 51 Indian Vegan Street Food
In all honesty, I live to eat! Food has always been central to my happiness, like most of us. Food is an emotion and much more than just nourishment. Overtime though, I have managed to reduce my cravings and distant myself from eating too much junk. But I still indulge in street food every once in a while. Who says you have to give up eating outdoors when you transition to a plant- based diet? Here is a list of 51 (among 100's) of food choices that have made its way to the Indian streets and cruelty free.
Comment below your favourite from the list or something I have missed so I can add it in!
Full disclosure, some of these items might have ghee/ butter, but can very well be customised to be made vegan. I have travelled a lot across the country and never have I had a problem customising vegan food. The local vendors are more than willing to ditch the ghee or cheese from top of my food and charge me the same cost for the dish.
1. Gol Gappa/Pani Puri.
It is known by different names in different places. However they're indisputable – puffed hollows loaded up with khatta-meetha tamarind water, channa and aloo. This dish is characteristically vegan and you can delve into it voraciously without agonising over milk solids!


2. Tikki Puri.
Tikki puri is a tempting vegan nibble or chaat with the fresh puris put on the plate, loaded up with ground carrots and onions and afterwards savoured with sweet and green chutneys as a garnish.

3. Sev Puri.
A firm, crunchy nibble with a melange of chutneys and flavours, and a little potato to make it additional filling. While it is intrinsically vegan, a few offer it up with dahi, so ensure you reveal to them you don't need any yoghurt on yours.

4. Bhel Puri.
Another delicious sweet n sour, hot bite, bhel puri has puffed rice, onion, two sorts of chutney and a strong sprinkling of coriander and lime. Another naturally vegan dish that hits the spot!
5. Bhutta.
A mid-year top pick, cooked natural corn is can be found on traffic intersections whenever in season. It's solid, scrumptious and unadulterated vegan!
6. Samosa Chaat.
Varieties like samosa chaat (crushed samosa with chutney and fixings), and samosa-pav are vegan – simply request that they hold the spread on that pav!

7. Dabeli.
Starting in Kutch, this one can be viewed as a cousin of the Mumbai top choice, vada-pav. Fiery potato blend is full into a pav, flame-broiled on a Tawa and finished off with sev and pomegranate seeds. The pav can be buttered, so ensure you request margarine free pav when you request - and look out for milk solids in the pav, much the same as with vada-pav.
8. Vada Pav.
Adored and savoured by a great many Indians and the late Anthony Bourdain with equivalent zeal, this fiery potato patty between bread is an actually vegan- you simply need to guarantee that the pav doesn't contain milk solids.

9. Aloo Tikki.
This is firm potato-ey goodness. Aloo Tikki and aloo chaat (cubed and singed aloo threw in fiery chutney) are both naturally vegan, so no concerns here!

10. Chole Bhature.
Street food in Delhi and Punjab isn't finished without notice of this work of art, and it's one of those widespread top picks that can be found over India. This current one's a prepared vegan dish, standing by to be tucked into!

11. Paratha.
A parantha is in fact vegan– the spread plays spoilsport. Furthermore, obviously, the filling. Simply ask your parantha Wala to keep away from butter and eat yours with a side of onion or pickle rather than dahi and cheese. While numerous slows down to serve up paneer, eggs and cheddar paranthas, there are significantly more vegetarian fillings to browse, as aloo, onion-tomato, radish, peas, gobi and some more! Along these lines, remember this and appreciate a healthy and filling vegan nibble.
12. Kachori.
A fresh plate formed dumpling that is singed and loaded down with flavours and lentils or vegetables. This as well is normally vegan so you can get it with your eyes shut!
13. Samosa.
Who doesn't adore a decent samosa? Firm outwardly and loaded up with zesty aloo and veggies inside, it's an incredible jolt of energy when you're feeling hungry and need something that is filling.
14. Pav Bhaaji.
A zesty veggie sauce with some pillowy pav as an afterthought. Pav bhaji is infamous for enormous gobs of butter, so you have to tell them that you might want yours without. Also, similar to the two things before this, search for plain pav that doesn't contain milk solids.

15. Ghugni Chaat.
A Bengali road food staple, ghugni chaat comprises of a soupy curry made of dried yellow peas, that is served as a chaat, with chutneys and trimmings.

16. Jhal Muri.
Another pillar of the roads of Kolkata, jhal muri is a zesty puffed rice tidbit that comprises of puffed rice, crude mustard oil and flavours. Normally vegan and a sheltered alternative!

17. Veg Kathi Roll.
Kolkata is notable for rolls – and on the off chance that you pick a veg move, at that point, you've picked yourself a compact vegan nibble! Simply make certain there's no egg in the roll or player.

18. Veg Momos.
Momos come in various shapes and sizes, however, the uplifting news is, veg momos end up being normally vegan, as well! What's more, since they're steamed, they can be a solid and filling nibble.

19. Ram Laddoo/Dal Pakore.
Known by various names, these lentil squanders are firm, delicate and feathery within and presented with green chutney. They're additionally normally vegetarian, making for a protein-pressed lunchtime nibble.

20. Onion Pakora.
We as a whole romanticize chai-pakora on a blustery evening, yet these onion rings singed in chickpea flour player are extraordinary in any climate, and end up being vegan as well!

21. Chilli Bhajji.
Mirch ka pakora in Delhi, Mirchi bhaji in Mumbai, Chilli Bhajji in Karnataka and mulagu bajji in Kerala, these are like onion pakora and comprise of entire chillies dunked in a chickpea flour player and broiled. They are vegan, so you can indiscriminately eat them.

22. Banana Fritters.
A well-known break time nibble in Kerala, this comprises of ready plantain/banana cuts that have been plunged in a basic maida and southern style. Likewise called "pazham pori" or "ethakya appam," ensure you check it out when you visit God's Own Country.

23. Sabudana Vada.
Another Maharashtrian top pick, these are made of custard pearls and potatoes and a couple of basic flavours. Once more, a normally vegan nibble. A few spots pair the vada with an improved curd, so request yours without it.

24. Poori Bhaji.
Likely the nearest thing that comes to skillet Indian solace food, there is a wide range of varieties of this dish – from dry aloo sabzi to spicier renditions in a tomato "rassa"; from enormous pooris to minuscule ones, every district has an extraordinary method of setting it up. In any case, they are an all-vegan lover dish!

25. Medu Vada.
Additionally called uzhunu vada in Kerala, these are singed, spiced urad dal fritters with no hint of ghee or butter. Dive in!

26. Dosa.
What used to be a morning meal staple in Southern India has now developed to turn into a top pick for Indians all over the nation, whatever time of day. Plain dosas are vegetarian – lentil and rice player made into a crepe with oil – yet ghee and butter dish dosas are regular on menus all over the place. Avoid the ghee assortments and you're all set!

27. Idli.
Produced using a similar player as dosa, idlis are aged and steamed, making them a more beneficial partner to the fresh dosa. Without butter and ghee, these light dumplings are vegan – and delicious for sure! Make the most of yours with some sambar and chutney.

28. Parippu Vada.
You may locate these marked "dal vada" in certain menus. They are like medu vada, yet produced using a mix of urad, moong and chana dal and are presented with coconut chutney. Varieties incorporate "rasam vada," where the vada is lowered in quite hot zesty rasam. Check it out in the event that you get an opportunity.
29. Maddur Vada.
A fresh vegan tidbit or rotisserie patties from the Karnataka cooking or south Indian food. The name of this vegetarian dish i.e Maddur is based out of city/town which lies among Bangalore and Mysore.

30. Dhokla.
Dhokla is a mainstream Gujarati nibble, a steamed and aged cake produced using gram flour and flavours. Light, cushioned and mildly tart and sweet, this is an extraordinary nibble for any season of day that preferences incredible with chutney.

31. Ragda Pattice.
Famous in Gujarat and Maharashtra, this dish comprises of a "ragda" or sauce produced using dried white peas, and potato patties or "pattice", decorated with coriander, onions and green chutney. Another that is normally vegan, scrumptious and filling!

32. Unniyappam.
Another nibble from Kerala, these are sweet seared dumplings produced using banana, coconut, ground rice, jaggery and flavours. Since the wads of batter are singed in coconut oil, the dish is without ghee and normally vegan.

33. Jalebi.
Indeed, jalebis are vegan! At its base, a jalebi is a loop produced using wheat flour that is deep-fried and splashed in sugar syrup. Particularly vegan! Varieties incorporate imarti, which is a thicker form of the jalebi found in Varanasi.

34. Tawa Pulao.
Rice, veggies, dry foods grown from the ground flavours - that is the thing that makes a pulao stick out, and totally vegan. Pulaos come in numerous assortments across India, and practically every one of them is vegan friendly. What's more, that is the reason each vegan must attempt some Tawa pulao for a dinner.

36. Bread Pakora.
Bread Pakora is Indian road food at its most great best. It is actually what it seems like - bread loaded down with a chatpata (lively) combination of potatoes and chutneys, at that point dunked in a pakora player and singed to brilliant, dissolve in-the-mouth crunchiness. It's a gathering for your mouth.

37. Veg Frankie.
A Vegetable Frankie is heavenly road food from Mumbai, with a flaky, firm wrap liquefies in your mouth. Delectable spinach and tofu filling and it's altogether eggless and vegan.

38. Veg Manchurian.
Veg Manchurian is an addictive Indo-Chinese dish made with wisps of vegetables framed into dumplings and dunked into a sauce that detonates with hot, sweet, sharp and pungent flavours. It's a dish you'll be getting yourself over and over. Vegan, sans nut and can be sans gluten.
39. Gathiya- Chutney.
Gathiya chutney is one of the most beneficial and frequently joined with a lot of dishes in India. Regardless of whether you cause a sandwich, to eat it with thepla, or use it to chaats, it adds a hot tangy flavour to your dish. It is entirely vegan!
40. Poha.
A famous dish across Maharashtra and different pieces of focal and north India, this dish is vegan– beaten rice drops sautéed with flavours. Varieties incorporate khanda (onion) poha and batata poha (with potatoes).
41. Misal Pav.
This Maharashtrian dish of fledgelings curry with puffy pav is a morning meal staple. It's additionally pretty solid and contains no dairy or creature items. Win!
42. Aalo sandwich.
Potato sandwich is a basic and heavenly street food choice which can be made with some mashed potatoes. These are vegan friendly on the off chance that you don't utilize any butter and cheese, but smear some olive oil for cooking and toasting it. You will adore these sandwiches in the event that you love potatoes and make it as hot as you need!

43. Akki roti.
A
beautiful cross between a fritter and flatbread. It is the perfect vegan dish in which vegetables are infused into the rice bread! Just make sure yours is without ghee!

44. Thupka Soup.
Thukpa is a hot noodle soup. It is commonly made utilizing vegetables. The most well-known vegetables utilized in this are mushrooms, cabbage and onion. This works out in a good way in the chilly climate of the Northeastern states, nonetheless, soup can be appreciated in any season. Since Noodles are added to this soup it turns into a total supper in itself.

45. Ice Gola.
With regards to summer coolers, squashed ice lolly or ice gola beat out everyone else. This dazzling summer extraordinary delicacy is an Indian road food claim to fame and is completely vegan. The delight of slurping on a flavourful ice gola in intense warmth is most valuable.

46. Soy chaap.
Soya chaap is improved with protein and is similarly enticing to eat. This pleasure is an unadulterated vegan dish and yet is viewed as comparable to non-vegan dishes. it is ordinarily set up with skewers on oven or mud stove.

47. Chow mein.
Chow Mein is a Chinese sautéed noodles dish that is made both with and without meat. Chow implies sautéed and Mein implies noodles. Make sure yours is completely vegan by asking for a vegetable chow mein.
It's well known in India and a ton of different nations as well, and the greater part of them have a local form of this flavorful noodle dish.

48. Spring Roll.
Vegetable spring rolls is an Indo Chinese street food which is deep-fried rolls filled with cabbage and other vegetables. They are completely vegan!

49. Fruit chaat.
This is a Delhi style scrumptious fruit chaat which is spiced, flavorful, sweet and tart and vegan too! Fruit chaat is made of a blend of new occasional foods grown from the ground like potatoes and yams. The foods grown from the ground are blended in with chaat masala and some more Indian flavours. Accordingly, the fruits hold their pleasantness but are zesty and tart to taste.

50. Mysore Bonda.
These are crispy, fried, fluffy vegan snacks! Bondas are made with potato or mixed vegetable stuffings. Served with hot spicy chutney, these are typically found in Karnataka & Andhra tiffin rooms!

51. Obbattu/Puran Poli.
Obbattu, otherwise called Obbattu Saaru, Holige and Bele Obbattu, this flavorful flatbread is an ideal equilibrium of sweet and appetizing. Obbattu is a conventional flatbread which appreciates ubiquity in Karnataka, Maharashtra, Gujarat and Goa. It for the most part has a sweet filling inside and is stacked with delightful flavours to savour. This South Indian formula alongside its satisfying flavours would be abundantly valued by anyone who ended up having a sweet tooth. This sweet dish is very mainstream across India and is referred to by a few names, for example, Puran Poli, Holige, Bobbatu or Bobbatlu. For a completely vegan Obbattu, make sure it is served without ghee!


Can you think of anything I might have missed? Comment below and let me know.



Let's Just Talk. No Obligations.
I do free consultations every Tuesday's and Thursday's. Either way you will get some actionable tips to reach your fitness goals faster.