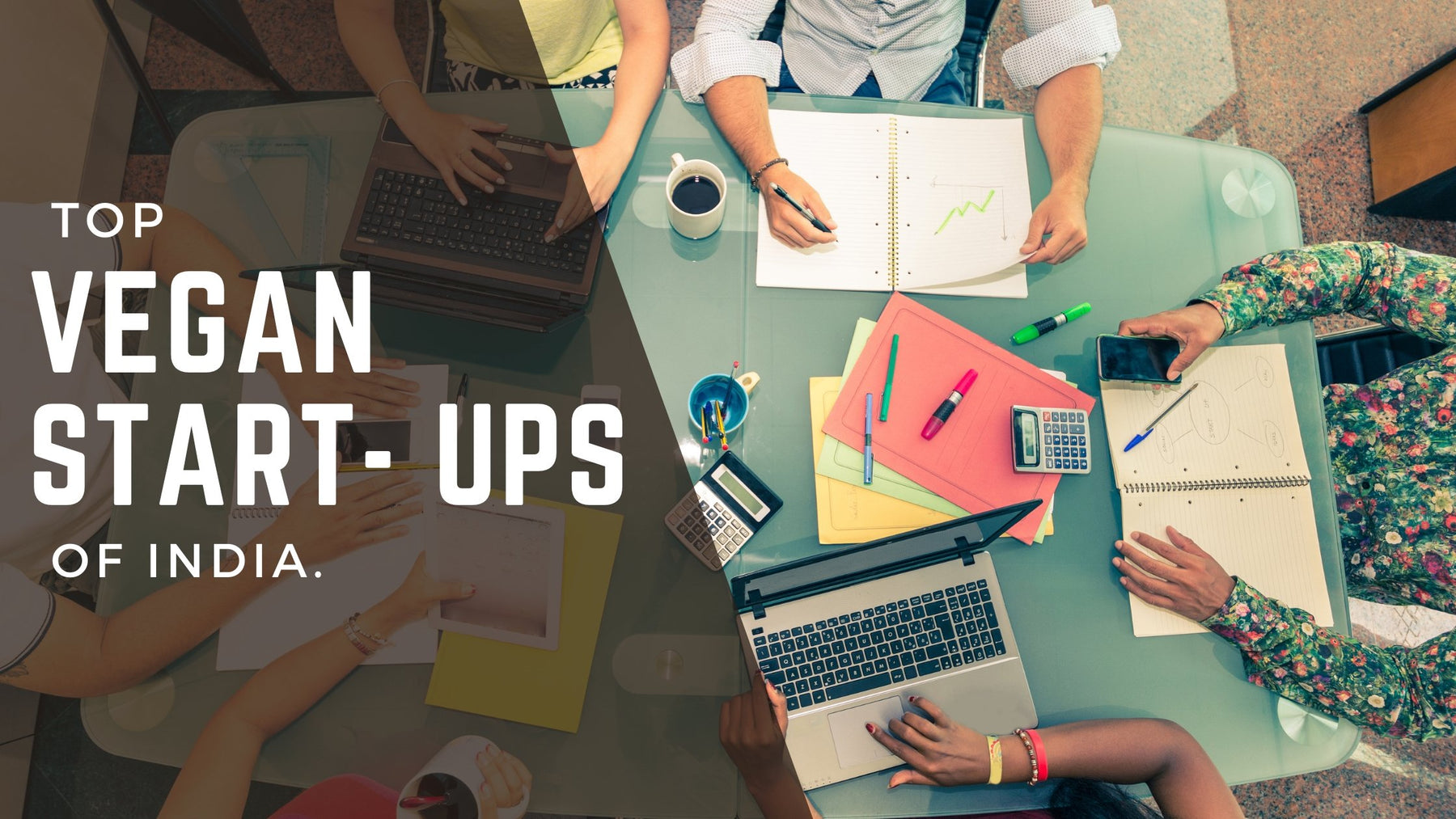 Top Vegan Startups in India
Table Of Content
Needless to say, Veganism is growing it's mark in India and here to stay. A decade ago, even executive chef's of some of the most prominent restaurants of the country were not aware about Veganism, but now, we see even street vendors aware about vegan foods.
Vegan start- up's are growing and making an impact, not only to the thousands of animals spared every year, but also reducing the carbon footprint not the environment. I am truly proud of the difference we have made as a consumer by promoting these brands and also as a brand owner myself, making Veganism accessible to the everyday public.
So let's take a look at the startups which are leading the changes in this revolution that the future generation will thank us for.
It is a plant-based meat startup founded by Abhishek Sinha, Deepak Parihar, Stephanie Downs, Shruti Sonali and Taranum Bhatia. Good Dot launched India's first vegan chicken alternative. They make all their products by using plant protein ingredients like soya, wheat protein and pea.
GoodDot also opened a vegan kiosk chain in Udaipur in Mumbaia and Udaipur under the name GoodDo . The main mission of GoodDo is to popularise vegan food by serving dishes that are prepared using Good Dot's mock meat. Some of their most popular dishes include curry bowls, chicken tikka and biryani.
This is India's leading and first plant-based egg startup founded by Shraddha Bhansali and Kartik Dixit. They make use of plant biochemistry and food science for developing an egg alternative that is vegan.
Evo Food is a Mumbai-based startup that makes 100% plant-based liquid eggs by extracting protein from lentils, which is devoid of any kind of antibiotics or cholesterol. Eva foods egg mix is used in many restaurants across the country.
This vegan startup was founded by Rupinder and Simarjeet Singh with its headquarters in Gurgaon. The aim of Mister Veg is to create nutritious plant-based and cruelty-free meat and seafood alternatives. They provide the Indian market with affordable and shelf-stable meat alternatives.
They are also the first ever company to start mock pomfret fish for vegans, something unheard of int he plant- based space. Mister Veg also boasts of using no preservatives at all to make their products.
This is a Bangalore based vegan startup founded by Abhay Rangan in 2017. From buttermilk, to cheese, to curds, if you can dream any dairy alternative, this company has it!
With a total $1.4 M in funding, this brand is taking every right step to make its mark globally. You can easily order their products on Big Basket or on their own website. If you are looking for subscription model's, they have that too!
This vegan startup was founded by Anusha Patel in 2018. It is a creamery brand that produces 100% natural and plant-based cheese.
This Mumbai based startup produces different varieties of cheese made with coconut oil and cashew milk. The product line of Soft Spot Food includes cheddar, parmesan, spread and mozzarella cheese. Soft Spot is making a presence in leading grocery stores across the globe, including Natures Basket and Food Hall.
Available in your nearest retail store, this startup will get you addicted to vegan sports supplements. Founded in 2017, PlantByte is a Bangalore based startup that aims to prove that plant based and natural foods are suitable for people with an active lifestyle, with a focus on uplifting people's health while protecting the planet.
Their main product is STRIVE, a vegan protein shake beverage that comes in several flavours, which is made with pea protein as its primary ingredient.
STRIVE is popular around the vegan athlete community in India and ever growing!
This Delhi based vegan startup offers fresh almond milk products. The almond milk of Sain is available in different flavours which includes vanilla, cocoa and cardamom. You can order all their products directly from their website.
Sheena and Tarun Jain, founders of Sain started with a simple mission to make plant milk accessible to Indian homes. They commit to only using the highest quality of ingredients.
This vegan startup was founded by Rahul Dewan in 2019. This startup also focuses on providing 100% plant-based alternatives to food items like meat, dairy and egg.
They started their line of products with vegetarian egg powder (that can be mixed with water to make eggs) and have not moved into meat alternatives.
This is a plant-based food brand founded by Kannan Krishnamoorthy, Dinesh Jain and Gaurav Sharma. The product line of GREENEST includes kebabs, burger patties, meatballs and keemas made of soy proteins. All their vegan protein products contain no preservatives, additives or artificial flavours.
The company was founded keeping in mind the protein requirements for people switching to a plant centric diet. They hope to provide a healthy alternative to vegans and vegetarians.
This startup is based out of Delhi and produces ready to cook vegan meat products. Their meat alternative products are made from wheat and soy protein. You will also find soya kabab and seekh kabab in their product lineup which is amazing.
The company is also a large supplier and distributor of soy products in India. Through their chain of ready- to- eat products, they intend to provide a cost- efficient, yet healthy alternative to their clientele.
This startup is based in Davangere and is dedicated to extracting functional proteins from ancient Indian crops to supply the plant-based companies and also boost the income of farmers. This startup is extracting proteins from a plant called horse gram.
Devigere Biosolutions is also India's first B2B set up, working to popularise extracting plant proteins directly from Indian Pulses.
Pawan Dhar and Siddharth Manvati have founded this vegan startup which is India's cultivated meat company that grows eco-friendly and slaughter-free animal meat. It truly is something from a Si- Fi movie and futuristic. Unlike using plant- based alternatives like wheat, soy or lentils, Clear Meat actually grown their meat in a lab from a single sell.
The first product of this company was lab-grown chicken keema for which it has already received orders from B2B chains in Turkey, Israel and of course India.
It is a plant-based cheese startup in Bangalore which offers vegan cheddar, mozzarella, cream cheese and cheese shreds. They make their products from potato starch, vegan natural flavours and refined coconut oil.
The best product from their line though is vegan ghee. The company has done a good job mimicking the taste and feel of dairy ghee for a cruelty free option.
This startup was founded by two lactose intolerant individuals with a dream of providing healthy and tasty alternatives to dairy products.
Their product line is simple, creamy, frothy and delicious oat milk ready to drink out of the bottle. Producing oat milk uses 80% less land, thus, is also an environmental friendly option.
This is a plant-based food tech company that focuses on making meat alternatives that are made from 100% plant proteins. It is also one of the few brands that have vegan mutton in its product lineup. Apart from that you will find vegan chicken, keema and burger patties in Imagine Meat.
Imagine meats was started by the bollywood power duo Ritesh and Genelia. Their product range created quite the buzz in B- Town.
This is a Mumbai-based vegan ice cream brand that uses only natural ingredients in its ice creams. They use dates instead of sugar to sweeten their ice creams. They have eight permanent flavours and some seasonal flavours of ice cream.
You will see this brand pop- up in various vegan food festivals, e- comers sites and even some supermarkets. They have expanded from Mumbai and now serve in various places across the nation. Vegan Heart is all set for national dominance.
This brand is known not just for the organic and eco-friendly ingredients used in the products but also for sustainable practices and plastic-free packaging. As a result, you will find refillable and reusable lipsticks, mascaras, concealers, among other products.
This luxury make- up brand has advisors like Clover Wootton, international make up artist and Anjali Gopalan, animal right's activist. Their philosophy is beauty without cruelty and are growing as we speak.
It is the first Indian makeup brand that challenges the conventional definition of beauty. All their products are made of natural ingredients and are aimed towards the regular people. There is also the option of customising some of their products according to your needs.
Disguise is the brain baby of three scientists, Desiree Pereira, Shivangi Shah and Lakshay Mohendroo, who wish to make beauty affordable and inclusive. They started with a line of lipsticks and have soon grown into eye make- up and even serum oil's for skin.
It is India's first farm to face beauty brands. They bring you 100% natural, pure and effective hair and skincare solutions. They don't use any chemicals or preservatives to make their products.
The company started with an operating revenue of just under 1 cr, but heir net worth on books has grown by unto 89% as you read this.
This brand believes in eco-friendly and safe skincare. Because of this reason, all their products are made from ingredients that are personally handpicked so that they retain their natural properties. In addition, they are zero-waste, plastic-free and non-toxic.
The business is valued at 200 cr now, averaging about 25000 orders per month. Earth Rhythm was started by Harini Sivakumar, who was a home maker before wearing her entrepreneurial shoes.
This is a modern beauty brand thoroughly inspired by Ayurveda. It's a lineup of beauty products consisting of pure and ayurvedic formulas that are result-driven. All their products are made from handpicked ingredients from Indian soil.
Amrita Varshini, who started The Tribal concept inspired by skincare recipes from her mom has been featured by The Business world and various other prestigious platforms.
Are we missing something? Let us know in comments.
Let's Just Talk. No Obligations.
I do free consultations every Tuesday's and Thursday's. Either way you will get some actionable tips to reach your fitness goals faster.