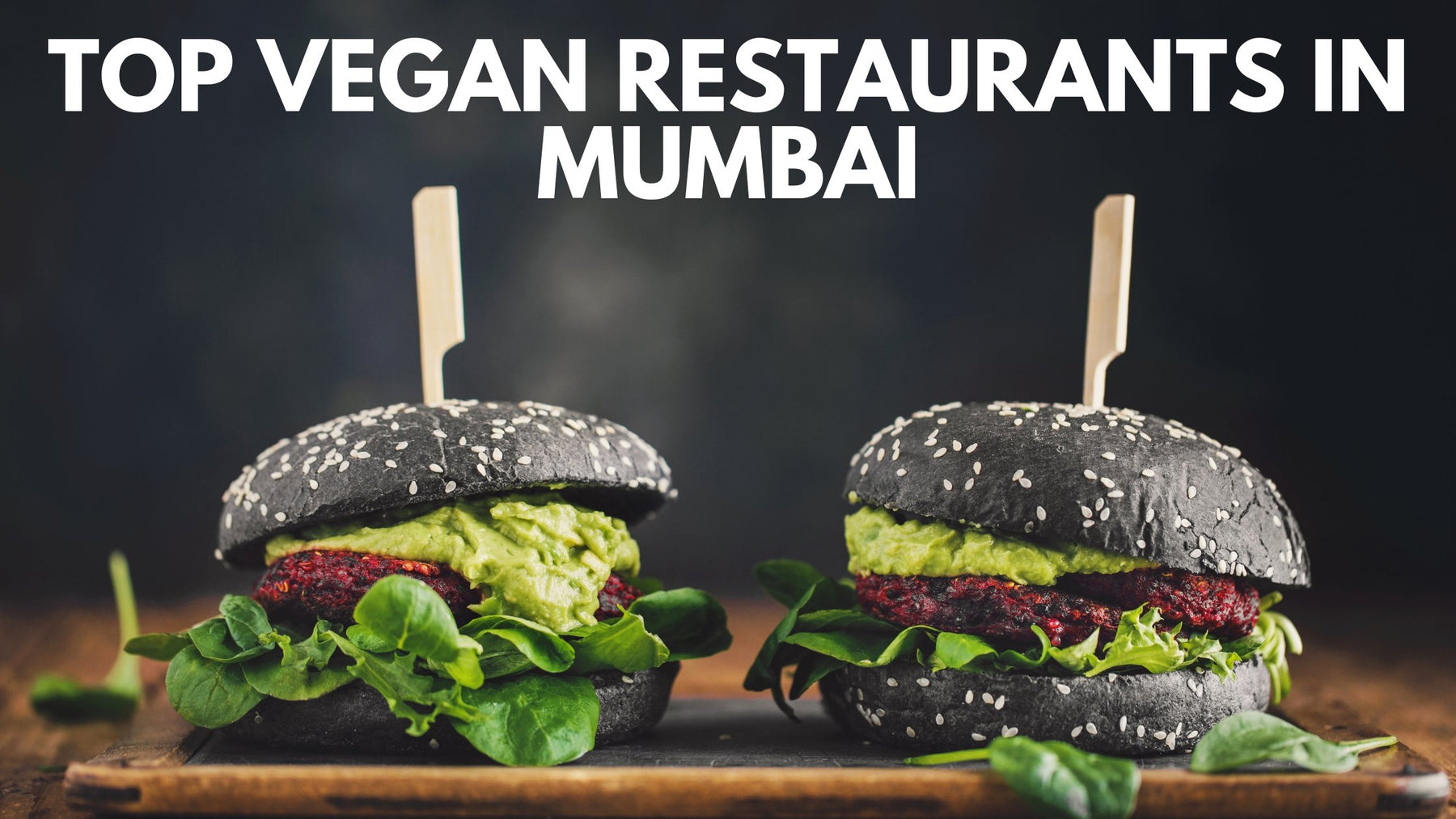 Top 15 Vegan Restaurants In Mumbai
Table Of Content
Are you bored with the same vegan food?
Here's a list of mouth-watering Top 10 Vegan Restaurants in Mumbai you must try right now.
You will fall in love with Mumbai, irrespective of the reason you are here. Maybe just for a glimpse into the glamorous Bollywood industry, hopping the beautiful and enchanting Elephanta Island, visiting the Gateway of India, or simply enjoying the chaos of city life, it is simply a mesmerizing city or, as you call it, "a city of dreams".
A few years ago, finding vegan-friendly restaurants would have been nearly impossible, but that has now changed with the growing vegan trend and conscious eating habits.
Presently, we have a few cafés reclassifying the idea of eating tasty and vibrant vegan food, which are surprisingly also healthy. So, if you are a vegan living or visiting Mumbai, there's much to cheer for.
Even non-veg lovers should accept that delicious vegan food prepared at these vegan restaurants would be more satisfying than 'Chicken Biryani' or kebabs. So if you are a vegan or want to try vegan food, here is the list of my favourite top 12 vegan restaurants across the cosmopolitan city. So here I am with a long list of the top 12 vegan restaurants in Mumbai.
1. EARTHLINGS CAFE:
I love how it is named! Earthlings Cafe had been crowned with 'India's Best Vegan Restaurant' by none other than PETA India. This cafe is a 100% vegan eatery for all earthlings. They offer a variety of dishes from American and Italian cuisines. The café has a very cosy vibe, and its menu is full of mock meat and dairy-free cheese.
Their food items vary from salads to nuggets to pizzas with dairy-free ingredients and many mock meat options. Their best-selling items are 'Shawarma salad,' 'basil pesto,' and many more. It is a great place to satisfy your vegan soul with great ambience and food.
Address - 12 Sterlings CHS, Sundervan Complex, Mumbai, Maharashtra 400053
2. IMAGINE CAFE:
Located in the Central suburbs, Imagine Cafe is another 100% vegan restaurant. This cafe is a quaint little all-vegan restaurant in Central Mumbai with Lebanese, Italian cuisines and fast foods.
The Imagine Cafe has a simple decoration with minimal yet bright colour-blocked walls, booths, and tables. Then they have a vertical garden that brings life to the decor. If you are a curious non-vegetarian, then this is the chance you have to try their mock meats, namely the 'unMutton.'
After many trials and errors in the kitchen, they have come up with their own tasty and healthy version of vegan dairy products!
Imagine Cafe is famous for its pasta, salads, pizzas, hot chocolate, burgers, and mozzarella sticks! So if you are looking for an authentic and delicious vegan experience, this is the ideal place!
Address - Bhandup Village Rd Industrial Area Bhandup West Shop G61 at R Galleria Runwal Greens, Mumbai, Maharashtra 400078
3. RARE EARTH CAFE:
Located in Khar, Rare Earth is a multicuisine restaurant and one of the first vegan restaurants in the city. But, do you know the best part? It is also known to be one of the first all-vegan stores! So, it is like a vegan paradise in Mumbai.
This cafe is a precious open space with cosy and positive vibes. Do you know it's a celebs favourite spot, too! I'm sure you will love this little cafe to spend some quality time and enjoy a hearty vegan meal.
'Avocado Sandwich,' 'Vegan Burger,' and 'Vegan Keema pav' are some of the dishes on their extensive menu. It sounds like a perfect place for all vegans to satisfy hunger pangs and do some organic shopping.
Address - Sethi Nivas, Opp. Bharat co-op bank, behind Parmar tailors, Mumbai, Maharashtra 400052
4. BOMBAY SALAD:
Another healthy eating place in Bandra West for vegans is Bombay Salad Co. The menu ranges from fresh salads, wraps, smoothies, sandwiches, and an excellent variety of juices. They are even aware of vegan food and will customize your plate according to your needs.
I tried their 'Yogi Salad' and their 'Vegan Chocolate Sorbet' that tasted fine. Bombay Salad brags a lot about its super healthy menu and has gained popularity for its 'Breakfast Salad,' 'Cinnamon Hot Chocolate,' and 'Coconut Smoothie.'
Address - 1, 16th Rd, near Mini Punjab Hotel, Bandra West, Mumbai, Maharashtra 400050
5. EARTH CAFE:
Another 100% vegan eating joint in Bandra West is Earth Cafe. Its menu has loads of other healthy choices as well, namely gluten-free and keto. With its soothing pastel interiors, Earth Café ensures to make you feel warm and cosy.
I enjoyed their delicious 'Veggie Shawarma' and 'Macaroni with Vegan Cheese.' Earth Cafe welcomes you with a substantial vegan menu and can make you feel at home in this all-day Café.
Address - Durga Chambers, Waterfield Road, Above Pernia's Pop Up, Bandra West, Mumbai, Maharashtra 400050
6. BIRDSONG CAFE:
Situated in a quiet corner in Bandra's Pali Hill, Birdsong is another organic cafe that has changed the eating habits of the city people. Birdsong Cafe believes in the farm-to-fork concept and has ample vegan options on its menu.
The menu is full of Continental, Mediterranean, Middle Eastern, Mexican, and Indian cuisines. Visit this place for delicious vegan food, from small plates like quinoa to a healthy and nutritious southern meal. To uplift your mood for a relaxed meal, the vast windows in the cafe play a key role other than its chilled ambience.
Their 'Creamy Quinoa Salad' is loaded with goodness, including dried cranberries, microgreens, and a tangy lemon mustard dressing.
Address - Jenu Jenai, Off. Hill Road, Shop No. 1-5, Waroda Rd, Ranwar, Bandra West, Mumbai, Maharashtra 400050
7. KITCHEN GARDEN:
Another well-known restaurant in Bandra is Kitchen Garden by Suzette, a European-inspired cafe with delightful outdoor seating with greenery and chic indoor seating.
With its farm-to-table concept, vegan lovers can customize food items off the menu. For example, their menu has a rabbit sign next to vegan items. Try their falafel with yummy hummus with tons of fresh vegetables. Kitchen Garden even promotes mindful eating by making salads and exchanging vegan substitutes in sandwiches. This cute café has outposts in BKC and Juhu as well.
Address - Gaspar Enclave, Saint John Street, Pali Mala Rd, Bandra West, W, Maharashtra 400050
8. FARMER'S CAFE:
Another romantic cafe in Khar that promises to serve only healthy meals, Farmer's Cafe, has loads of vegan options. Dishes here are customizable according to your taste buds so that you can pick from vegan salads to sandwiches and desserts. You must try their vegan 'Beetroot Hummus,'
The menu is a blend of dishes like the farmer's pancake, served with vegan cilantro mayo and granola, tofu akuri, and filling smoothie bowls. 'Hello, Sunrise,' 'Rainbow Pizza', and 'Raspberry Almond Butter Chocolate Brownie' are a few vegan items from their vast vegan menu.
Address - Celeste Bldg, Plot No. 470, Kinchin CHS, 14th Rd, Khar West, Mumbai, Maharashtra 400052
9. SEQUEL BISTRO:
Sequel Bistro is one of the game-changing restaurants in Bandra West, which has an outpost at Kala Ghoda. They serve perfect guilt-free food with a variety of farm-fresh, vegan, and gluten-free options.
Their nutritious smoothie bowls use substitutes like coconut yoghurt, and almond milk is everyone's favourite. You can try their 'Peruvian cacao smoothie' made with sunflower seeds, almond milk, and oats.
To satisfy your sweet tooth, they have options like 'Almond & coconut pancakes,' 'sweet potato waffles,' and 'Cacao avo mousse.'. We Indians love quirky things which are healthy and tasty. For that, we all love Sequel as it has a selected menu that revolves around organic items across the world.
Address - Solace, 33rd Road, Bandra West, Mumbai, Maharashtra 400050
10. AHARVEDA:
A hidden gem situated in the lanes of Andheri, Aharveda serves some authentic vegan delicacies. They believe in the concept of eating clean and balanced meals.
A warm, cosy restaurant with bright yellow walls and elegant decor, Aharveda welcomes everyone with homely vibes. The dishes they present here are not just vegan but also gluten-free and sugar-free. With a multi-cuisine menu, you have lots of options. Their thalis, such as the Mexican thali or the Aharveda thali, are very popular among Mumbaikers.
Pizza with cashew cheese, tacos, thalis, Mexican dishes, and many more items are available on their mouth-watering menu.
Address - Viral Apartments, Behind Hotel Radhakrishna, Next to Hotel Golden Chariot, Swami Vivekananda Rd, Opp. Shoppers Stop, Andheri West, Mumbai, Maharashtra 400058
11. Garde Manger Café
While talking about veganism, we can't deny that going to a vegan café or restaurant can make a hole in the pocket. But what if I told you that you could enjoy the Vegan delicious options, which is quite economical with a lovely ambience space.
This sweet tiny, simple, pretty corner café has convinced me to give it a shout out here in my list of going vegan cafes and restaurants. The space is full of modest yet exquisite corners, being absolute instagramable worthy!
If you visit this café, then the soya keema pav, an all-day breakfast, is a must to devour. From having unique options for salad lovers to pasta, the menu leaves you with many options to choose from. And to add the cherry on top, you need to know that it even has bakery included in the menu and vegan options to look out for!
Address: Near Mahila Sangh School, Parmar CHS, Paranjape B Scheme, 1st Road, Vile Parle East, Mumbai go-conclusion
12. GoodDo:
As the name suggests, GoodDo is another good restaurant serving yummy vegan options. This vegan eatery has several branches in the city.
While I visited the outlet in Bandra, I ordered "Vegan keema Pao" and cold coffee. Before I ordered it, I was a bit sceptical about how vegan keema pao would turn out to be. But damn! The texture of the keema was meaty, and it was beyond my expectations. For meat lovers, this is a must try!
The one thing that I loved most about this eatery is that they made veganism convenient and accessible to everyone by maintaining a reasonable price. So hey, if you are planning on budget snacking and are craving a delicious vegan meal outside, then this is a place to go; it won't leave a hole in your pocket. And I recommend you to try out their burger and keema pao!
Address:
1st outlet: 13, Ganpatrao Kadam Marg, Opposite Peninsula Corporate Park, Lower Parel, Mumbai.
2nd outlet: Carter Road, Bandra West, Mumbai.
3rd outlet: Chowpatty, Mumbai
13. Nara Thai:
Nara Thai is an Asian restaurant that also serves some fantastic Thai options. This place is partially vegan, and you can opt for vegan options while ordering from the menu.
I tried their Tom Yum soup which consisted of spicy lemongrass and lime, with vegetables in it. And then ordered an appetiser named 'Mieng Taohu", this main dish ingredient was fried tofu with added cashew nuts, roasted coconut flakes, chilli, and betel leaf served with sweet tamarind sauce in andam cup.
And also try the 'Khanom Nung Sai Tao Hu Lae Broccoli' which is broccoli and tofu dumplings. Honestly, I loved it all!
It is an authentic space with a lovely interior, flavorful dishes and excellent service from their staff. I left this place with the best Thai experiences! I would rate this place as a perfect space to hang out with your friends and family.
Address: B-1, Amarchand Mansion, 16 Madame Cama Road, Colaba, Mumbai.
14. Plural:
The plural is a beautiful café midst of the crowd of the city. The place has a lovely ambience, and the vibe is comfortable and is the best place to visit with your family.
The café serves some excellent Asian, continental food and also has a variety of dessert options. The staff is very proactive and takes thorough care of you. And sometimes, even the owner personally gives recommendations for the dishes to try out. So don't worry, if you have no idea of what will suit your palette and are confused with what to order, then they will assist in explaining the dishes. Such a courteous staff they are!
This café serves some fantastic Vietnamese food which is very vibrant and flavorful.
I tried edamame dimsums, seared Brussels sprouts, and Vietnamese pizza. The restaurant sets itself apart from the same old pan Asian restaurants. I loved all the dishes I ordered, especially the pizza!
Everything was precisely well cooked, and the balance of flavours in the dishes is exceptional. The restaurant also has a variety of options for the beverage menu. I loved the Moroccan mint.
If you ever visit this place, I recommend you to try out their dimsums too. It's delicious!
Address: 108, Ground Floor, Jaihind building, Kala Ghoda, Nagidas Master Road, Fort, Mumbai.
15. Shake maku:
This Lebanese café partially also serves some delicious vegan options. Firstly, let me ask you if you have ever been to a restaurant that states the nutritional value of the dishes they serve? Well, this café does that, and I loved the concept. It's incredibly creative and transparent on how healthy the dishes on their menu are.
I tried their falafel wrap, which is made by the staple middle eastern chickpeas, and the filling was seasoned with cumin, coriander powder and sunflower oil in the wrap, which was served with tahina sauce and some yummy crispy fries.
It was flavorful and delicious. But, I wanted to try out something more, so I found their "DIY Salad bowl" on their menu and asked them to bring the customised salad bowl I wanted. And the ingredients I had to choose from was a lot, and some section was categorised according to the protein quantity the ingredient contained. Amazing right!
After I got the bowl, this place had my heart. The bowl looked healthy and was beautifully presented. The taste? It was the a delicious and healthy salad.
This place serves dishes worth every penny, and the portion size of the dishes are fantastic, and their service was excellent. So now, whenever I crave some great Lebanese yummy food, this place is my to-go place! I will highly recommend this place if you fan Lebanese food and have decided on veganism!
Address: Hill Road, Bandra West, Mumbai.
16. Vegan bites:
This place is known for its comprehensive option of desserts and bakery stuff. But they also have a sweet little corner for snacking and serve the healthiest options of salad jar!
This place had my heart with their date walnut ice cream. It was sugar-free and had decent fibre for ice cream. Yep! Ice Cream is healthy in this place.
However, I also parcelled chocolate chips ice cream. Well, it tasted even better than the traditional ice cream. I loved it! If you are also a fan of desserts and ice cream like me, then trust me, this place will never disappoint you. I highly recommend it!
Address: Shop 5, Khatijabai Chawl, N.M Joshi Marg, Opposite Deepak Talkies, Elphinstone, Lower Parel, Mumbai.
Conclusion:
With the rise of conscious eating habits and veganism gaining popularity worldwide today, many vegan restaurants in Mumbai offer delectable vegan meals.
The consciousness towards a healthy lifestyle and reconsidering the climatic effect of people are rapidly turning people towards veganism in India. It feels extraordinary to see this growth of veganism!
Let me know in the comments if you have any favourites we have missed listing!
Let's Just Talk. No Obligations.
I do free consultations every Tuesday's and Thursday's. Either way you will get some actionable tips to reach your fitness goals faster.