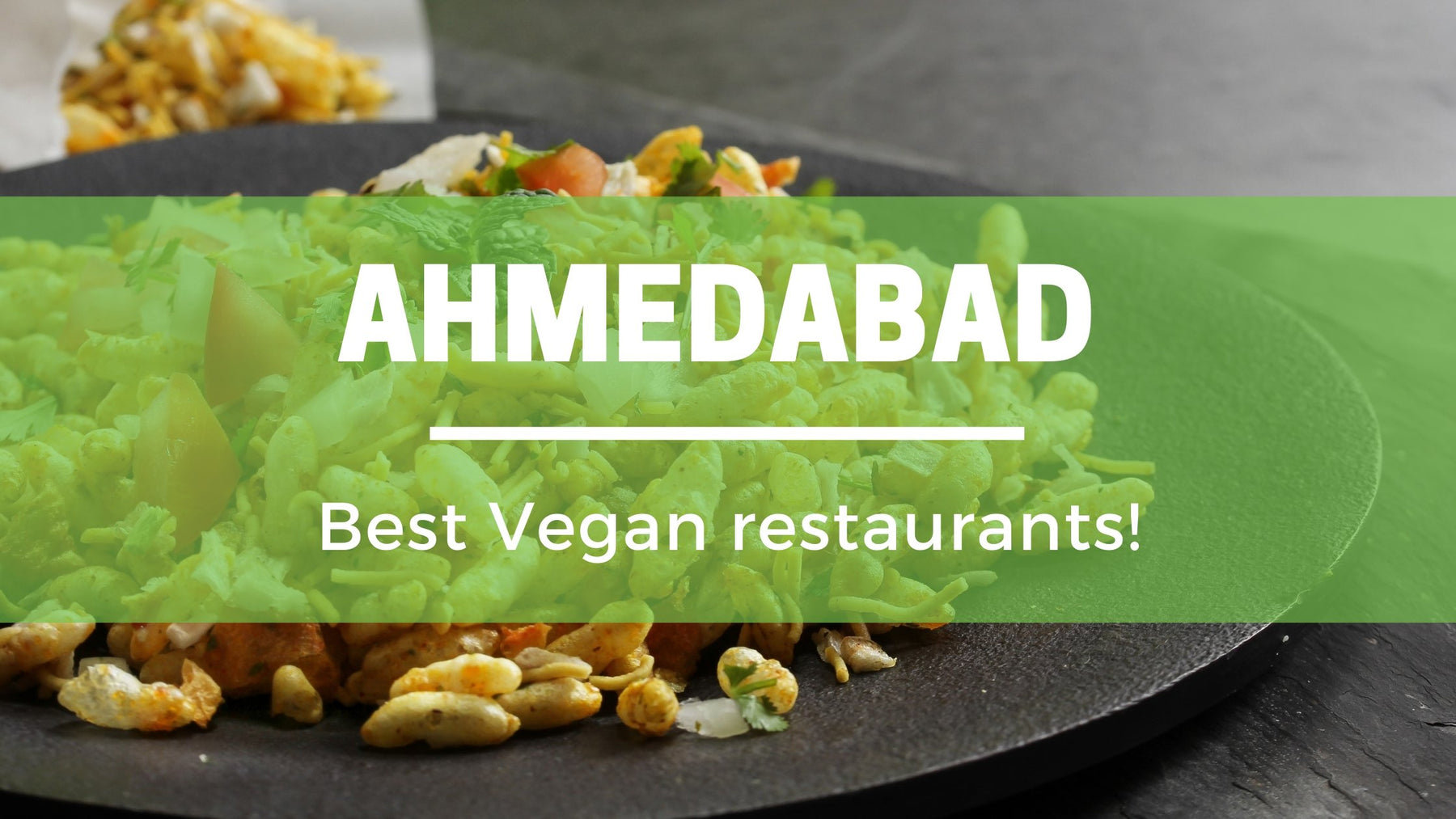 Top 8 Vegan Restaurants in Ahmedabad.
Table Of Content
Having trouble finding the best vegan restaurants in Ahmedabad? Reading through this curated list will certainly make you say 'Shu vaat che'...
The incredible aroma of colourful and yummy Gujarati cuisine just blow your mind. Ahmedabad famous for being the economic capital of Gujarat, is one of the reliable vegetarian states in India.
With the awareness of veganism worldwide, the Land of Ahimsa is also not too far behind. Vegan cafes and restaurants are booming slowly and adding vegan options to their menu more than ever.
Here I present to you the 8 best restaurants to experience exquisite vegan food.
Veganism is still growing in Ahmedabad, it is still a slight shift for many Gujarati vegetarians to lead a vegan lifestyle. The state that embraces the Gandhian life and the birthplace of Amul, loves ghee, butter, milk, buttermilk and curd. So it does seem a long way before they move towards a completely dairy-free diet.
However, with countless vegan recipes, Gujarati cuisines is easily customisable. It is effortless to make vegan Gujarati dishes. Read this for a customised meal plan:
Any who, in the land of milk cooperatives and the flourishing dairy industry, I have come with my favourite Top 8 Vegan Restaurants in Ahmedabad to satisfy your cravings!
1. THE VEGAN KITCHEN :
Located at Gurukul, the Vegan Kitchen is the only 100% vegan restaurant in Ahmedabad.
The place welcomes everyone with its positive and homely vibes. The interior is absolutely fuss-free yet has an elegant look with hanging bright lights all around. You can sit, read your favourite novel, write, listen to music or enjoy yourself with your group.
Some tempting vegan items on their menu are 'quinoa tabbouleh,' 'tofu butter masala,' and 'soya bhurji wrap.'
The menu is a medly of Indian dishes with multiple global cuisine options. Other vegan delicacies like 'Vegan Hummus with pitta bread,' 'Vegan Khichdi,' 'Malabari Paratha,' 'Vegan tea,' 'Vegan Chhas,' 'Vegan Rose Pista cake' and 'Vegan Chocolate strawberry pudding'. So you see, something to tingle everyone's taste buds.
Address - Yogi Complex, Ground Floor, Drive In Rd, near Reliance Smart, Gurukul, Ahmedabad, Gujarat 380054
2. SANTE SPA CUISINE :
Gandhinagar-based restaurant Sante Spa Cuisine has branches in six different cities in India, one being in Ahmedabad. Sante Spa is a paradise for vegans in Ahmedabad.
The place has beautifully themed walls, interiors with shimmering golden hanging stars, brass cutlery, banana leaf straws, and wholesome fresh organic vegan food. The hues of green and white are immensely appealing.
Sante Spa cuisine will not disappoint you with its exotic vegan menu and the best quality, wholesome food. From salads to sushi, pizza to buckwheat cake and smoothie bowls, they have it all. A must-visit place if you want something healthy with a twist of naughty.
For you to take pleasure in I have highlighted few items from their menu to try 'Vegan farm-fresh pizza,' 'Vegan Raw Buddha Bowl,' 'Upma of Quinoa and Broccoli,' 'Chilled avocado soup,' and vegan desserts like 'Chocolate Pie' are heavenly in taste.
Address - LLP White crow building 2nd floor, block B, Navratna Business Park Sindhubhavan road, off, Sarkhej - Gandhinagar Highway, Bodakdev, Ahmedabad, Gujarat 380054
3. LOLLO ROSSO :
A multi-cuisine restaurant, Lollo Rosso offers Lebanese, Japanese, Mexican, and Asian cuisines. Lollo Rosso offers a variety of finger-licking vegan items.
The restaurant has elegant interiors with green and white walls. With a warm and cosy ambience, the bright bulbs hanging from the ceiling are so beautiful.
The vegan options are marked with green dots on their menu. This restaurant has several vegan bowls like 'Pesto Quinoa', 'Miso Ramen Bowl' 'Japanese Donburi' 'Greek bowl', and Burmese bowl'.
I ordered their 'Korean Bibimbap bowl', which is served with jasmine rice, barbequed silken tofu, mixed mushroom, pickled zucchini and cucumber, garlic, spinach with chilli sesame.
Address - 3, ground floor, one world capital, Besides la Renon, Off Rajpath Rangoli Rd, Bodakdev, Ahmedabad, Gujarat 380054
4. CAFE TILLA :
Situated in Paldi, Central Ahmedabad, Cafe Tilla is a friendly cafe to relax and kick start the weekdays. The cafe has a premium menu that serves Continental, Mexican, fast food, vegan dishes in addition to beverages which you can savour.
The decorations of the cafe are simple yet elegant, and the ambience is cosy and homely.
Vegan items like Vitamin Bhel, red sauce ,Mini Idlis are a must try. I am enjoyed their Gujrati dishes like Methi na Pudla and Sattu Paratha.
I ordered their 'Onion mushroom soup' and 'Methi na pudla', pancakes made from chickpeas seasoned with spices and methi. They even have a wide vegan variety for coffees and beverages like Espresso, Americano, Cappuccino, Caffe latte, Mocha, Adrak chai and Hot chocolate.
The polite behaviour of the staff will make your entire experience worth remembering.
Address - Narayan Nagar Road, opposite Union Bank, Rajpath Society, Paldi, Ahmedabad, Gujarat 380007
5. THE SHAKA CAFE :
Multi-cuisine restaurant The Shaka Cafe offers North Indian, continental, Thai, Italian, Chinese, Mexican, and Japanese. The cafe has a variety of vegan delicacies which are exquisite in taste.
After a monotonous lockdown, this cafe with a soothing and mellow ambience will make it a perfect getaway to match your taste bud.
I tried their 'Chimichurri', an Argentinian dish with herbs, olive oil and garlic, and classic Mexican salsa. Many other vegan options on their menu are 'Dim Sum Sushi' with many varieties like 'the white dumpling', and 'orange and peppermint dim sum.'
To conclude, an excellent place for a family brunch and an uber-cool spot for hanging out with your friends. Adding to that, home delivery and takeaway are also available.
Address - AMC Garden Prahladnagar, Pushpak Complex, The Shakahari by Awadhpuri 101, opp. Prahlad Nagar, Ahmedabad, Gujarat 380015
6. THE GREEN HOUSE:
The Green House is a relaxing and casual cafe set in the middle of greenery that serves Gujarati, South Indian, Street Food, North Indian cuisines. The Green House Cafe is a covered courtyard garden, and a former 'buggy room mansion' turned into a hotel.
Well themed decor with elegant interiors, relaxed ambience and bright lights. They even have an outdoor seating arrangement.
It is a perfect place for eating freshly cooked traditional Indian and International comfort vegan food, snacks, and cold-pressed fresh juices. They have an open kitchen where you can see your food cooked in front of you.
I requested their 'Kacha Kela karela kaju' - crispy chips of raw banana bitter gourd cashews seasoned with fresh green masala. Other vegan items like 'Panchkuti dal - 5 mixed dal seasoned with Indian spices,' Idli, dosa, uttapam, and salads are also available.
Address - The House of MG, Opp. Sidi Saiyed Jali, Nr. Relief Road, Lal Darwaja, Ahmedabad, Gujarat 380001
7. THE JUNGLE BHOOKH:
A multi-cuisine restaurant with a Jungle theme. With a lot of vegan delicacies, they have an excellent ambience for families, especially for kids. Their menu is exceptionally designed and arranged in a very funky way.
From soups to pasta where you can choose your toppings,. Sher Khan See's Red Chinese starter is a must-try! You can also get 'Vegetable Manchurian,' 'Veg spring roll,' 'Baby corn chilli dry' and many more vegan options.
If you are in mood for some good Chinese, your search will end here.
Address - 103/B, Wall Street -1, Ellisbridge, opp. Orient Club, Ahmedabad, Gujarat 380006
8. TERRA:
Terra Cafe is one of the many restaurants in Ahmedabad offering authentic vegan food. The restaurant offers Mexican, Lebanese, and Continental cuisines.
It is a cute little cafe with white walls and bright lights with a cosy warm ambience.
Vegan items available on their menu are soups, salads, small and big plates, pasta and burgers. Their 'Mexican salad,' 'Nacho grande,' 'Vegan patatas bravas,' 'Red Thai curry' and 'Spaghetti bolognese' are some highlights from the menu.
Address- Ground floor No. 15, Shivalik Shilp, Iskcon Cross Rd, Ahmedabad, Gujarat 380054
I also recommend popular chains like Honest Pav Bhaji for their chaat and ofcourse, my most favourite would be
Swati snacks in Law Garden
. You will be surprised by how many items can be Veganized from theri menu.
By eating more plants over animal-derived foods, we can fight many diseases and even reduce our carbon footprint. Let's leave Earth behind a little better than we found it.
Let me know in the comments below which restaurant you liked the most across the city.
If I missed any of your favourite vegan restaurants, do let me know in the comments below so I can add it to the list!
Let's Just Talk. No Obligations.
I do free consultations every Tuesday's and Thursday's. Either way you will get some actionable tips to reach your fitness goals faster.