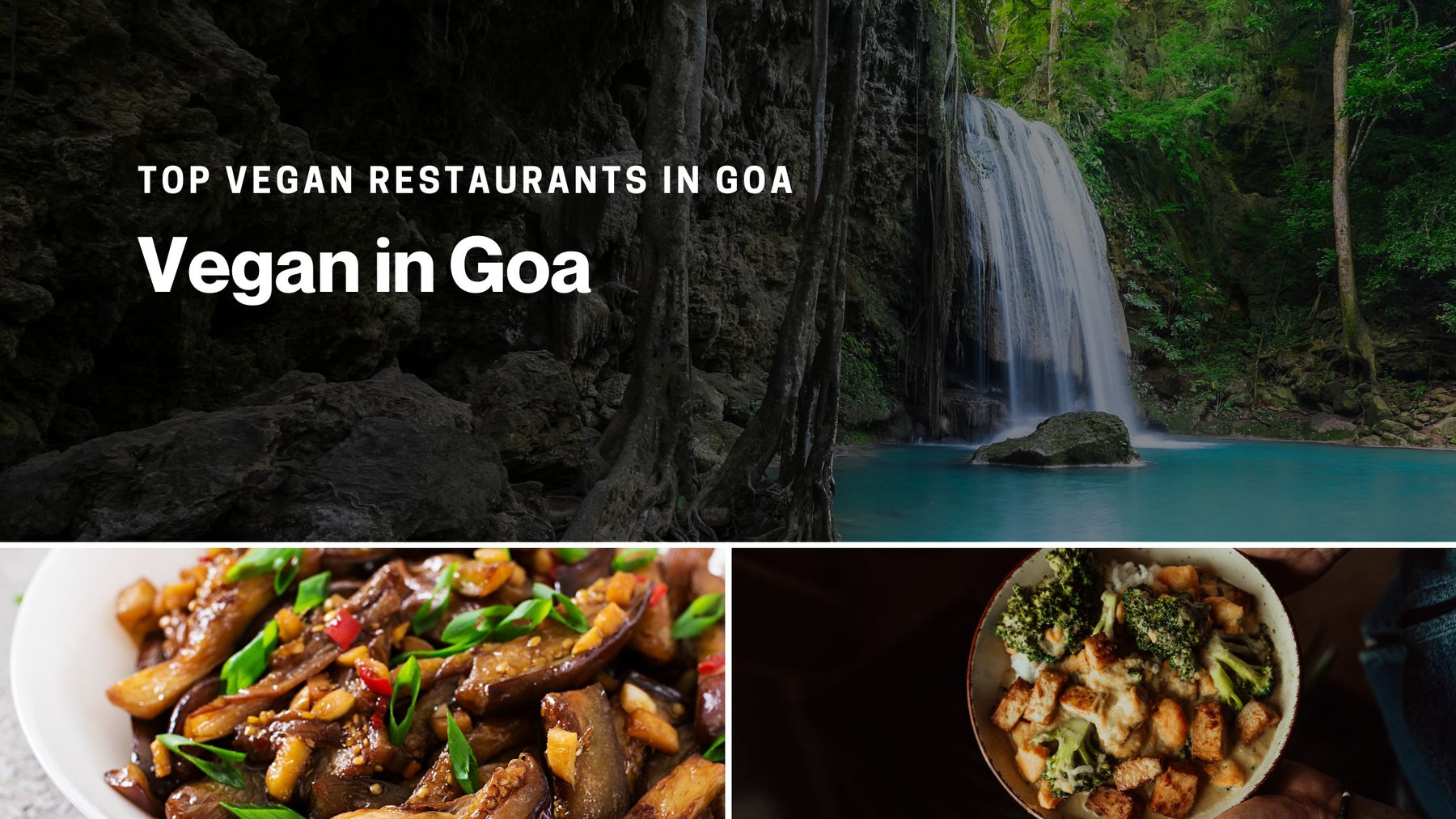 Top 12 Vegan Restaurants in Goa
Table Of Content
Are you looking for the best Vegan food in Goa? Don't worry! I have come up with a list of my favourite Vegan Restaurants in Goa for you.
Located on the western coast of India, Goa is popularly known as the 'Pearl of the Orient.' It is that place where Indians go to relax, kick back, and soak in the sun.
Although it is seafood heaven for many, PETA India has recently crowned Goa as country's most vegan-friendly state in the World Vegan Month 2020.
This place has always been a favourite place for me. The ultimate destination for culture and carnivals has always made me choose this place for trips repeatedly. And I must admit that this place has indeed become a vegan paradise in recent years.
Whether you live here or visit to enjoy the lovely weather and romantic beaches, the Goan vegan food scene has something for every taste.
Here's a list of 9 vegan-friendly dining places in the Beach State of India-
1. Cafe Le Boheme:
Tashi Tamang and his wife Jasmine Brison run Cafe La Boheme.
The bistro in Agonda is a comfortable little space with a variety of vegan dishes. The ambience is also very bright and warm. You can even listen to music that uplifts your vibes. Cafe La Boheme serves you the best vegan food in an excellent and creative palate.
From 'Vegan Omelette,' to 'Salads and Bowls,' and 'Glass Noodles Salad,' you will fall in love with their vegan menu. I ordered their 'Pasta Al Pomodoro' for myself. This wonderful dish is made with a classic tomato, olive oil, garlic, and fresh basil sauce, and the pasta is gluten-free and topped with vegan parmesan. Lastly, I must say that the staff is accommodating and friendly.
Address - Agonda Beach Rd, South end, Agonda, Goa 403702
2. Bean me up:
In addition to offering you a diverse selection of healthy foods, Bean Me Up Cafe is known among locals and tourists alike for its one-of-a-kind authentic menu.
The menu here is designed keeping in mind the ideological traveller. The restaurant offers mouth-watering, organic, vegan dishes created using fresh, local ingredients and seasonal produce. Do you know the restaurant makes in-house tempeh and tofu from scratch? These two must-try items are on the menu. I will highly recommend the Middle Eastern Platter at this restaurant. The 'Smoothie Boosters' and the 'Baba Ganoush' are to die for!
I tried their 'Raw Rainbow Kale Salad' for myself. The bowl is rich in nutrients and fibres and is tasty. And frosty basil lemonade, which was very refreshing after a very sunny day. This place also has a great nachos supreme platter with homemade corn chips, creamy vegan cheese, beans, veggies, and olives jalapeno. They serve it with pineapple salsa. And this combination is flavorful! With its great ambience and high-quality food, this place is perfect to come with family and friends.
Address - 1639/2 Devulvaddo, Ozran Beach Rd, Vagator, Goa 403509
3. Baba Au Rhum:
Baba Au Rhum is a multi-cuisine bakery and French café. The famous love garden cafe, which has a seating arrangement under trees, is primarily known for its delicious pizza. The cafe does not have a separate vegan section on the menu, but the staff are super helpful and recommend vegan foods.
This cafe has a vegan 'Tofu thin-crust pizza' on their menu, which was pretty delicious. Also, most of the vegetarian salads could be made vegan with the omission of cheese. Another vegan item you can get here is hummus. Finally, for all my coffee lovers, they even have an add-on soy milk option.
Address- House No. 1054, Sim Vaddo, Anjuna, Goa 403509
4. Kefi-Café And Bistro:
This place is really simple and peaceful. It is known for being the best Arabian restaurant in Goa. And has a great vegan option. Also, the drinks are refreshing with a tropical twist in them. Its menu is mostly vegetarian or vegan. The vegan food includes falafel, salads, hummus, and soft homemade bread.
It has some delicious options for soups, of which I tried Lebanese carrot soup. It is a simple carrot soup infused with amazing Lebanese herbs and served with house-baked bread.
And I also tried their dish named 'Mujadara', soul-warming spiced black lentils, caramelised onions in aromatic basmati rice, served with a side of spicy cilantro sauce. If you happen to visit this place, it is a must-try dish!
Address: H 460, Bounta Vaddo, Assagao Goa.
5. Go with the Flow:
Located on Baga Beach, the restaurant Go With The Flow stands out for its undisturbed beach view. The ambience of this restaurant is dreamy, and it has an uplifting seating arrangement.
The restaurant features international dining with various menus for lunch and dinner with clearly marked vegan options, always great to discover. They have a wide range of vegan options, from 'Korean Style Cauliflower Popcorn' to 'Classic Spanish Potatoes Bravas,' to 'Caponata', and many more for starters. For the main course, they have 'Vegan Platter' and 'Moroccan Style Pumpkin Tagine.' Even most of the vegetarian items can be made vegan.
I tried their 'Spicy Mushroom Momos' - tasty momos served with ginger and soy sauce. The restaurant focuses on good quality and fresh ingredients, and its service is warm and welcoming. A must-visit restaurant for Goans or even travellers!
Address- No. 614, Calangute - Baga Rd, Baga, Goa 403516
6. Blue planet cafe:
Located in Canacona, Blue Planet Cafe is an open-fronted, relaxed vegan restaurant with woody furniture at an eco-resort. The restaurant balcony overlooks the rice fields and hills, offering a quiet and relaxing atmosphere in the pleasant hours.
All their dishes use occasional, locally-grown, homemade ingredients and are cooked with a thoughtful mix of international recipes and desi tadka. This hidden gem kind of a place boasts diverse vegan and gluten-free options.
The lunch menu offers delicious soups with herbs, vegan salads, and dishes such as vegetarian burgers, spinach lasagne, etc. The diner menu has an Indian twist with delicious curries and vegetable dishes. In addition, it offers tempting vegan pies, cakes, smoothies, shakes, organic juices, and teas.
The atmosphere is calming and peaceful, with yoga classes taking place regularly at the cafe itself. Blue Planet Cafe is heaven for all vegans out there.
Address - Agonda, Canacona, Goa 403702
7. Jardin D'Ulysse:
Best beach restaurant alert! Yes, the restaurant is best known for its calm, peaceful, serene ambience, great food, and superb view. Though this restaurant is also famous for its seafood options, it has a different vegan menu dedicated only for vegans! This place even serves excellent options for vegan breakfast.
I tried the chickpea omelette, which was served with whole wheat bread. And yes! You can even choose between whole wheat bread and grain bread. And for a change, I wanted to try out something light yet a bit filling, so I tried their Fresh spring rolls. It was flavorful! They also serve tasty vegan burgers. So if you are searching for a place to start your day with a filling, healthy and yet delicious vegan breakfast, this is a go-to place! Lovely place to hang out with friends on Friday evening!
Address: 1283, Temb Vaddo, Morjim Goa.
8. The Mill:
The small, simple yet beautiful café! The mill has excellent vegan food options on the menu. It also provides both indoor and outdoor seating and free wifi. Yes, it is an excellent place for workaholic travellers to visit while they have urgent work to cover up during the trip. And lastly, it is insta-worthy!
The food menu covers extensive vegan options.
And their coconut chia is a must-try! Chia seeds are soaked in coconut milk and served in a coconut with mango, coconut flakes, cacao nibs and cashew butter. You can look it up in the brunch menu. It also has other brunch vegan options, yummy and healthy!
They even give options between vegan and non-vegan ingredients. All you need to do is ask them to make the change. I was in love with this place, and it will be my 1st go-to place for brunch whenever I am in Goa! Recommend this place to you, my vegan mate.
Address: Dr Pundalik Gaitonde Road, Palolem Goa.
9. Bibhitaki Vegan & Vegetarian Café:
The Bibhitaki Vegan & Vegetarian café, located in Palolem, is a very cosy and old school café. However, this open-front café had my heart with its lovely ambience.
The café being nearby Palolem beach serves some lip-smacking vegan food. They have relished veganism with an Indian Ayurvedic twist. This café is a heaven for vegan/vegetarians having the finest vegan/vegetarian options to choose from. I tried their Fresca lemonade is a must try and be very refreshing.
My craving was for a yummy burger and landed myself to choose Hawaiian Teriyaki Burger. It was cooked in true teriyaki style and made with Chickpea, Vegan meat, Barley, Grilled pineapple, cucumber, tomatoes, and olive served with Hummus, salad and fries.
In addition, I fell in love with their Tropicana Rican colana bowl. This smoothie bowl touched my soul, especially in the scorching heat in the afternoon.
Well, I can write an essay on this café, but I think you should visit and experience it yourself! And while you visit, please try their smoothie bowl and cheer out burgers with your group, enjoying the ambience!
Address: Patnem Main road, Palolem, Canacona, Goa 403702, India.
10. Zest Vegan and Vegetarian Restaurant:
Open front lovely café alert!! This wooden furniture themed cafe located at Agonda Beach Rd is absolute heaven for vegans/Vegetarians. The restaurant offers a beautiful and peaceful atmosphere in pleasant hours, giving out good vibes.
The menu serves quite a variety of vegan food and some lip-smacking dishes for breakfast. And that's the fundamental reason the café landed itself on this list. I mean, who doesn't want a filling, tasty breakfast?
So I chose a dish from the menu called "Vege Breakfast", a breakfast platter of scrambled tofu, roasted cherry tomatoes, avocado, herbs & garlic mushrooms, baked beans and toasted sourdough. I loved it!
The day after, I asked them to get me a pink smoothie bowl served with seasonal fruit like strawberries, raspberries, banana, coconut milk, granola, hemp seed, and cacao nibs. It was delicious and nutritious!
And the coconut chia pudding is to die for!
For vegan's, this place won't make you miss dairy options at all. And even if you are not a vegan or a vegetarian, this place is a must-visit. They even have the yummiest vegan desserts and pizzas.
This place gives a great vibe, and you can spend hours sitting with your group while devouring the delicious served meal!
Address: Agonda Beach Rd, Agonda, Goa 403702
11. Shantaram Raw Vegan Café:
Oh my God, what a lovely ambience! Yes, that's what was my first reaction when I visited this place. A lovely open space rooftop café, where you sit on the floor in the stuffed cushions, chill and enjoy your meal!
Shantaram Raw Vegan Café in Arambol serves anything vegan which is fresh, organic and locally sourced. They have a vision of serving only healthy options produced and preserved with care to nurture our life. And the menu only focuses on seasonal raw food. Sounds healthy, right? And you know what it is!
I tried their Pasta a La Arrabiata, which had zucchini, tomato, chilli and lime. It tasted so fresh, delicious and decent. And also, Shantaram special salad had a lot of greens, herbs, and about eight different toppings of seeds, sprouts and sauce. And I enjoyed the flavour of the sauce and everything in the salad complimented each other well.
If you want to enjoy and relish the earthly taste of food, then this is it; this is your place to go!
Address: Khalchawada, Arambol, Goa
12. Gratitude Café:
Yes, this café did boost my soul!
First of all, the café itself is such a lovely place like heaven on Earth, as it is set in an old Goan house. The ambience was quite chill, and the hosts were charming! The vibe created by the café is reflected in the dishes as well. They have a wide and unique variety of vegan options.
I ordered a quinoa bowl and Korean ramen bowl, and both the dishes were exploding with flavours. It was simply delicious! The quantity of the food served was also really satisfying; it was filling. I am always a fan of desserts, so I even ordered Choco mousse cake. It was yummy!
They even have gluten-free options as well and an excellent value for delicious and healthy food. This place has carved a place not just in my tummy but also in my heart! I had my share of peace of mind in this place with some delicious snacks. Highly recommend this place if you want to have a soulful time with some excellent vegan food!
Address: house number 958, Pequeno Peddem, Monteiro Vaddo, Anjuna, Goa 403509
Conclusion:
Veganism is not just a sound direction for living, and it will surely assist you with getting more fit a lot quicker. It is the right choice for the environment and your health. Veganism has so many potential medical advantages like lower risk of heart diseases and cancer.
Let me know in the comments below if I have missed any restaurants and which one is your favourite.
Let's Just Talk. No Obligations.
I do free consultations every Tuesday's and Thursday's. Either way you will get some actionable tips to reach your fitness goals faster.