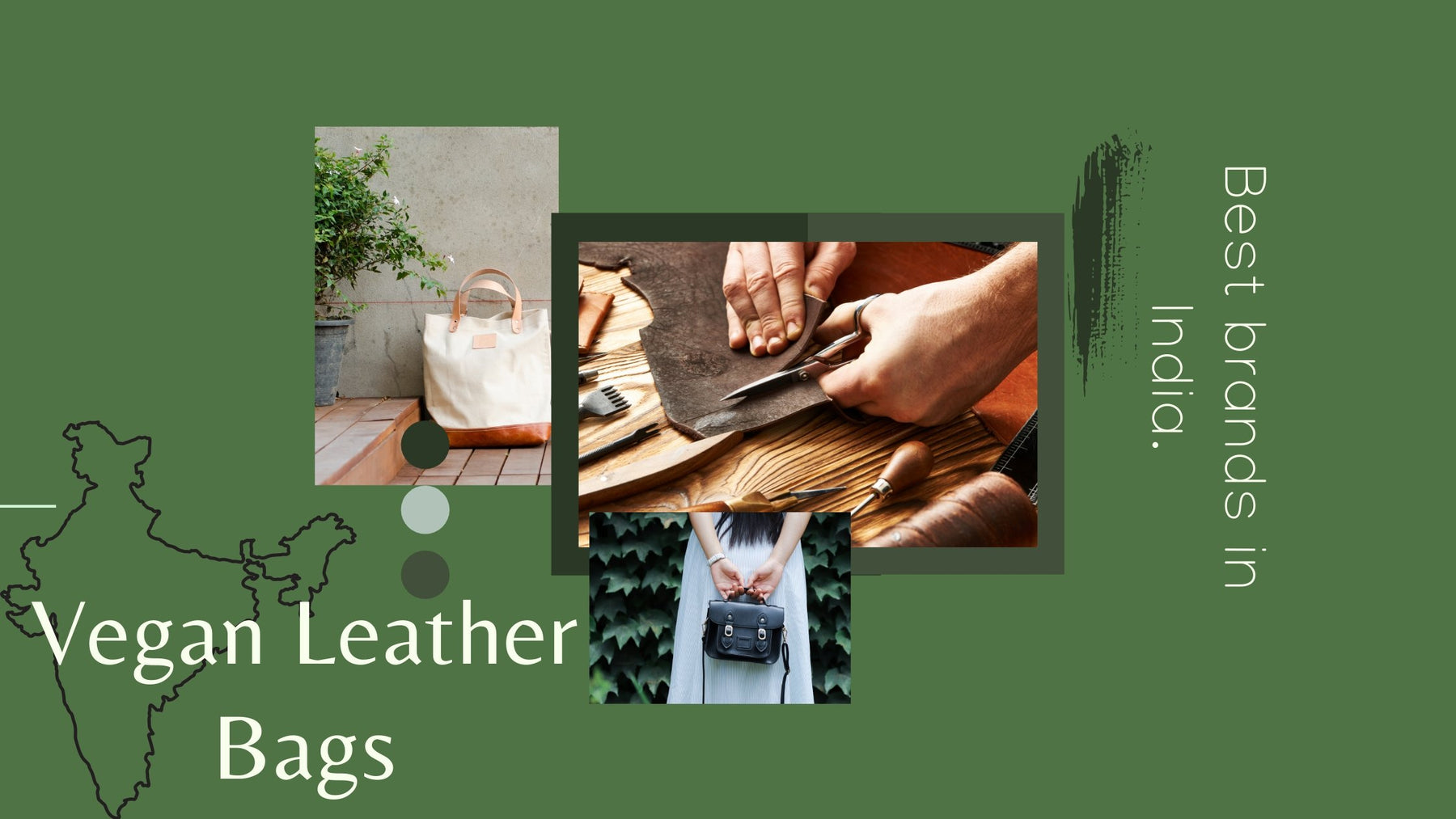 18 Best Vegan Leather Bags Brands in India
Table Of Content
The ethical and cruelty-free alternative to typical leather is vegan leather. Artificial leather, synthetic leather, and imitation leather are some of the terms used to describe it. However, it is designed to appear and feel like genuine leather without the ethical issues that come with it.
Given that the leather and tanning business is one of the most damaging in the world, the vegan alternative is mostly a more environmentally friendly option.
The substitutes are constructed from a variety of materials, including cannabis, cork fabric, and even temple trash flowers. With a surge in demand for eco-friendly clothing, the Indian vegan leather market now offers a slew of manufacturers to choose from.
You will be amazed to know how one can make Leather just out of anything and everything. And, the disclaimer that comes along : "NO ANIMALS WERE HURT DURING THIS PROCESS" is even more satisfying.
5 Benefits of Using Vegan Leather
Today, substantial study into the material and its qualities has aided in the development of synthetic leather in many forms.
In terms of breathability, weatherproofing, uniformity, and weight, synthetic (or "vegan") leather is not far from its animal counterparts.
1. Animal friendly:
Vegan leather is an essential step toward environmental sustainability and preservation. It is critical that we encourage the well-being of all living things on this earth, and the use of vegan leather is a great place to start.
2. Ecological impact:
Genuine leather necessitates considerable treatment prior to manufacture, and these hazardous chemicals damage the environment while also reducing the leather's biocompatibility.
Vegan leather, on the other hand, uses a combination of fabrics and polyurethane to create a more genuine leather feel that is also less harmful to the environment.
3. Better sustained:
Vegan leather is particularly long-lasting since it is water-resistant, stain-resistant, and weather-resistant.
Vegan leather items can withstand harsh weather conditions and show little wear and tear over time.
4. Artistry:
Vegan leather research and development gives us complete control over the look and feel of our products. Vegan leather gives us a greater aesthetic scope, from aspect modifications to composition adjustments.
5. Cost effective:
The different costs associated with the treatment and preparation of genuine leather necessitate a higher price.
Vegan leather is clearly the easier to produce and more cost-effective option when all costs are considered, from the breeding of cattle to the final manufacturing phases.
Top Vegan Leather Bag Brands in India
If you're seeking vegan leather bags in India, then you've come to the right place. We've done the research for you and created a list of animal leather alternatives so you can pick and choose what you like most.
The vegan label, which is based on the outskirts of Delhi, creates clever, fashionable, and high-quality products that are low-impact on the environment.
Pineapple leaf fibre and pleather—a plastic fabric that looks like leather—come from Italy as replacements to real leather.
Aulive's Pina collection, which is manufactured from pineapple leaf fibres, is 100% compostable, but the rest of the company's products are recyclable. The company boasts about its a wide range of products, including messenger bags, trunks, backpacks, and handbags in a variety of colours.
A women run entrepreneurship, this is a Cruelty-free brand, produced in India. There are many compelling reasons to choose Broke Mate's vegan bags, which combine fashion and functionality.
It's a PETA-approved vegan-certified firm that's passionate about using cruelty-free materials to appeal to ethical consumers.
Arture is the result of combining art with nature. So it's no surprise that it's a leader in vegan leather goods. Arture's catalogue, which was launched in 2015, is developed using clean and green procedures at every stage.
It uses 100% natural cork fabrics to replace traditional leather in our wardrobes. Cork is a leather alternative that is exceptionally durable, water-resistant, anti-fungal, lightweight, flexible, and strong. Arture is another PETA-approved brand with a wallet, purse, laptop sleeve, and travel accessory collection.
Zuzana Gombosova and Susmith C Suseelan founded this vegan leather firm in Kerala in 2017.
Coming from Kerala, it's no wonder that the label makes a supple, robust biocompatible substance that feels like leather or paper out of scrap coconut. Wallets, bags, footwear, and accessories are all part of the range.
On its website, the bag label advises users to "carry responsibly." All of Zouk's items are distinctively Indian and 100 % vegan, from laptop bags to sling and messenger bags to backpacks and more.
Disha Singh, a Mumbai-based designer, founded the business in 2016 with the goal of fusing Indian craftsmanship with modern usefulness through designs like Ikat.
This footwear brand, which is aimed at eco-conscious guys, combines luxury with practical elegance, promoting a cruelty-free lifestyle.
The Alternate is inspired by the ideas of cruelty-free design and convenience, and is affiliated with PETEA India. Its products are created with faux leather that has been tested and authorised by the Central Leather Research Institute.
Hamelin's goods are all cruelty-free, handwoven, and ethically sourced from India.
Vegan leather, also known as Poly Vinyl Chloride (PVC) or polyurethane (PU) leather, is used by the firm to give its merchandise the appearance of animal leather. Hamelin collaborates with local craftsmen from all across the country, in addition to being environmentally responsible.
Moon Rabbit is a cruelty-free vegan leather brand. Through all of its operations, it generates items that are environmentally friendly. Moon Rabbit offers quality, utilitarian products that are expertly handcrafted, ranging from laptop covers and luggage tags to travel pouches and various types of bags.
At A Big Indian Story, it's all about ethical fashion. The label collaborates with traditional Indian craftspeople, incorporating current design ideas to create stunning clothes, purses, jewellery, art, and other accessories.
Natural textiles, vegetable colours, and animal cruelty-free components are all used.
Vraj Bhoomi is a PETA-approved brand with a bags, purse, home decor, clothing and travel accessory collection. All their collections are based on the traditional craft of Ajrakh.
The craft has been practised by this community who migrated from the Sindh to the Kutch, since the 16th century! The craftsmen work in total harmony with their environment, where the sun, river, animals, trees and mud are all part of widespread industrialization. The traditional craft of Ajrakh, its long and skilled process and complex geometric patterns have still survived.
We're not kidding when we say that 2AM By Anjali Mehta is one ethical company you'll ever come across.
This brand's bags are vegan and clearly cruelty-free, and they come in a variety of funny motifs as well as basic designs. 2AM provides wonderful selections for you to swoon over, whether you're shopping for fanny packs or backpacks. In terms of design, we enjoy that they're a little different from ordinary vegan leather bags.
MENSXP is India's Largest Men's Lifestyle Destination. So, they basically connect with millions of guys on a variety of themes that assist them in their social life.
Additionally, work at the unique intersection of content, community, and commerce. But, you must check out their elegant pieces of vegan leather bags from different brands. There are Laptop Bags, Messenger Bags, Duffle Bags, Backpack and Briefcase.
Fab India is the largest private marketplace for products manufactured with traditional techniques, skills, and manual labour.
With over 55,000 craft-based rural producers connected to modern metropolitan markets, India's traditional handicrafts are being preserved while also building a platform for skilled, long-term rural employment. Their products are organic, handcrafted, modern, and affordable.
It is a sustainable brand, and they have started selling vegan leather bags.
The June Shop is a vegan brand that has been approved by PETA. They have a large selection of vegan leather bags. Their laptop bags are made of thin paper and are quite light. They're waterproof, tear-resistant, recyclable, and come in a variety of unique and edgy designs.
With the help of trendy handbag patterns that speak for themselves, 'WABASTA' delivers handwoven artistry from the heart of Indian villages to our everyday life!
They have a large selection of vegan leather bags. Their sling bags, in particular, are light and fashionable. They're waterproof, tear-resistant, recyclable, and come in a variety of unique and stylish designs.
The House of Ganges has Vegan leather handbags and purses in a wide variety of styles.
Their sling bags, in particular, are fashionable and light. They are waterproof, tear-resistant, recyclable, and come in a variety of unique and edgy designs. The House of Ganges products are eclectic, modern, and functional, and they reflect the peak of Indian craftsmanship. The brand aims to provide a vegan premium product at a reasonable price to a wide range of customers. The majority of these pieces are manufactured with repurposed imitation leather and environmentally friendly processes that treat people, the ecosystem, and animals fairly.
The brand's goal is to offer a high-quality vegan product at an affordable price to a wide spectrum of customers. The bulk of these products are made with reused imitation leather and eco-friendly procedures that are kind to people, the environment, and animals.
Gowma's founders have one goal in mind: to prevent animals from torture and to provide consumers with high-quality replacements that are better in appearance and performance than leather. Gowma offers a wide choice of vegan bags for men and women that are both fashionable and practical.
So the next time you are out for accessories shopping, make sure to give the above brands a click!
Know any other vegan leather bag brand? Comment below.
Let's Just Talk. No Obligations.
I do free consultations every Tuesday's and Thursday's. Either way you will get some actionable tips to reach your fitness goals faster.