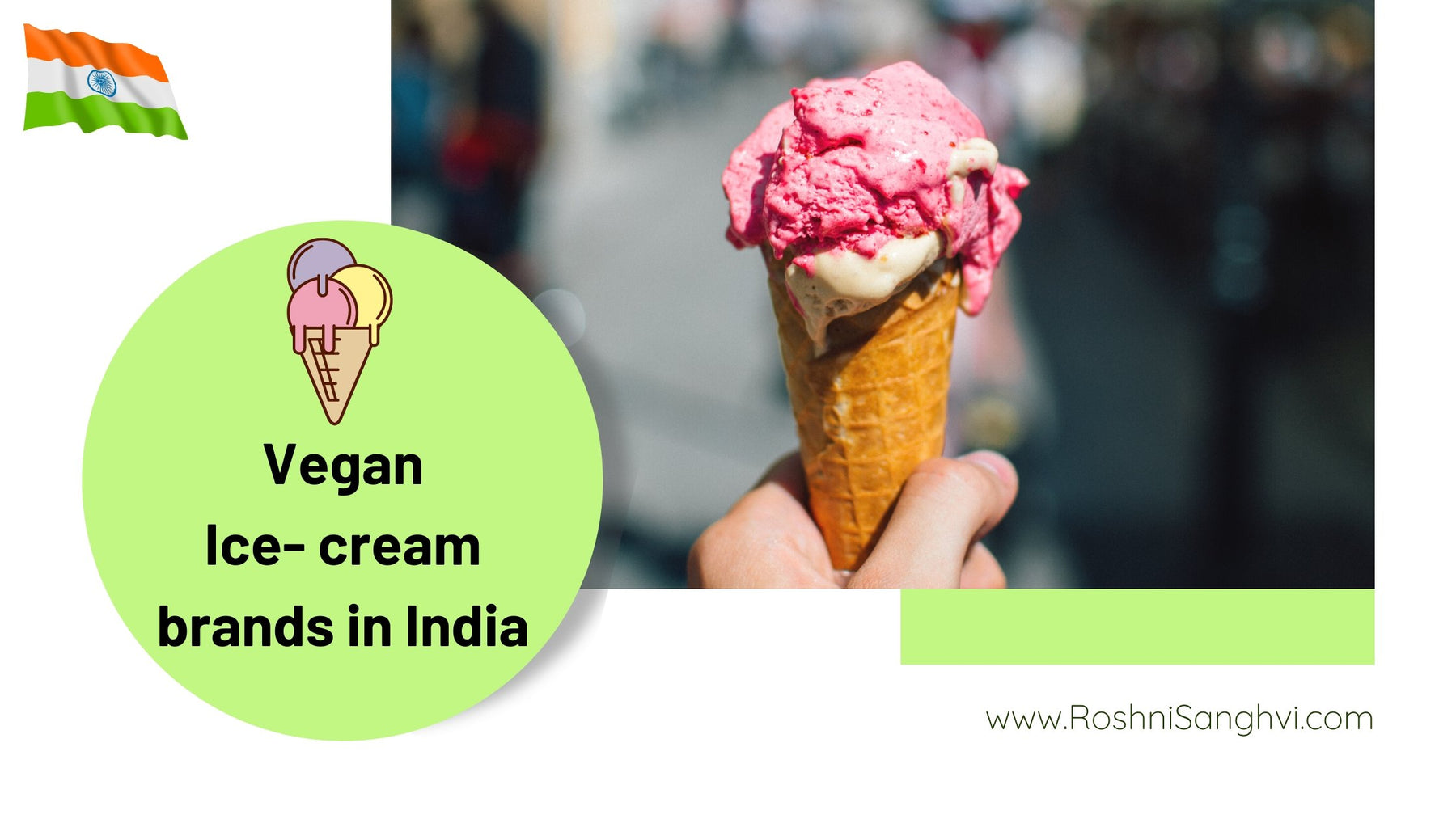 Best Vegan Ice Cream Brands Available In India
The dairy industry is one of the most primary causes of animal suffering. Animal abuse in the dairy sector is a well-known reality.
But as our generation becomes more aware of the impact of their choices on the environment, and as the business as a whole advances in this area, vegan alternatives have become more accessible.
As our understanding of sustainability has grown, we've all become more conscious of what we consume and the goods we use.
If you live in India, you know our love for kulfi's and desi ice creams in summer. I remember going to my grand parents place during summer holidays and dadi would make us kesar kulfi ice- creams at home. Oh how we would cherish them!
On the other hand, Vegans may find it difficult to locate high-quality, flavourful ice creams. You might also be lactose intolerant, which means you can't consume conventional dairy ice creams.
Endometriosis and PCOS patients are also recommended to avoid dairy and processed sugar. This helps individuals control their symptoms better by reducing inflammation in their bodies.
But does this imply that you cannot eat ice cream's anymore?
For those who avoid dairy products, there is now a wide choice of vegan ice cream companies that are well-known for producing delicious ice creams.
Vegan and dairy-free ice creams are not unusual in India and have also been available for quite some time. In addition, there are several brands with localized roots that appeal to a wide range of clients with a wide range of flavour possibilities.
These 100% vegan products employ fresh non-dairy, plant-based kinds of milk like walnut, almond, or coconut milk, as well as local and seasonal ingredients.
Furthermore, many of them contain sugar replacements to assist those attempting to limit their sugar intake. It also cuts down on average caloric intake, making it suitable for non-vegans as well.
The following are some of those vegan ice cream brands that we think you should definitely give a try.
White Cub, founded in Delhi, was among the first dairy-free ice cream companies to enter the Indian market. It is one of the oldest brands of vegan and dairy-free ice cream in India.
Sonal, the CEO of White Cub, founded the brand in 2012 and opened the first parlour in Gurgaon in 2013. Consumers throughout all major Indian cities, including Delhi, Gurgaon, Hyderabad, Pune, Kolkata, Bombay, Bengaluru, and Chennai, can now choose from 19 popular ice cream flavours.
WhiteCub dairy-free ice creams are devoid of cholesterol, trans fat, and dairy, and have won the PETA Vegan Foods Awards for the last two years.
My personal favourite is their chocobar stick. Truly reminds me of childhood days and having chocobar while walking with my parents.
Nomou, a vegan ice cream company founded by Mumbai-based entrepreneur Samir Pasad, produces artisanal plant-based vegan ice creams devoid of preservatives, artificial colours, stabilisers, or flavours. They challenge to make the creamiest gelatos you have ever tasted.
Nomou has a vegan ice cream with no added sugar called Fig & Walnut. Figs have been used to sweeten Fig & Walnut.
They also use dates to sweeten their Choco Almond flavour. Pistachio, Roasted Almond, Choco Chip Mint, and other flavours where then sweetened using palm sugar instead of refined sugar. It has a total of 17 flavours, with the Paan and salted caramel flavours being particularly popular.
I insist you try their Saffron pistachio nice cream. It will truly leave a mark on your heart.
Papacream by Tanvi Chowdhri is a nutritious and tasty vegan ice cream business that won the PETA Food Awards in 2019.
Now note, Papacream is NOT a vegan brand, but has a range of vegan ice cream flavours. It maintains three locations in Mumbai and serves a variety of low-fat, low-calorie, and diabetic-friendly ice creams.
In fact, among the Indian vegan crowd, Papacream is an absolute favourite. All their ice creams have natural sugars with a low glycaemic index, making them acceptable for people with diabetes and fitness enthusiasts.
Six vegan flavours are available, including 1 sorbets. Nature's Basket, Rare Earth, Foodhall, and other outlets sell their products throughout Mumbai, as well as Coimbatore, Chennai, New Delhi, Haryana, Bangalore, and Pune.
I insist you try Vegan Mango ice cream. With the natural sweetness of mango's and creamy texture of the ice cream, you will not be disappointed.
Hangyo, a Mangalore-based ice cream company, collaborated with the Government of India to launch two plant-based ice cream varieties during the Indian Council of Agricultural Research (ICAR90th )'s Foundation Day event in New Delhi.
Now though the company is not vegan, we sure do appreciate a step in the right direction by such an established brand.
'Hangyo' translates to 'Come Here' in Amchi Konkani. Maharashtra, Karnataka, Andhra Pradesh, Tamil Nadu, Kerala, Telangana, and Goa are among the southern states where they are now available.
Coconut Delicacy and Choconut Delicacy are two flavours of their coconut mylk-based ice cream.
Vegan Heart is a Mumbai-based ice cream company that uses only natural ingredients. They sweeten the ice creams entirely with dates, making them both healthful and diabetic-friendly.
Vegan Heart is a vegan, sugar-free and plant-based ice cream brand created by Kanupriya and Kapil Wadhwa.
Belgian Chocolate, Coffee Walnut, Mawa Malai, Pista Kesar, Salted Caramel, Blueberry, Cookies and Cream, and other flavours are available under this brand.
Across the year, they serve six flavours and add fresh ones as the seasons change. Vegan Heart has stores in Mumbai, Chennai and Goa.
Minus 30 is a Delhi (NCR)-based company that offers a variety of vegan and sugar-free ice cream flavours. Once again, this is not an exclusive Vegan brand, but has multiple vegan flavours for consumers to enjoy.
It's an ice cream shop that specialises in gourmet ice cream prepared with plant- milk and stevia.
Dark chocolate, expresso, hazelnut, dark chocolate peanut butter, French vanilla, green tea matcha (a popular flavour), and others are just a handful of their flavours.
Their USP is ice cream without the use of any chemicals, emulsifiers or preservatives.
Belo Pops makes Keto friendly, sugar-free, and gluten-free pops from scratch using only natural ingredients. They currently have two vegan popsicle flavours on their menu.
They feature exotic fruit flavours like pineapple and chamoy, watermelon and kiwi, as well as local flavours like tamarind, mangoda and chilli; others ranging from gummy bear popsicles to rainbow popsicles.
I would be curious to try their Vanilla Cold brew coffee pop's, however, they since they are currently only located in Mumbai, it's hard to get a hand on them.
This low calories, ice- cream for the health conscious is the new kid not he block. Another company that is not entirely vegan but has a line of vegan ice creams.
This brand has various flavours of vegan ice creams, with zero added sugars and ranging as low as 80 calories per serving! That's less than a handful of nuts!
The brand does use multiple kids of artificial sweeteners and even emulsifiers, so I would try them with caution. Never the less, they do seem to have some interesting Vegan flavours, such as Mocha Almond and Mango+ Raspberry.
This popular ice cream has realised the importance of dairy-free products because of which it has joined the vegan ice cream club. I was truly the most excited to try their two vegan flavours, launched in India, and honestly was not disappointed.
The have Mississippi Mud and Alphanso Mango on their menu that is completely vegan. Besides this, their waffle cones are also vegan. Thus, if you want to lick your ice cream on the cone, then this is the place to go.
With multiple Baskin Robbin centres nationally, vegan ice creams on the menu is truly a huge step in bringing Veganism to the limelight.
Started out in Brooklyn, New York, this brand has found its way to the Indian market. You will find a wide range of ice creams in The Brooklyn Creamery including vegan ice creams.
There are over 10 different flavours of vegan ice cream which includes salted peanut butter, chocolate therapy, mango sticky rice, chocolate and coconut among others. The brand also makes low- calorie ice creams for those worried about their waistline going up.
What you will most enjoy is their chocobar sticks! Is there a better way to beat the summer heat than having a chocolate and coconut chocobar in each hand?
This is an artisanal ice cream brand based in Delhi. Aditya Tripathi, the owner of this brand started his entrepreneurial dream from his kitchen, making ice cream for fun.
Cold Love soon became popular, thanks to their bold experiments with flavour combinations and liberal use of kitchen spices.
The brand refrains form using any artificial colours or preservatives, to let consumers taste nothing but whole clean ingredients. Now they only have one vegan flavour, Coffee in Almond milk, but are curious to expand more as the demand rises.
A Gurgaon based brand that has multiple flavours of Vegan ice cream. You can order directly or via tomato in the Delhi/ NRC region. They use unrefined raw sugar and muscovado to flavour their ice creams.
Though a little pricy, their ice creams and smooth to the texture and bursting with flavour. Caramel crunch and Vanilla brownie and two flavours popular among vegan consumer.
So if you happen to be around Delhi, do not forget to try their premium and hand crafted vegan ice creams.
This brand is set to revolutionise the vegan dessert scene all together. After successfully launching vegan cheese, powdered soy milk and various other health products, Urban Platter has now bring forth vegan gelatos!
The brand has a line of flavours such as mango, strawberry and chocolate. The base of their ice creams is natural fruit and almond butter, making it very creamy and rich in texture.
Now unlike their other products that do not have to be frozen, the ice creams are delivered only to Mumbai, Delhi and Bangalore, and can be ordered directly from their website.
Another Mumbai based sorbet and gelato brand that is committed to tinkle your tastebuds with their classic, yet twisted flavours. Now this brand is not 100% vegan, but has a line of vegan ice cream's under the name of Good JuJu.
With interesting flavours like Banofee crunch and Peanut butter Jelly swirl, trust me, you will not be disappointed.
Their company Moto is 'spreading good times, one scoop at a time' and once you try their flavours, you are sure to sit with a an entire tub of their gelatos and digging right from the box.
This vegan ice cream brand is only for your fur friends. Meaning, this is a dog food company which have introduced vegan ice creams premixes for dogs. They offer different flavours of vegan ice creams premixes which includes Unicorn Guava, Emerald Apple and Mango Magnifera.
So you order the ice creams online, add water and then freeze it for a few hours before offering this delicious treat to your fur babies.
The beast for their ice creams is coconut milk powder with freeze dried fruits. Sugars and salt are avoided for their premixes, making it pup friendly.
Another brand which has a pre- mix ice cream version, but for humans.
This brand provides traditional kulfi pre-mixes that are made using only 5 ingredients and each one of them is 100% natural and plant based. You can prepare homemade vegan kulfi in a jiffy to beat the heat this summer.
JusAmazin started of as a nut butter brand, by a couple desperately trying to find healthy nut butters for their lactose- intolerant son, but has soon grown to various other dairy alternatives.
Their Kulfi premix can be a fun family cooking session, where you can get the kids to participate in making your own ice creams at home.
A Delhi based startup that aimed to provide solutions of making ice creams not only a treat but also healthy. Their motive is simple, high protein ice creams with options for customers who choose to select vegan flavours.
Their vegan ice creams are made from almond milk, natural flavours and even prebiotic fiber for easy digestion. With less than 150 calories per serving and substantial amount of proteins, this brand is not only goof on the lips, but perfect for your hips too.
If you are in Delhi and choose to eat something healthy that is also a little naughty, give this brand a try.
The vegan ice cream business is no longer a small niche as it has grown significantly in the recent years.
With so many alternatives for vegans and non-vegans alike, these initiatives are absolutely certain to spark a dairy-free trend while also encouraging more consumers to try and choose vegan ice cream brands.
Are we missing something? Let us know in comments.
Let's Just Talk. No Obligations.
I do free consultations every Tuesday's and Thursday's. Either way you will get some actionable tips to reach your fitness goals faster.