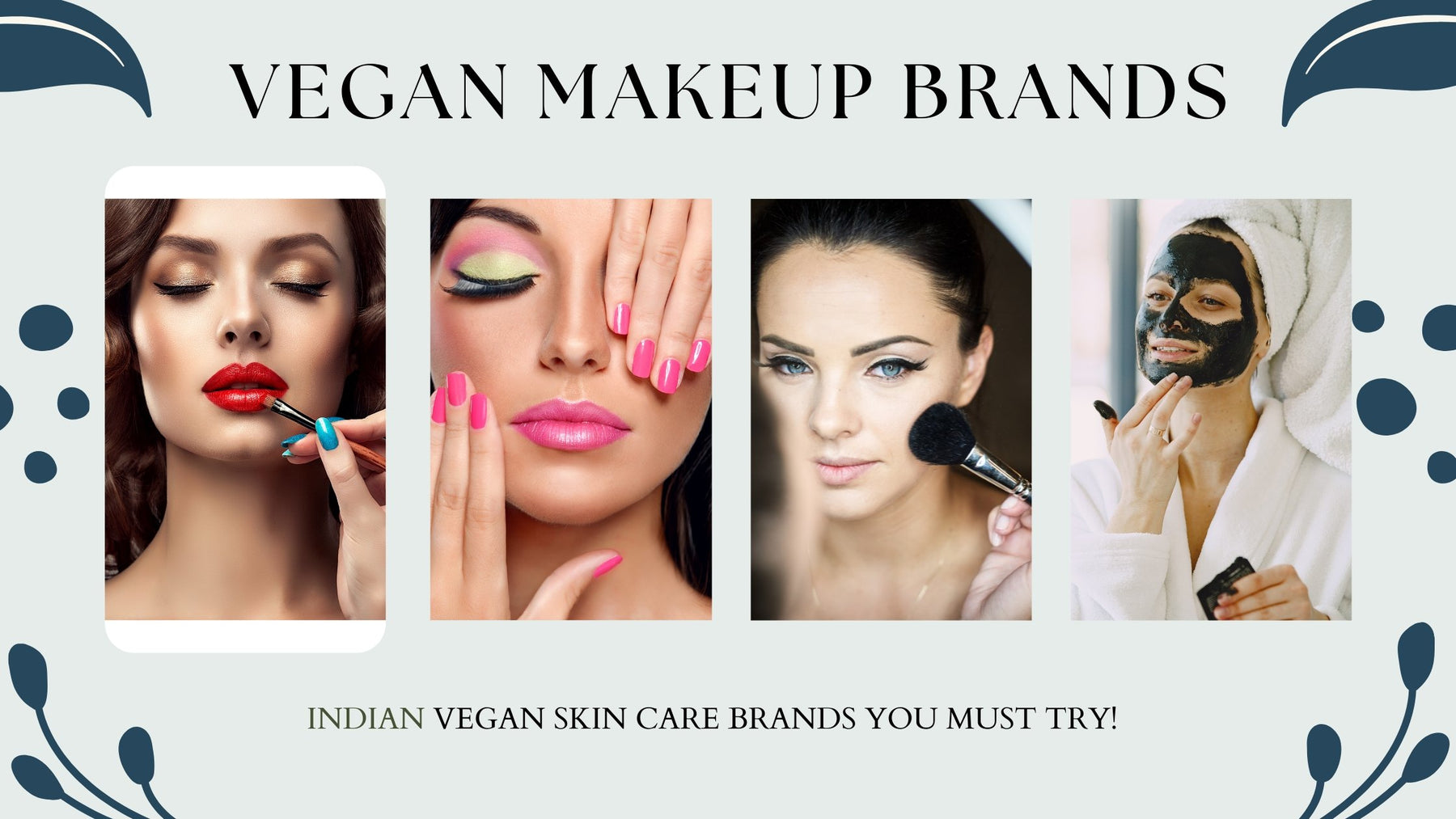 9 Best Vegan Makeup Brands in India
Table Of Content
I switched to a plant- based diet way before I even considered going vegan. Incase you are wondering if there is any difference between the two, then here is an article I wrote to help you understand the same:
I did not even think about the horrible ways animals are tortured by the cosmetic industry. In fact, one of the most significant contributors to animal suffering is the cosmetics business.
However, as people becomes more aware of the influence of our decisions on the environment, and as the beauty industry as a whole makes progress in this area, it has grown more mindful. We've all become more careful about what we wear and the goods we use as awareness of sustainability has grown.
Fortunately, we have now reached an era in which ecologically responsible and animal tested free cosmetics and treatments are becoming more popular.
People are becoming increasingly aware of the substances used in cosmetics as well as the technology behind them. We are now seeing vegan cosmetics in th mainstream market.
The finest vegan makeup companies in India take a comprehensive method to skincare, using essential substances that are both efficient and kind on sensitive skin.
Vegan makeup labels avoid using any animal ingredients or by-products while also providing a slew of health advantages for your skin. Many make- up products also customised to Indian skin types, using traditional ingredients and procedures, and they have some of the most effective formulae and treatments on the market.
When it comes to the make up industry, Veganism can get a little bit tricky. For instance, there could be brands like Maybelline and Victoria Secret's, that use 100% vegan ingredients to make their products, but allow animal testing of their products. Raising the question, if the brand is ethical in the first place or not.
Thus, you want to look out for products that are both, vegan, and cruelty free (not tested on animals). Look out for the below logo's on the packaging to make a more informed choice:
Though nearly anyone can put a vegan sign on their products without the need for anyone to verify, products who use the bunny sign must be verified by PETA. Brands have to pay a small fees and fill in a questionnaire with a statement of assurance for PETA to approve.
PETA however does not run routine or random tests to check weather the brands continue to remain cruelty free, but this is the closest you can get to check authentically vegan and cruelty free products.
Let's find out some of the top most vegan and cruelty free makeup brands available in and from India that you must try out.
1. Plum Goodness
Shankar Prasad, a chemical engineer, founded the prize-winning business in 2013 and claims to be India's sole 100% vegan brand. Plum's cruelty-free cosmetics will leave you looking amazing without harming the environment. They have a product collection that caters to all your skin, hair and body care requirements.
Their green tea variety, in particularly, is a popular choice among consumers. I personally like their all-day wear kohl kajal, which is similar to an eyeliner. It comes with a unique sharpener. It's also smudge-proof. They also have an initiative called #Empties4Good, which collects and recycles your empty Plum bottles and containers. They'll even give you Rs 50 in shopping credits for recycling.
2. Alanna
Rashi Bahel Mehra began her business by making handmade beauty items for her friends and family, tailor-made for Indian skin, but also keeping the environment in mind.
Her brand, Alanna was then launched in 2015, after receiving encouragement from friends and loved once. Essential oils, fruit and nut extracts, and aromas, derived only from natural materials are included in Alanna products. The recipes are all-natural and vegan, including a variety of essential oils and natural ingredients.
Lip balms, moisturisers, hair oils, cold-processed soaps, under-eye gels, toners, scrubs, face packs, and body mists, SLS-free shower gels, and shampoo bars are among the personal care goods available on the website.
3. Soulflower
Soulflower is the solution if you're seeking for an all-natural, vegan, and cruelty-free beauty line. Soulflower is well known for its essential oils, but they also provide hair and beauty products such as shampoo bars, bath salts, and massage oils.
The company boasts of using only organic herbs and plants from its very own farm and assembly factory. They use a variety of herbs and medicinal plants in their line of skin and hair products. Ms. Natasha Tuli, the CEO and founder of Sunflower derives her inspiration form Ayurveda and Natural remedies in creating a clean line of products for your body.
It is a popular brand in India for all-natural aromatherapy, spa basics, and skin care. The Soulflower line is carefully crafted and prepared with hand-picked herbs and medicinal plants that are good for both you and the environment.
4. The Nature's Co.
Natasha Jog founded The Nature's Co. in 2003, and it was inspired by environmental sustainability. It is a PETA Vegan and Cruelty-Free Certified, and it is also recognized because of its natural collection components.
Organic substances of the finest quality are used for the Nature's Co products. Their products too are packed only in glass, PP and PETG containers to ensure sustainability and reduction of environmental carbon footprint. As part of their natural ingredients collection, they also employ natural butter, essential oils, and other powerful herbal extracts.
5. Disguise cosmetics
This Indian business makes fantastic lipsticks that are PETA certified 100% vegan, toxin-free, paraben-free, and lead-free, as well as being reasonably priced.
Disguise is India's first independent cosmetics brand, with the goal of demonstrating to users that they are not so much just a brand for celebrities as they are for ordinary individuals.
Disguise Cosmetics is a business that aims to reinvent beauty products by offering premium cosmetics while avoiding any harm to animals. The brand now boasts a range of stunning lipsticks with creamy and moisturising formulations that are enhanced with avocado and marula oil. They also provide a selection of eye liner pencils, eye shadows, and glow multi-sticks that may be used as a highlighter, eye shadow, or eye liner. My personal favourite is their feather light matt liquid lipstick in mocha colour!
6. Asa Beauty
Asa Beauty is a firm believer in luxury clean cosmetics, which entails using as little trash and plastic as possible. Founded in 2021 by Asha Jindal Khaitan and her daughter-in-law Sukriti Jindal Khaitan, both ardent vegan activists who saw the need to create a holistic perspective to clean beauty.
Clean beauty, according to Asa Beauty, isn't only about the elements but also about sustainable methods, eliminating the use-and-throw cycle, and adopting non-plastic packaging. It is possible to restock all of their stuff. Thus, when you've bought the boxed items, all you would have to do is purchase the refills, whether it's lipsticks, concealers, or mascaras, since they want to make sustainability a standard.
7. Kiro Clean Beauty.
Kiro's cosmetic products are clean, elegant, and most essentially, vegan. They are thoughtfully created and well-balanced. Kiro beauty tries to close the gap between skincare and makeup by using skin-loving ingredients in their products.
Some of the key constituents are jojoba oil, mango seed oil, vitamin C, vitamin E, and shea butter. Their formulation is free of any potentially harmful additives and delivers vibrant colours and rich textures. Their site also has a really useful option where you can enter your approximate skin tone and they will recommend the products which they believe would be ideal for you.
8. Earth Rhythm
Their line of bath, body, and cosmetic products, as the name implies, emphasizes on the benefits of natural ingredients based on empirical research. Earth Rhythm is committed to providing safe, environmentally responsible skincare.
Earth Rhythm was started by Mr. Sivakumar and is now handled by his daughter Harini Sivakumar with the sole purpose of merging science with nature.
To maintain their company ethics, all of their components are hand-picked. Their goods' whole life cycle is modified to make them non-toxic, zero-waste, and plastic-free. Their products are also fragrance-free, making them ideal for anyone with highly sensitive skin or a compromised moisture barrier.
9. BON Organics
BON Organics (also known as Bio-Organic and Natural) is a firm based in Auroville, Tamil Nadu. When it comes to making their goods, they use Ayurvedic formulas and ancient procedures.
Bon Organics' products are completely handcrafted, hand-filled, and prepared in small amounts to maintain the freshness and effectiveness of their contents. The cruelty-free motto adds to the brand's already impressive credentials, which include USDA Organic certification. What's more? They even have shampoos and soaps for your four legged fur- babies!
10. Minimalist

This brand believes in transparency, efficacy and affordability. All their beauty products have full disclosure of the natural ingredients used and their concentration. There are no hidden ingredients in their products, and are also quite affordable.
Besides this, they also test all their skin care products via a third- party testing center and are happy to post their reports in the webpage. Now note, not all their products are 100% vegan, but the company boasts of not testing their products on animals. Most of their products are vegan, however, you might want to check while you shop.
11. The Tribe Concepts
This is a modern beauty brand that Ayurveda thoroughly inspires. It's a lineup of beauty products consisting of pure and ayurvedic formulas that are result-driven. All their products are made from handpicked ingredients from Indian soil.
Not only this, their raw ingredients are picked from soil that has been free from pesticides and chemical fertilisers. The company is 100% vegan, practices sustainability and even ships their products internationally. I strongly recommend their collagen boosting Shilajitadi Thailam face mask!
12. Tinge
This vegan and cruelty-free brand uses natural ingredients suitable for different Indian skin tones. They make sure all their products are toxin-free and even sulphite free.
But not only this, another one of a kind feature of this brand is the ability to customise your very own lipsticks and foundations. Their long lasting liquid lip collars are a must try. My personal favourite is Across The Universe.
13. Paul Penders
It is one of the first vegan beauty brands in the world. Paul Penders, an animal rights activist and environmentalist, started it.
Their USP, is that all Paul Penders products are fortified with LevensESSENTIE Gold™ a 100 year old superblend of natural herbs, vitamins and antioxidants which restores and enriches your natural hair and skin.
He first started with shampoos and then became an award-winning vegan beauty brand. You can easily find Paul Penders' products on Amazon and Flipkart. You can find ingredients like tea tree oil and exotic flower mixes in many of their line of products.
14. Lotus Herbals
You will find this brand prominently sitting on any medical store shelf in India. This is because, it is a well-known vegan and herbal brand which was established in 1993. Making this one of India's oldest, and most affordable cruelty free and vegan beauty products company.
They have their own RnD team, carefully formulating every product from their line, and giving you nothing but the best. The company is also well known to use products from plants that are grown naturally, with our fertilisers. They claim to merge the knowledge available from the ancient Vedas with today's science to formulate their products.
15. Amayra Naturals
This is a beauty brand from the hills of Uttarakhand. This brand's vision is to provide a conscious plant-based and holistic approach to skincare researched and formulated in the Himalayas to provide the healing touch.
The brand itself was created by a natropath, reflexologist and an aroma therapist with over 25 years of experience. Thus, everything about this brand, from their products to their packaging will scream of nature and simplicity to you. I do recommend trying their specially crafted range of winter product range, especially if you live in colder parts of India.
16. Organic Harvest
This brand offers a wide range of skincare products without animal ingredients, toxins or chemicals. Their organic and natural ingredients are certified by global organisations like OneCert, Nature and EcoCert. They even have the vegan bunny mark from PETA.
The company is found by Mr. Rahul Agarwal, a former employee of Ernst and Young, who sought out to bring organic skin care range to the Indian audience. Mr. Agarwal takes pride in his company that takes extra care from sourcing the ingredients to the final products, making sure everything is 100% organic and cruelty free. If you are looking for a birthday gift the next time, make sure to check their gift boxes out.
17. The Switch Fix
This vegan beauty brand is also plastic free, non- toxic, and water saving. In short, a vegan beauty brand that is looking out for the planet. This brand is all about loving mother nature and earth because of which all their products are chemical and toxin-free. They also don't use any kinds of plastic in their packaging.
One unique thing I like about this brand is the use of mushroom's in many of their products. It is widely believed that mushrooms act as an elixir and this brand understands the same. Their principles are rooted in sustainability, and yet, they do not compromise on their product efficiency.
18. Ilana Organics
This brand is a firm believer in transparency because of which they are completely transparent about the ingredients and the technology they use to make their skincare products. Now though the brand claims to be 100% cruelty free, meaning they do not test their products on animals, the bran dis not 100% vegan. Milk and beeswax is used in many of their products.
While the brand does have some good products, you might want to watch out for synthetically derived products too in their ingredient list.
19. Just Herbs
Another Indian cruelty free brand that claims to be cruelty free and mostly plant- based. Now though they do not test their products on animals and also are verified by PETA, some of their products do come from animals, such as beeswax.
The brand has an empowering back story, lead by female entrepreneurs. The brand was started by Dr. Neena Chopra, an award wining biochemist who started preparing skin care products by coming up with her very own combinations of herbs and spices. Just Herbs has grown and come a far way since then, and even supported by the Ministry of Ayush, Govt. of India.
20. Ruby Organics
This is a vegetarian brand (meaning dairy products are used in some of their products) that is cruelty free and free from animal testing. All their products are claimed to be natural and made with organically sourced ingredients.
Apart from being 100% natural, they also add bio-active ingredients that benefit the users' skin. For people unsure of what to buy, this company also offers online consultation with a skin expert who hand picks products specially for your skin type. What I did not like about this brand is that they are not 100% transparent about the ingredients in their products. You will have to contact them individually to check for ingredients and if the product you select is in fact vegan.
21. Nyor
This brand is the brainchild of Parineeta Borthakur, who wanted to provide cosmetic users with natural and organic products rather than chemically made products that are harsh on our skin. Therefore, all the products of Nyor are made with ingredients that are beneficial to our skin.
A PETA certified Vegan and Cruelty free brand that offers nothing but luxury at an affordable price. Though vegan, this brand does use some synthetically derived products to make their lipsticks. The good thing however, is that they are transparent about the ingredients used in making their line of lipsticks.
22. Daughter Earth
This brand uses Ayurveda and biochemistry to provide its customers with some of the best products. All their products are plant-based containing Shea, Moringa, Candelilla and Almond.
Just as the name suggests they work towards the betterment of women in society, A portion of profits collected from them goes towards the education of under privileged girls. The brand's vision is simple, clean, yet clinical products that are good for the skin and the environment. In all, this is probably the brand I would recommend amongst others int he list to anyone shopping for make up.
23. Soul Tree
It is the first Indian brand that provides natural products and makeup that has been certified in Europe. All their products are made of natural ingredients and ayurvedic recipes. Their products are skin-friendly and also provide the required nourishment.
Note, however, even though the brand is cruelty free, it is not 100% vegan. Many of their products contain honey and even ghee (clarified butter). Though the bran has vegan options, I would be cautious while shopping from here. in all, their products originate from clean ingredients and natural sources.
These cruelty-free and vegan beauty firms have set a fantastic example of how one may enjoy cosmetics without feeling guilty about harming animals or the environment.
If you know of any other Indian brands that is driven by ethical values to make a difference, please make sure to tag them in the comments below and we will add them to the list.
Let's Just Talk. No Obligations.
I do free consultations every Tuesday's and Thursday's. Either way you will get some actionable tips to reach your fitness goals faster.