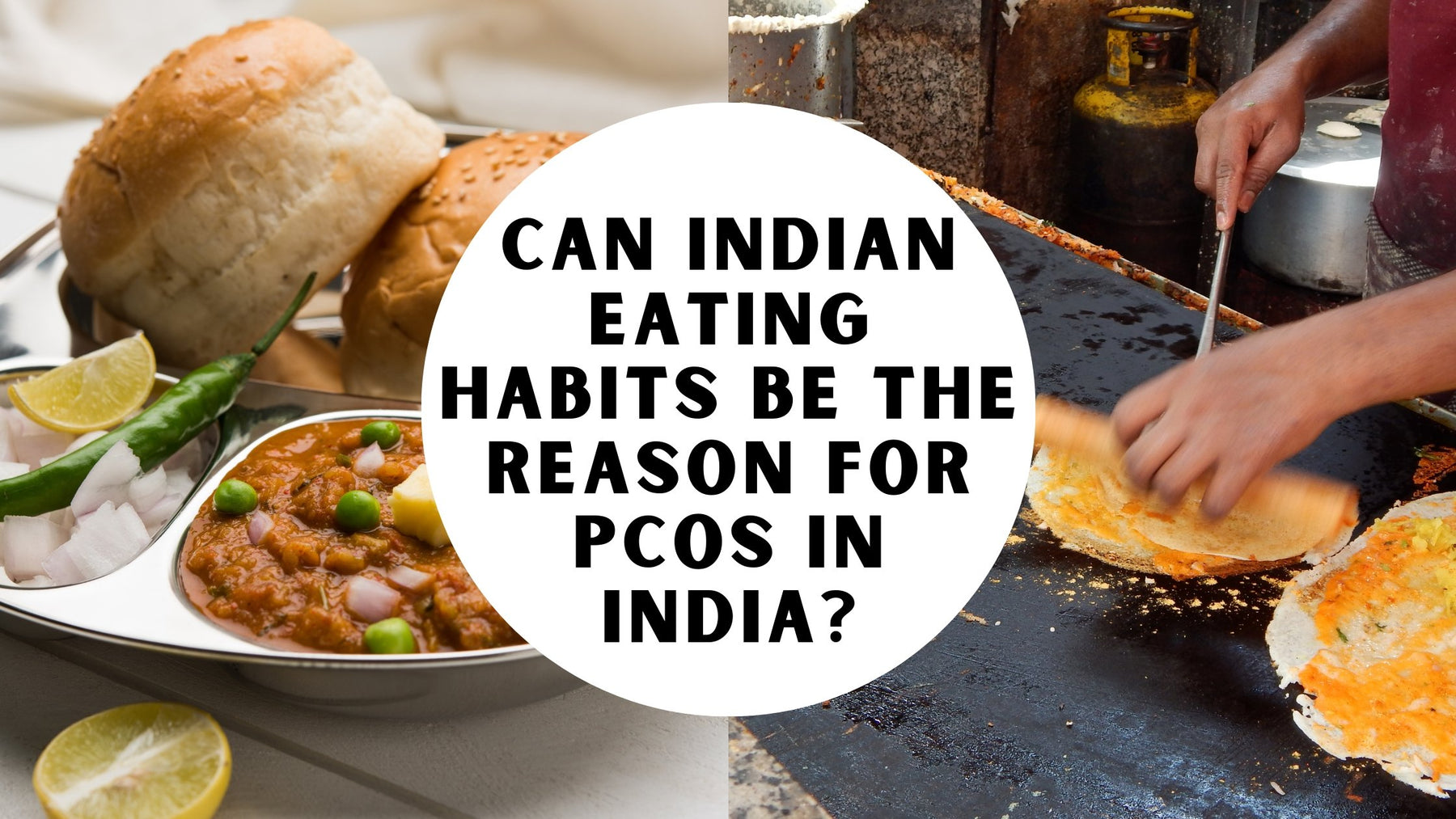 5 Indian Food Habits Causing PCOS/PCOD
With fragrant masalas and delectable flavors, the popularity of Indian cuisine knows no bounds. If you are an Indian, you understand that the traditional and typical Indian diet boasts many nutrients but in the most balanced manner.
However, for a nation that takes pride in its veggies, fruits, and lentils as an integral part of the diet, there is something seriously wrong. Wondering what that is?
Before I get into Indian Food Habits Causing PCOS and PCOD, let's understand few other things...
A study that AIIMS's metabolism and endocrinology department conducted a few years back pointed out that 20-25 percent of women suffer from PCOS.
Mind you, these women belong to the childbearing age, and among them, 60 percent are obese, and 40-60 percent have a glucose intolerance; seventy percent of them have insulin resistance, while 60-70 percent have high androgen levels.
Don't you think these statistics are shocking? And you must be thinking, what's wrong? Well, maybe our inclination towards fried foods, hi-glycaemic carbohydrates, and sweets could be wreaking havoc.
Most Indian women owing to their busy schedules, skip their breakfast. Some have food made from processed ingredients like maida, refined oils, and sugars.
Raise your hands if your evenings are incomplete without the namkeens, chips, and biscuits. Fruits have taken a backseat in our lives, late dinners are fancy to us, and our diet is an unbalanced one.
I have customised a six week holistic healing protocol for PCOS management where I hand hold you towards making lifestyle and nutritional changes that help you heal the body from within. Here are the details for the same.
Lets discus sour eating habits that might be the culprit here.
1) Not breaking the fast with BREAKFAST.
Most women living with PCOS, irrespective of their weight, are likely to have some level of insulin resistance. So taking the much-needed steps to balance the blood sugar makes sense. But unfortunately for a lot of us, breakfast is not the first meal but the day's rushed meal. Many of us kickstart our days with an oily or sugary 'to- go' breakfast that spikes our insulin levels. We are unaware of our stress hormones overflowing, and skipping the breakfast or having a stale paratha -poori inflames PCOS symptoms. Replacing breakfast with a cup of chai also makes the mornings unpleasant, and we end up eating worse all through the day.
Are you guilty of doing that? If you are, then you probably spend the entire day thinking about lunch. And, because you are too hungry by lunch time, you end up eating more. So what's happening is you eat more when you wait more.
Solution: Break your fast with a breakfast that has no starch, sugar, or refined carbohydrates. Instead, opt for healthy fats, lean protein, and carbohydrates that have been minimally processed. Begin your day with a nutrient-dense wholesome breakfast that presents a burst of flavors in the mouth. How about some Indian Oats upma, nachni dosa, palak, and sprouts idli, and oats idli with chutney of your choice? See how these breakfast options are devoid of SOS (sugar, oil and salt). You do need a pinch of salt and not french fries worth.
Nachni is good for PCOS because it is high in fiber and protein besides being free of gluten. And green leafy veggie like spinach (palak) contains Vitamin B at high levels that help a woman with PCOS.
Besides all these, oats in your upma or chila can do wonders because it is a low GI carbohydrate that is great for your gut biome and makes you full. This research study (in the picture below) shows that PCOS behaved better with low GI cereal grain. Here are some fun recipes for you to try:
What about intermittent fasting then? While IF is great, for some women it only adds extra stress to their food routine. I suggest you skip IF and replace the same with a huge glass of green smoothie!
2) Leaving the lunch.
When you tend to eat infrequently, there are varying blood sugar levels and a spike in the insulin. And, then this practice causes irritability, dizziness, and brain fog. But am I missing something else too? Yes, I am, and that is PCOS! Most Indian women either have a super late lunch or skip it entirely because of a late breakfast. Many of the office-going women order their lunch from outside. This lunch is laden with oil and all the bad stuff which we may be completely unaware of.
Nobody understands that an unhealthy meal impacts our productivity post-lunch and makes us crave more salty, fatty, and sugary stuff.
Solution: Stop doing yourself the favor of skipping lunch. Instead, make some easy lip-smacking Indian vegan dishes that keep you fill till diner and give you the fuel. Make some tomato daal or the quintessential bhindi with spices. You can also make mushroom korma, chana masala, or cauliflower curry. But make sure you are serving these dishes with brown rice or quinoa.
I specifically mentioned mushrooms because they help with AGE (advanced glycation end products) reversal. Hence, they help in fat and sugar metabolism besides balancing your hormones and improving your thyroid function.
Cauliflower is another cruciferous vegetable with a similar nutrient profile to that of Brussels sprouts, asparagus, and broccoli. While every doctor and dietician may ask you to skip "anything white," they WILL NEVER stop recommending cauliflower to you. There are numerous minerals and vitamins in this vegetable that treat inflammatory conditions like diabetes and PCOS. Please look at the information below to understand why doctors recommend it for women with PCOS.
Tomatoes are another staple in Indian dishes that need to be taken seriously. They have chromium and lycopene that are incredibly crucial for eliminating the symptoms of PCOS. These elements control your insulin resistance and improve your lipid profile.
3) Frisking fruits from the table.
Do you know that the deficiency of micronutrients is very high in Indian women? That is because most women believe that indigenous fruits do nothing for the body. Thus a sustained deficiency causes PCOS, and while eating fruits can address the problem, women fail to intake it. Time pressure and workload are dominant barriers for women, but mostly Indian women eat whatever they have. Thus, they fail to pay heed to the perspective of nutrition.
Fruits indeed contain a high amount of sugar and carbohydrates. But this sugar in your fruit is not your regular table sugar. That is because fruits are composed of different kinds of carbohydrates and fructose (fruit sugar). They contain antioxidants and fiber that treats insulin resistance. These nutritious, colorful, and juicy fruits are not only full of minerals and vitamins. But, they also add hues to your platter. You may not be aware that certain fruits treat PCOS symptoms by regulating the periods.
Solution: Incorporate apples in your diet as they are a source of folic acid, calcium, vitamin C and A. In reality, the element folic acid helps in managing infertility that is deep-rooted in ovulation issues. The apples are also free from cholesterol, sodium, and fat. When you eat it without peeling the skin, they do wonders for your health as they are low GI food.
Run to the fruit section in your grocery store and fill your baskets with sweet lime, lime, orange, and pomegranate. These fruits fight the free radicals, and the pectin found in them lowers the symptoms of PCOS.
4) Un- healthy snacks.
From pani puris to samosas and from pakoras to kachoris, some Indian snacks are worse than the usual junk food. Most Indian women love to sip their chai in the evening and complement it with stuff like farsaan and pattice. Each of these dishes mentioned here has trans-fats in liberal measures that ultimately pave the way for PCOS. For instance, a single samosa has 25 grams of fat, whereas those pillowy bhaturas that you often dream about pack 1200 calories and 50 grams of fat. By no means am I exaggerating!
As a result of consuming these dishes as evening supper, we miss our dinner. And most of us hate to munch on fruits when the other person in the room is polishing off a plate of pattice. Some of us also love the non-nutritive sodas and extra sugary fruit juices that do nothing but Says who that Indian snacks cannot be healthy? The CHOICE is YOURS!
Solution: Have small servings of almond, peanuts, cashews, and walnuts without going overboard. Make a trail mix of these nuts, and it will work well for your menstrual issues. Note though, roasted nuts are very high in AGE and you want to avoid them.
If you are not fond of chewing or munching, then rustle up some quick vegan recipes. For instance, you can do that by giving a healthy twist to your all-time favorite, Aloo Tikki. How? Just make some sprouts tikkis that will be rich in fiber and have high nutrient value. You can also make oats and cauliflower tikkis by combining the fiber-rich oats with low-calorie cauliflower. If you desire to sip onto something, make some cinnamon or turmeric chai. These two ingredients are PCOS warriors.
Who says your PCOS meals have to be dull and drab? Instead, make the diet your bank account and good food choices as suitable investments for it.
5) Obsession with dairy.
I have already covered this topic in depth in the following blogs. I highly insist you read them:
Estrogen's in the dairy milk make it's way into the human body and make PCOS conditions worse. Besides, dairy products are very high in AGE's (especially Ghee). They do not offer any specific benefits to the human body that you cannot get from other sources. If anything, dairy contributes to cholesterol, saturated fats and unwanted hormonal fluctuations in the body.
Solution: Instead of resisting a plant- based (dairy free) diet, thinking it is too hard to follow, try transitioning one meal at a time. See if you can just tweek your breakfast to make it dairy free. Then lunch and finally dinner. Products like cheese have something called casomorphines (like the drug morphine) that makes them so addictive. Keep in mind though that these cravings drop quickly once you transition to a plant- based diet.
Let's Just Talk. No Obligations.
I do free consultations every Tuesday's and Thursday's. Either way you will get some actionable tips to reach your fitness goals faster.