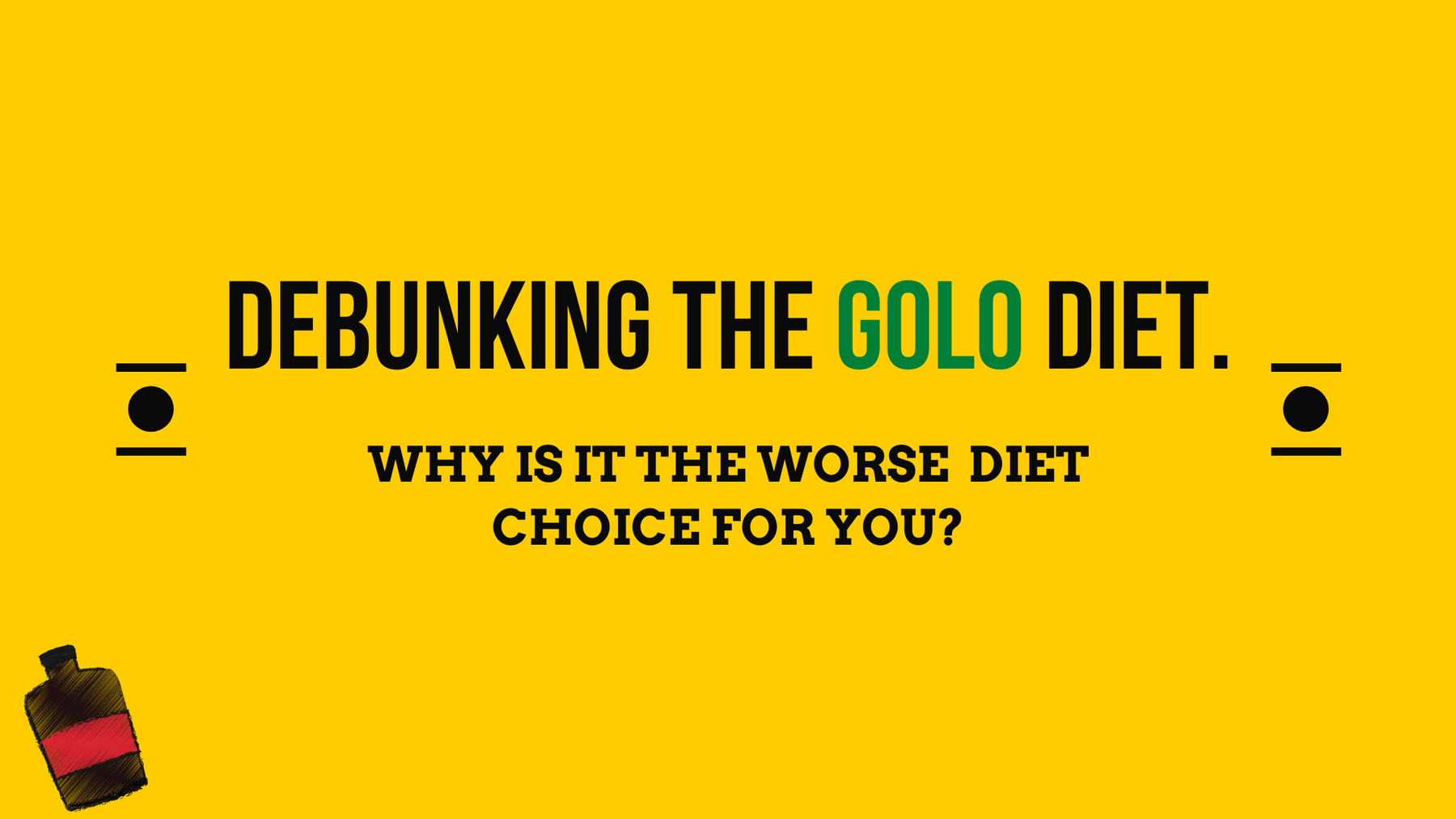 Debunking GOLO Diet and why it doesn't work?
GOLO diet is a weight loss program that combines RELEASE (a dietary supplement) and an extremely restricted calorie meal plan. The GOLO plan of metabolism permits 1300-1800 calories every day through different kinds of 'whole' foods. These foods include grains, vegetables, fruits, meat, or eggs, as mentioned on the GOLO website. This diet plan promises on stabilising hormones through exercise, following strict nutritional guidelines and supplementing products suggested by the company. It claims that you can lose weight, improve health, and manage your blood glucose levels following such a regimen. But the diet plan is challenging and pricey. Let's explore why its effectiveness might be dubious and if it is worth the investment.
What is Release (supplement used on GOLO Diet)
Release is a patented formulation that contains three minerals and seven plant-based ingredients. It claims fix the liver and metabolism of the body, thus expediting weight loss. The team of formulators, pharmacists, researchers, and doctors behind GOLO's RELEASE claim that the supplement improves your metabolism by combating insulin resistance. It claims to have been tested and formulated to target more than one biochemical pathways involved with weight loss.
But, if you read up about the supplement's primary ingredients, you will find CHROMIUM on the list.
Now, our body requires chromium, but in minimal amounts. There is also very little evidence that the use of chromium in a supplement helps with glucose control. Even the little bit of evidence is inconclusive because it has many side-effects. With chromium intake through supplements, you can develop psychiatric and behavioural conditions like schizophrenia, anxiety, and mood changes. It can aggravate kidney disease and cause allergic reactions like skin redness, swelling, and scaling. What's worse is that it can also damage your liver.
Moreover, the "proprietary blend" of many herbal compounds in the supplement is controversial. That is because the company has not disclosed the amount of each ingredient. All in all, RELEASE lacks independent research.
Are the studies published on their website true?
Not entirely. If you have a look at the links published on the website, (that may be backed by research finding) you will see that they are all sponsored by the people benefitting financially from the GOLO diet. None of the studies on the website are published in peer reviewed journals. Look at one of the research study by them below, it clearly states a conflict of interest.
In fact, if their supplements work as they claim to say, the FDA would actually use this as a first line of treatment for morbid obesity. But the FDA does not even approve of the same.
How many calories are allowed on the GOLO diet?
The GOLO plan promotes a calorie intake of 1300-1800 calories. Since nutritionists recommend consuming 2000- 2400 calories approximately on an average, the GOLO diet recommends that there should be a deficit of 200-700 calories per day. If not planned properly, this could lead to nutritional and mineral deficiency. Now, you should know that this diet will be a very low-calorie diet that promises you to burn fat drastically. Imagine eating a 1300 calorie diet for weeks together and adding an exercise plan to your regimen. This is sure to bring your metabolism down and cause an hormonal fluctuation in the body.
Because food and mood go together, a GOLO diet is stressful, to say the least, because it triggers a spike in your stress hormones. Hormonal fluctuation on a long run cause regaining the lost weight besides worsening of depression, anxiety and mood disorders.
Is it sustainable?
The GOLO diet is not sustainable for all body types. For starters, it claims to help you lose weight through the management of insulin. And, then makes customers invest in a 90-day, or 60-day, or 30-day 'rescue program' that makes tall promises about repairing your metabolism and restoring the hormonal balance.
GOLO makes a great deal about convincing everyone that their program is not a diet at all. But to break the bubble, it is like any other commercial diet you will try. It is a diet based on supplements and is also low in calories, but it pushes you to include a costly supplement and meal plan in your regimen that may actually do nothing. The research on the diet is not believable, and the diet's physiology is not sound either. Besides, it makes half-witted claims that badly confuses a layperson.
EXPENSIVE
When you start the GOLO diet for the first time, you will have to make an investment based on your weight. A 30-day plan costs around USD 50, a 90-day plan costs USD 100, and a 60-day program is USD 80. The project also recommends that you keep ingesting the RELEASE supplement until you reach your desired weight. So you can see how losing weight can burn a hole in your pocket.
CONFUSING
GOLO's website includes an FDA-required statement that explains that the FDA has evaluated the plan. And, it also does not intend to prevent, cure, diagnose, or treat any disease. This information is confusing in itself, especially when consumers see statements about "alleviating metabolic dysfunction" and how it helps balance hormones, repair metabolism, and manage insulin. Besides, the food plan is also not as straightforward as it may seem to you at first glance. That is because it states that all that you eat will be based on the "matrix of metabolic fuel," and that includes factors like "fuel values," individual metabolic rates," and physical activity.
Why you should avoid this diet at all cost?
The GOLO diet is a specific 'diet plan' rather than a way of eating. While the GOLO diet allows for some flexibility in terms of what you can eat, the plan demands a particular supplement from GOLO, LLC, the company that developed the diet in 2009. The theory behind this diet is to lose weight by increasing your metabolism and decreasing insulin resistance (which raises blood sugar levels) to prevent health conditions associated with weight gain.
According to the company's website, the diet creators are "dedicated doctors, pharmacists, and researchers." However, the only specific individuals listed are the CEO and president, who have backgrounds in sales and marketing and are not doctors or registered dietitian nutritionists. No specific healthcare personnel are identified on the website.
How Does the GOLO Diet Work?
According to GOLO's plan, you "stop dieting." Instead, you take Release, which the company asserts helps regulate insulin, causing your body to lose weight without the need for calorie counting or restrictive eating.
While the website lists studies confirming the safety of Release and the efficacy of the GOLO diet for weight loss, it's important to note that both pilot studies and those published are funded or sponsored in some way by GOLO the subject pools were very small.
People who are on the GOLO diet get booklets that outline the metabolic programme, which recommends eating 1,300- 1,800 calories each day spread out over three meals (and a Release capsule follows each meal).
While everyone follows the same food guidelines, your caloric intake is based on gender, age, current weight, and activity level. GOLO also offers eating guidelines that encourage you to eat more whole foods (such as fruits, vegetables, meats, eggs, and grains) while removing sugar and processed foods.
It reassures you that you can also eat out while on a diet. A minimum of 15 minutes of physical activity per day is also recommended.
They also release a disclaimer that special precautions needs to be taken before beginning their protocol.
"Important considerations to follow include kidney function—you wouldn't want much protein if there is an impairment in the kidney function," says Melina B. Jampolis. She is an M.D. and a Forbes Health Advisory Board member who runs a small private nutrition practice in Los Angeles.
Golo Diet for Diabetic, PCOS, and Kidney Patients
Several personals have faced kidney issues, insulin resistance and worsening of PCOS symptoms after following the GOLO diet.
I personally suggest stoping the GOLO diet if you are already on it, or avoiding it altogether.
What is the alternative way to lose weight?
Any plan where you are eating high volume food, getting in enough micronutrients and are able to follow for the rest of your life is a good alternative. Going on yo- yo diet's and adding supplements to meet your lack in nutrition is not sustainable nor healthy.
Sustainable lifestyle changes that are long- term is the only healthy way to lose weight, watch this video to understand more:
Frequently Asked Questions (FAQs):
Why am I Gaining Weight on Golo?
There is ample anecdotal evidence that people on the Golo Diet gain weight. Golo's eating plan principles include limiting calories, portion sizes, processed foods, and increasing exercise. It also suggests using a proprietary supplement to aid in weight loss.
It could either be the low metabolism due to excessive reduction in calories or simply the false freedom participants have to be able to eat what they want as long as they take the supplement, people do gain weight on the GOLO diet,
What are the Side Effects of Golo Release Pills?
The release pill is only tested in small scale studies sponsored by the people benefitting from its monetisation. Users have reports side effects ranging from gall bladder stones, kidney stones, IBS and chronic inflammation.
How Does Golo Reverse Insulin Resistance?
The GOLO diet is based on the theory that weight issues are caused by insulin resistance. The diet is designed to help people maintain healthy insulin levels so their cells can efficiently process glucose from their blood. However, this is far from truth. Ideally, you would follow a high fiber, low animal fat plan to reduce insulin resistance.
Let's Just Talk. No Obligations.
I do free consultations every Tuesday's and Thursday's. Either way you will get some actionable tips to reach your fitness goals faster.