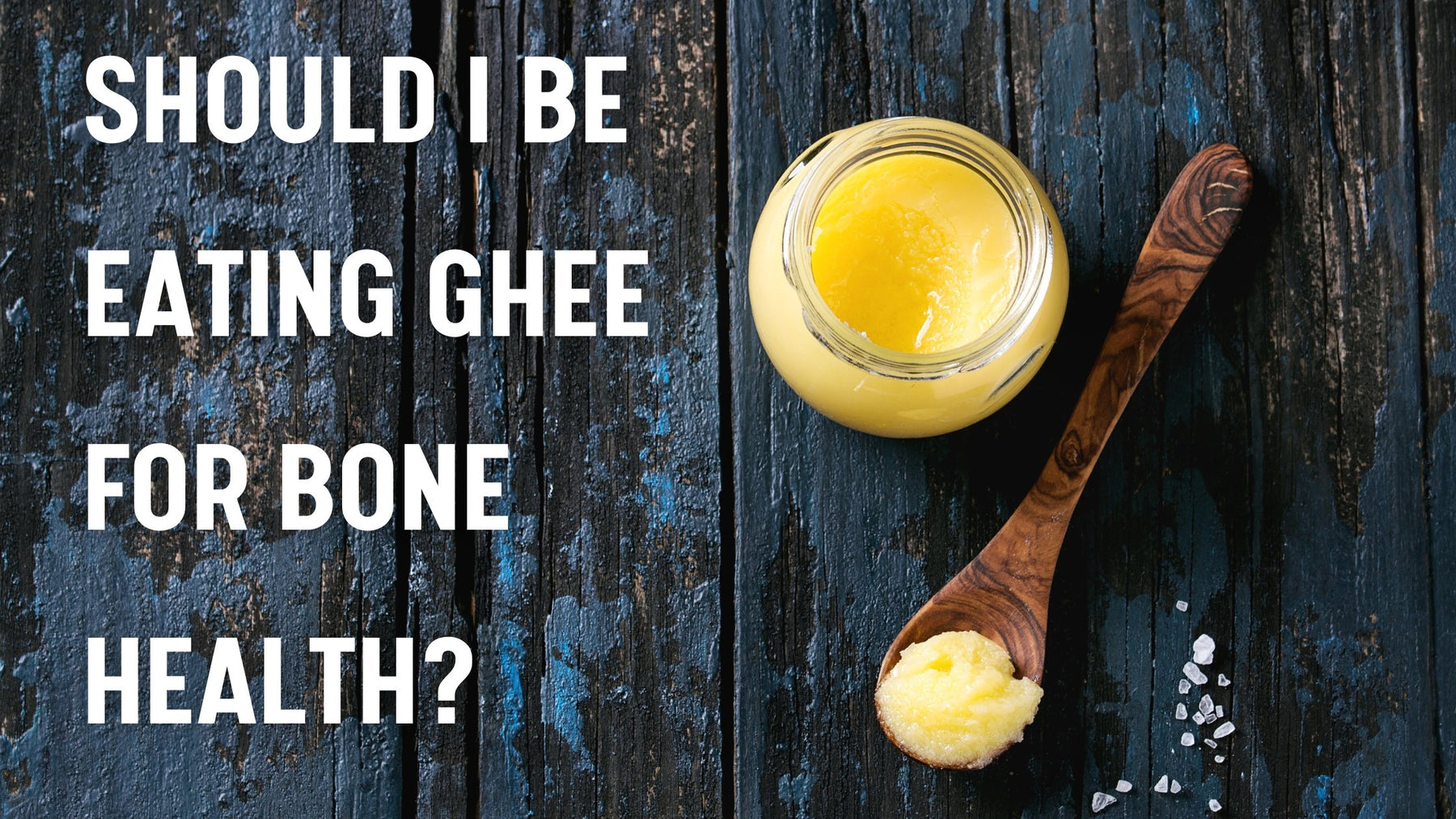 Should I be eating Ghee for bone health?
What about Ghee on a vegan diet? Surely Ghee is healthy.
My earliest memory of ghee was when I was just a child. My sister and I would fight for the burnt- charred ghee residue that was left over when you make ghee at home.
I still remember my grandmom's concerned face when I expressed dropping dairy from my diet. 'But you will eat Ghee, won't you?' she would say, 'How will your joint stay lubricated' she would express.
---
I am sorry to burst your Ghee bubble here but from a nutritional stand- point, Ghee is nothing but a formula for heart AND brain degenerative diseases. I will let you watch the full video I made here to know more:
I remember sharing this video with a client who had herself transitioned to a plant- based diet and experienced wonders. Not only did she lose weight very fast, but also healed her body and experienced a boost in energy levels and mental health.
As soon as she watched the video she called me to ask if her teen son could still have Ghee for energy and health reasons. I was surprised she even asked that because she had first hand experienced how beneficial a plant- based diet is.
But the more we spoke the more I understood that this though comes from years and years of Dairy products being marketed to us as being healthy. We are so scared to drop it out of their diet thinking we are missing out on nutrition. I can assure you, you are not.
There was a point in history when smoking was considered healthy and doctors prescribed it to pregnant women. Today we laugh about how wrong we were. Not long in the future will we laugh about consuming dairy in the name of health.
Besides being high in cholesterol and growth hormones, dairy milk is often adulterated. Read more about the same here:
From an ethical point of view, only watch the below video if you have the stomach for it:
There is a drastic drop in fasting glucose and hba1c within a few weeks after dropping dairy out of the diet. This is very commonly observed for clients I work with who struggle with pre- diabetes and type 2 diabetes. Over a long run, we have also managed to get clients off medication while working closely with their physicians.
---
Breakfast: Rava Upma.
Recipe courtesy: Holy Cow Vegan.
Ingredients.
2 cups sooji (rava, semolina)

1 tsp vegetable oil

1 tsp mustard seeds

1 large onion (finely chopped)

2 green chili peppers (like serrano or jalapeno. Deseed and use more or less per your taste)

2 sprigs curry leaves

2 tsp ginger (grated)

½ tsp turmeric

4 cups water

2 medium tomatoes (diced)

2-4 tbsp cilantro (chopped)

2 tbsp grated coconut (optional)

Salt to taste

Juice of 1 lemon and more wedges of lemon to serve
Instructions.
On a dry skillet, roast the sooji, stirring constantly, until it turns just a couple of shades darker and smells fragrant. Always roast on medium to medium-low heat because you don't want to burn it, and don't leave the stove unattended. The sooji should turn just a couple of shades darker and smell fragrant. Once it's roasted, remove to a plate and set aside.

Heat the oil in the same skillet. Add the mustard and wait for the mustard seeds to sputter.

Immediately add the curry leaves, green chillies and onions. Saute until the onions are soft but not brown. Add the ginger and stir in.

Add any additional veggies at this point, if using. Add the turmeric and saute another minute.

Add 4 cups water and salt it until it's saltier than you want the upma to be.

Turn the heat to low and have a ladle or whisk ready.

Pour the roasted rava into the skillet and immediately start stirring it into the water. You need to work fast at this stage, and again, make sure the heat is at the lowest point possible. You want every grain of the sooji to absorb water so the upma is nice and fluffy and not lumpy. If some lumps do form, press on them with the ladle and stir them into the rest of the upma. You can sprinkle on some water if needed.

Turn off the heat immediately and mix in the cilantro and lemon juice. Serve in bowls with more wedges of lemon that you can spritz over the upma
I like to pair this upma with a tambuli. Here is a recipe for Brahmi Tambuli.
Lunch: Vegan Chilli.
Recipe Courtesy: From my Bowl.
INGREDIENTS
3 cloves Garlic

1 Small Yellow Onion, diced

1 Green Bell Peppers, diced

1 cup sweet corn

3 ribs Celery, diced

3 small Carrots, sliced

2 tbsp Rajma masala

1 tbsp Cumin

1 tsp Dried Oregano

½ tsp Cayenne Pepper (Optional)

2 cups cooked Red Kidney Beans

1 cup Pinto Beans (or any other type of beans)

4 cups Crushed Tomatoes (boiled)

1 cup Filtered Water

Salt and Black Pepper, to taste

Optional Toppings: Green Onions, Nutritional Yeast, Vegan Sour Cream.
INSTRUCTIONS
First add the Onion, Celery, and Green Pepper to a large nonstick pot over Medium-High heat with ⅓ cup of Water. Cook until all the water evaporates, stirring occasionally. Once the pot is "dry" and the vegetables start to turn golden brown, deglaze the pot with an additional ¼ cup of Water. This process should take around 10 minutes total.

Add the Garlic, Spices, and Carrots to the pot, then sauté for a few minutes, adding a small splash of water if things start to stick.

Finally, add the drained Beans, Crushed Tomatoes, and 1 cup of Filtered Water to the Pot. Bring everything to a boil over high heat, then reduce the heat to a simmer, cover, and cook for 10 minutes. Remove the lid from the pot and cook uncovered for 5-7 additional minutes, until the Carrots are tender and the Chili reaches your desired thickness. Stir this mixture occasionally, to make sure nothing sticks to the bottom of the pot.

Serve warm, and top as desired. I like to have this with a few slices of bread or even brown rice.
Dinner: Tofu butter masala with whole wheat phulka.
Vegan alternatives for ghee/ cheese and butter and easily available. Vegan Dukan in India is a one stop shop for all things Vegan. However, there is not point replacing one evil for another.
Though the vegan alternatives are still better than the non- vegan once, these are still processed and high in fats. I suggest making cashew sour cream at home instead and using the same for the tofu masala recipe for the creamy texture.
Let's Just Talk. No Obligations.
I do free consultations every Tuesday's and Thursday's. Either way you will get some actionable tips to reach your fitness goals faster.