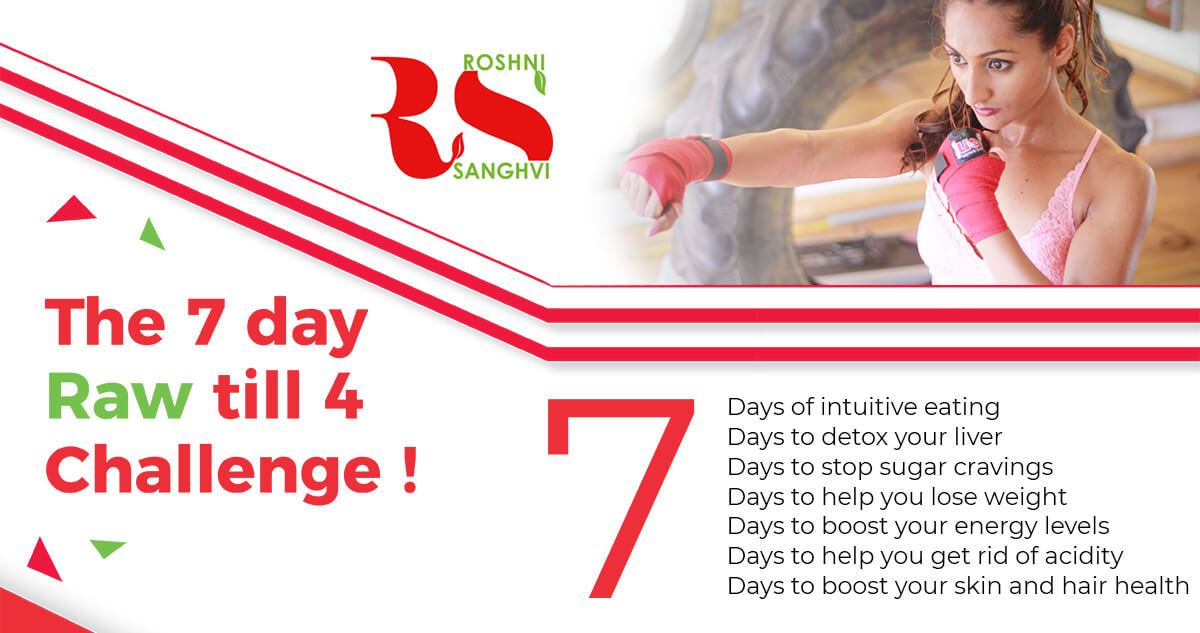 The 7 day Raw till 4 challenge!
7 days
7 breakfast smoothie recipes
7 unique salad recipes
7 salad yummy salad dressings
7 delicious cooked dinner options
7 informative and motivating podcasts to keep you on track!
All new recipes not mentioned in my other books or youtube channel before!
What's more to say! Diwali is around the corner and I am sure all of you want to look your best for the occasion. I always believe in celebrating guilt free! The last thing you want to think about when picking up that extra piece of kaju- barji is about your waistline. This way, neither are you enjoying your cheat food nor are you staying on track.
So let's do things a little differently this time around. Let's take the 7 day raw- till- 4 challenge together BEFORE diwali. Because there are no calorie restrictions with this challenge, you are not under eating and starving yourself unlike other 'diet's'. On the contrary, you are going to be eating so many micro- nutrients that when you are offered sweets at the end of the challenge, your cravings for the same will drop and you will want to continue eating healthy. All the fiber, vitamins and minerals coming in from eating raw food 80% of the day will also help your skin glow and flush out excess water and toxins from your system making you look leaner in just 7 days.
The one cooked meal at the end of the day is a clean- cheat treat to reward yourself everyday. I have chosen from the best of recipes for this challenge to help you stay excited for each day. You could eat the same thing everyday or change it every single day, its up to YOU! The recipes are very versatile and not limited to 7- days. Make them a staple in your everyday life. We have all kinds of cuisines for everyone's taste buds.
Everyday of the challenge comes with a new meal plan, grocery list (to help with easy shopping), detailed recipes and a brand new podcast where I educate and most importantly motivate you to stay on track. Listen to the podcast on your way to work or while at the gym!
The challenge starts on 20th October. Once you sign up, you will receive all material by 10th October, giving you enough time to experiment with the recipes and get your groceries ready.
Let's Just Talk. No Obligations.
I do free consultations every Tuesday's and Thursday's. Either way you will get some actionable tips to reach your fitness goals faster.