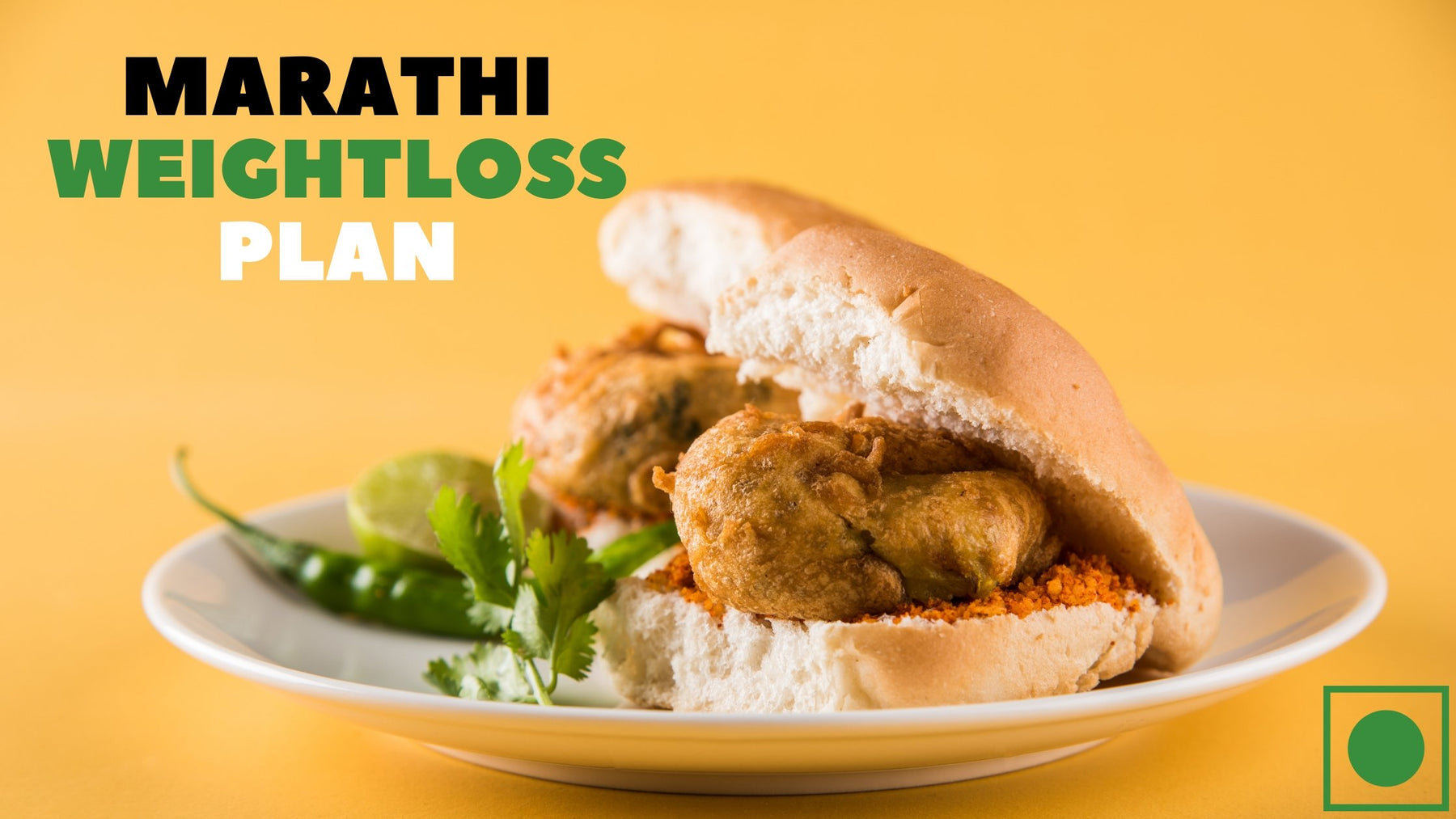 Marathi Diet Plan For Weight Loss
Table Of Content
Look beyond 'vada pav' and 'misal pav,' and you would find so much of variety packed in one cuisine: the Marathi cuisine.
Marathi cuisine is a union of both mild and spicy dishes. Maharastrains consider Marathi cuisine as more austere than others.
Just the word 'pav bhaji' makes me salivate. Food is an integral part of Maharashtra's cultural heritage. It is because each sub-region represents its unique history.
Being the third-largest state in area, Maharashtra vary in cooking and food habits. There are also considerable variations in the use of spices.
There are few dishes that are particular to Marathi cuisine. These includes pitla, bhakri, bharleli vangi, ukdiche modak. Also, aluchi patal bhaji, thalipeeth, pav bhaji, Puran Poli, shrikhand, vada pav. Additionally, one will find Nashik style misal pav, and Mumbai chaat, puneri missal, sambar vada and selucha chana also originated from Maharashtra.
What does a typical Marathi diet look like?
Marathi cuisine has influenced several civilizations, religions, and rulers over centuries.
It spreads to a diverse landscape sprawling over a coastline, a plateau, and major rivers. The staple diet for the majority of Marathas is Lacto-vegetarian. Many communities such as the Brahmins or the Varkari sect members follow this diet. However, particular section in the coastal, northern, and eastern regions follow a meat- centric style of eating.
According to their geographical locations, the cuisine can classify among five significant sub-regions. There is Konkan (coastal), Khandesh (north), Vidarbha (east), Marathwada (central), and Desh (west).

For instance, the Konkan food culture is rich in fish and coconut and its milk as part of a pescetarian diet. Additionally the Khandesh or northern frontier of Maharashtra is the "Kala masala" land. Dishes prepared are spicy with various roasted and charred ingredients. The food of the Vidarbha region is the quintessential Marathi food. Dishes here include whole grains and sun-dried vegetables, besan and black pepper.
Marathwada is a farming and agricultural community. The arid climate and nutrient-rich volcanic land makes it perfect for agriculture. You are most certain to find flavourful rice preparations, curries, and specific local chutneys. One such chutney is the Solapur groundnut chutney.
Desh or western region includes Pune or Brahmanic cuisine and Maratha warrior cuisine- diet of the warriors. This is predominantly a vegetarian diet with mild and sweet flavours that include pulses, grains and roots. Varying flours are used in their everyday staple.
A typical breakfast includes pohe, misal, sheera, upma, sabudana khichadi. It also has phodnicha Bhat, and thalipeeth. A simple meal in rural regions might include dal, bhaaji, bhakari, raw onion, and pickle. In the urban areas, the meals a little more elaborate with a combination of:
Boiled rice.
Wheat flatbread such as chapati or ghadichi poli (layered triangular chapati).
Salad or koshimbir (raita) based on onions, tomatoes, or cucumber.
Amati or varan soup made from toor dal, other dals or kadhi.
Seasonal vegetables like eggplants, okra, potatoes, and cauliflower with gravy.
Dry leafy vegetables such as spinach.
Papad or related snacks like sandge, kurdaya and sabudana papaya.
Dry or fresh chutney, mango or lemon pickles.
Usal prepared from sprouted or un-sprouted whole legumes.


History of Marathi cuisine
The Marathi cuisine influences several historical dynasties, rulers, and saints. This diversity exists in varying food habits among the five major geographical regions.
Over the many centuries, Maharashtra saw dynasties like Satavahanas, and Chalukyas. There were also saints of Varakari religious movement Dnyaneshwar, Namdev, Tukaram and Mughals. The most influential of them all is of 17th-century king Shivaji of the Maratha Empire. The influence is in Maharashtra and its cuisine!
Pros and cons of the Marathi diet
Marathi food, or traditional Marathi meals, can indeed be healthy. Over time and with the development in street food culture, traditional food has taken a modern twist. Think about it, the moment I say Mumbai, you think vada pav. Rarely would an authentic Marathi thali come to your mind.
When we talk about the pros of the Marathi diet, home-cooked meals with seasonal veggies are the best. There is variety, plant- diversity and flavour in Maharashtrian food.
Yet, as we move away from traditional cooking methods, we find food that is highly processed and unhealthy. Some of these processed foods include fried foods dipped in oil, mutton, and dairy products like ghee and milk. As we mentioned earlier, consumption of such food products cause several health issues.
Diseases among the this new food culture
It is evident that the Marathi cuisine is quite rich. It is also undeniable that it is more about butter, cheese, red meat, fried street food. These are all saturated fat and cholesterol-increasing foods. These foods increase obesity instead of helping you stay fit.
Including more whole grains, pulses, fruits, and vegetables is optimal. Cutting down the intake of meat products, salt, and high-fat dairy products is suggested. But what about Ghee? Watch this:
A survey of integrated disease surveillance project in Maharashtra looked into dietary habits. According to this survey, consumption of whole- foods has drastically reduced over time and is being replaces with more and more dairy products and meat.
Thus, we are also seeing an increase in health issues like obesity. There are also other diseases such as PCOS, thyroid, hypertension and diabetes that are on the rise.
Unhealthy local Marathi dishes and their healthy alternatives
Vada Pav
My dad, who grew up in Mumbai, looks for every opportunity to tell his childhood story of how there were days where they had only enough money to eat two vada pav's for lunch.
Every Mumbaikar's lifeline, Vada Pav, is street food at almost every nook and corner of the city. You do not have to be a nutritionist to know that there is nothing healthy about maida and deep fried aalo.


As it is a deep-fried snack, it consumes a lot of oil. It also adds many calories, and food loses water and absorbs fat. This increases its calorie content. Such foods are also high in trans fats. It can further lead to several health issues. Issues like heart disease, cancer, diabetes, and obesity.
So how then can you make a healthier version of this?
The potatoes by itself are not bad. Potatoes contain high amounts of resistance starch, that help boost gut health. A baked or air fried vada with mint and coriander chutney is a better option! Instead, make a chaat plate for yourself with pieces of baked vada, different chutneys and onions. Yummy!
Sabudana Vada
Sabudana is a favourite among Indians, especially on their fasting days. But, it is more harmful than good to your body. While sabudana seeds itself are alright, the process of deep frying does more harm than good.
Instead, have baked sabudana vadas or sabudana khichdi and try oil-free cooking. It will enable you to take in all the benefits of the grains and the vegetables.
Misal Pav
A Maharashtrian staple snack, Misal Pav is a dish of legumes. It has spiced oil poured over and savored with pav. Now the core ingredients can be healthy, considering its sprouts and lentils. Just avoid the oil's and still make the dish tasty by adding all the spices, ie, garlic, ginger and chillies.
Ofcourse, omit the pav and try some whole wheat bread instead.
Substitute this dish for healthy 'laps'- a Maharashtrian dish made of dalia. You can also have a sprout salad with chopped vegetables, and some herbs and spices for taste.
Meat dishes
Although common in Maharashtrian populations, meat like chicken or mutton are very unhealthy. Also, they lack several dietary requirements. Additionally, they also cause cancer and increase the risk of developing a tumor.
It is healthier to choose a meat alternative like raw jackfruit, tofu, or tempeh. It is well known that jackfruit is a nutritious superfood. Additionally, tofu and tempeh are both made from soybeans. Tempeh provides lots of protein, calcium, iron, and potassium per serving. Plant's have no dietary cholesterol, while tofu contains calcium, iron, and all nine essential amino acids.
Fried Modaks
The iconic modaks prepared during the Ganpati festival may not be so bad. Yet, it becomes an unhealthy dessert once it is deep-fried in oil instead of steaming.
As such, avoid deep frying the sweet and only consume steamed modaks with very little sugar. Also, try to avoid using ghee as much as possible.
Basundi and Rasmalai
Both basundi and rasmalai contain a considerable amount of milk and sugar. As I have mentioned in my previous blogs, milk and other dairy products cause more harm than good for the body. Read this:
If you take such dishes often, they can become a primary cause for various chronic diseases. Diseases like type 1 diabetes in children and rheumatoid arthritis, PCOS in adults.
The Maharashtrian cuisine also has healthy dessert options to consume instead of these. You can have Dashmi Roti, Bhakri and Thecha, charlotte, Mung daal khichdi, and Kathal dry sabzi.
General lifestyle tips for weight loss
Weight loss can only be permanent if it comes with lifestyle modification. The moment you think about 'diet' and restriction, you have lost your long- term weight-loss battle. Watch the below to understand more:
It should not be about a workout routine or nutritional habit's that you fail to continue. Do not opt for a temporary 'diet plan,' only to jump back to the same routine soon after. Try to make some permanent lifestyle changes to lose weight and lead a healthy lifestyle. Besides what is discussed in the video, here are a few more lifestyle changes I insist my clients to make:
Limit your oil consumption to no more than 1 tbsp (or none) per day. Explore oil-free cooking techniques instead. Dry roast spices and cook with water.


Avoid using any ghee and curds. Try making plant- based curds at home from cashew, oat or soy milk.


Stay away from dairy as much as possible, so no cow milk chai. Use dairy alternatives from plant-based sources instead like almond or cashew milk. You can make these at home too!


Make sure to include 5 to 8 servings of fruits and vegetables every day without a miss.


Get into a routine of drinking water before every meal and snack. It will help you to eat less during your meal.


Switch to herbal teas, and herbs infused water instead of chai and coffee.


Use meat and paneer substitutes like tofu, raw jackfruit, and tempeh. Cook them the same way to enjoy the same kind of taste.


Eat smaller portions with the help of having your foods on smaller plates.


Also, try to include at least 30 minutes of physical activity per day. This could be anything from playing your favorite sport. Activities like cricket, joining a yoga class, or walking at least 7 to 8 thousand steps per day.


Tweak the food and add simple lifestyle changes to you benefit. Any meal plan that you consume to continue your weight loss journey needs to have the right amount of foods. It should have proper nutrients for best benefits.
Customise your meals by avoiding excessive use of oils, sugar, and animal products. Avoid all dairy products. And try to switch to a plant-based diet. You will definitely loose stubborn weight fast without calorie counting or feeds control.
Marathi Diet Plan For A Week:
Remember to make lifestyle changes while making the above changes.
If you are looking for customised diet plan as per your body type, fill up the form below.
Let's Just Talk. No Obligations.
I do free consultations every Tuesday's and Thursday's. Either way you will get some actionable tips to reach your fitness goals faster.