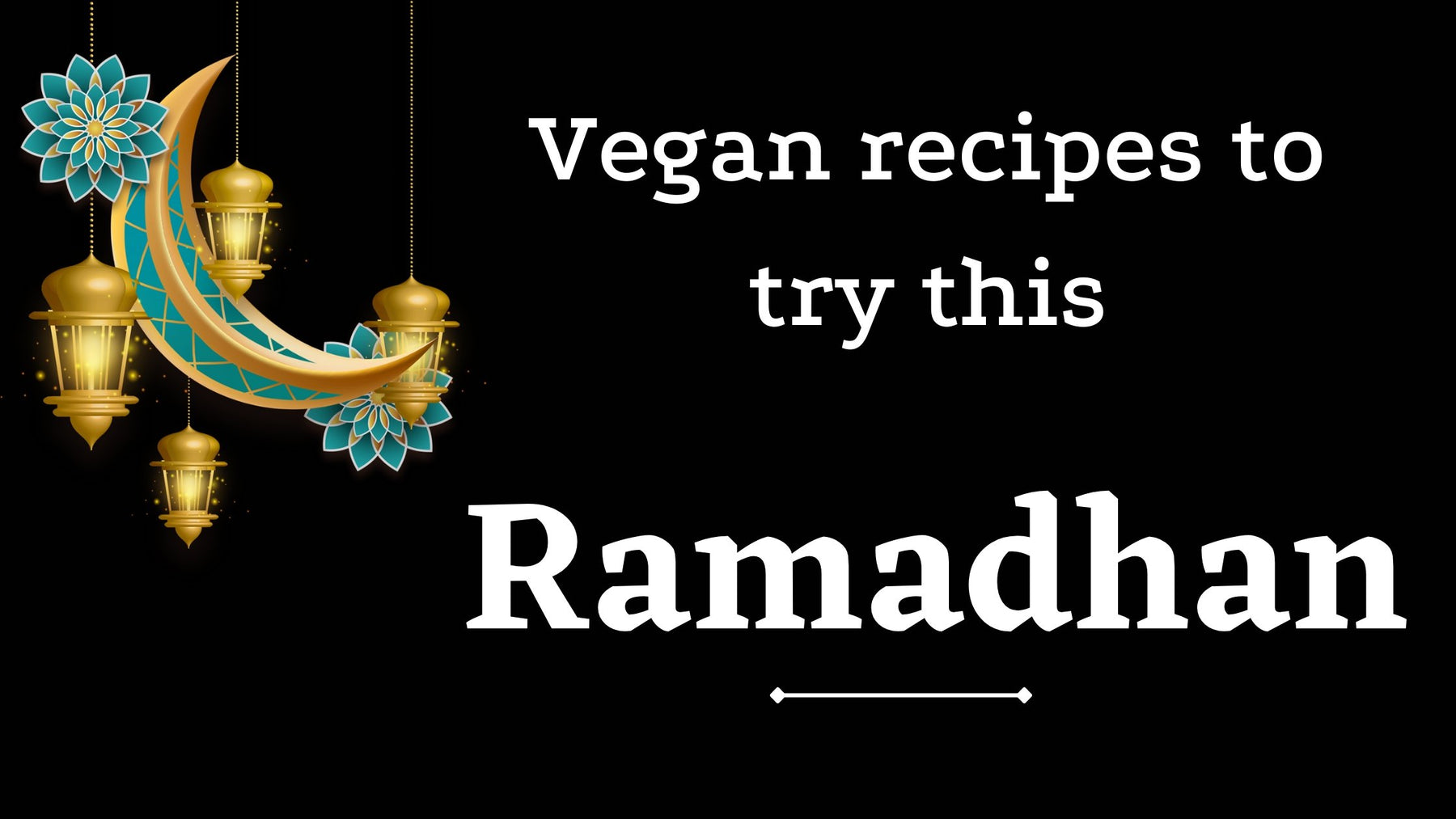 Vegan recipes to try this Ramadan.
Tips to break your fast.
The holy celebration of Ramadan falls in the ninth month of the Islamic calendar all over the world. It is the annual month of fasting from dawn to dusk, a month of prayer, self-reflection, fasting, and devotion to spiritual worship.
With every passing year, more and more Muslim's are open to adopting a vegan lifestyle, especially during the holy month of Ramadan. Mainstream media has put a light on animal cruelty happening behind closed doors of Animal agriculture and factory farms.
Benefits of

Time-Restricted Fasting

on the body.
Fasting during Ramadan entails time-restricted feeding, which combines a fast and feast period daily for one month each year. Muslims abstain from food and drink consumption during this period from dawn till sunset. This change in food and fluid intake timing results in significant changes to the composition of energy and nutrient intake. There have been studies in this regard that show a consistent improvement in blood lipid profile during Ramadan fasting, which often lasts beyond this period. It could be beneficial for the cardiovascular system, as HDL is protective against coronary heart disease.
Tips to break your fast the right way.
First of all, make sure you break your fast with some water and preferably whole food sources like fruits or nuts. Dates are a great option too. They are full of nutrition and fiber.
Try and follow this order:
Fruits> Nuts/ seeds> Green leafy vegetables> Raw vegetables > Cooked lentils/ pulses > Cooked vegetables >Grains.
To avoid getting too full and bloated after your sunset feasts, try to ditch the oily food and eat loads of fiber, which is very easy to attain on a plant-based diet.
When is the Right Time to Exercise While on Fast?
Having a light Iftar and then going for some exercise can be a good way. This way, you get some glucose in your body before you sweat it out at your workout session.
However, make sure that you are well-hydrated every day between breaking your fast and Suhoor. Also, do not start any new workout program this month as your body will already be going through changes with the fast.
Sample Recipes Each for Iftar and Suhoor:
Vegan Suhoor Recipes
Overnight Oats
Ingredients:
½ cup rolled oats

1 tbsp cacao powder

½ cup non-dairy milk of your choice

Fresh or frozen blueberries+ other fruits of choice

Peanut butter

Chopped walnuts and dates

Drizzle of maple syrup
Process:
Mix the oats and milk in a jar or bowl and refrigerate overnight.

In the morning, add to the mixture the remaining ingredients and serve.
Chickpea Omelet
Ingredients
1/4 cup Chickpea flour

1/3 cup water

1 tablespoon of nutritional yeast (it is optional)

¼ teaspoon of salt (black salt preferred for a more egg-like flavor)

¼ cup vegetables of choice (I love spinach and mushrooms!)

1 tablespoon oil (for frying)

Process

Mix chickpea flour, healthy nutritional yeast, and salt (according to taste) in a mixing bowl and stir well.

Add half of the stored water and mix well until all forms a smooth paste. Mix in the remaining water and blend well until it turns smooth. Set aside.

Mix up the veggies you wish to add to your omelet. (about ¼ cup of veggies per omelet).

Add oil to a well-seasoned iron skillet pan or a non-stick fry pan. Saute well the veggies on medium-low flame for about 3-5 minutes until tender.

Remove the veggies from the flame and mix them to the batter and stir well.

Increase the heat to medium flame and pour the batter into the skillet pan like you. Cook for around 5 minutes until the top of the omelet no longer looks wet. Cover with a lid for 1-2 minutes so that it cooks evenly.

Carefully loosen up the omelet with a spatula and flip the omelet. Cook it for 3-5 minutes more until that middle portion is no longer soft. (Ensure that no wet batter remains in the center portion).

Top everything with cheese and fold it over so that the cheese blends in the middle. You can improvise with a handful of baby spinach in the middle, and it will mix well with the melting cheese.

Vegan Iftar Recipe

Roasted Cauliflower and Chickpea Stew.

Ingredients:

Spice mixture of turmeric, cumin, cinnamon, coriander, sweet paprika, and a hint of cardamom

A cup of cauliflower and carrots

One can chickpeas

One can diced tomatoes

Chopped onions and garlic

Parsley and toasted peanuts to garnish

1 tbsp Olive oil

Process:

Preheat oven to 475 degrees F

Toss cauliflower and carrot pieces with salt, pepper, and more than half of the spice mixture. Drizzle some olive oil and spread them on a lightly oiled sheet pan. Roast for 20-25 minutes or until the veggies soften and get some color.

Heat olive oil in a pan. Add the onions. Sauté onions for a brief 3 minutes, then add garlic and the remainder of the spice mixture. Stir for few more minutes till they are lovely and fragrant.

Add the washed chickpeas and canned tomatoes. Season them with salt and pepper.

Stir in the roasted cauliflower and carrots.

Bring everything to a boil, reduce the flame to medium-low, cover partly and cook for around another 20 minutes.

Stir the portions occasionally and add water if needed.

Garnish with fresh parsley and toasted peanuts and serve.

Stay blessed!

Roshni Sanghvi.
Let's Just Talk. No Obligations.
I do free consultations every Tuesday's and Thursday's. Either way you will get some actionable tips to reach your fitness goals faster.