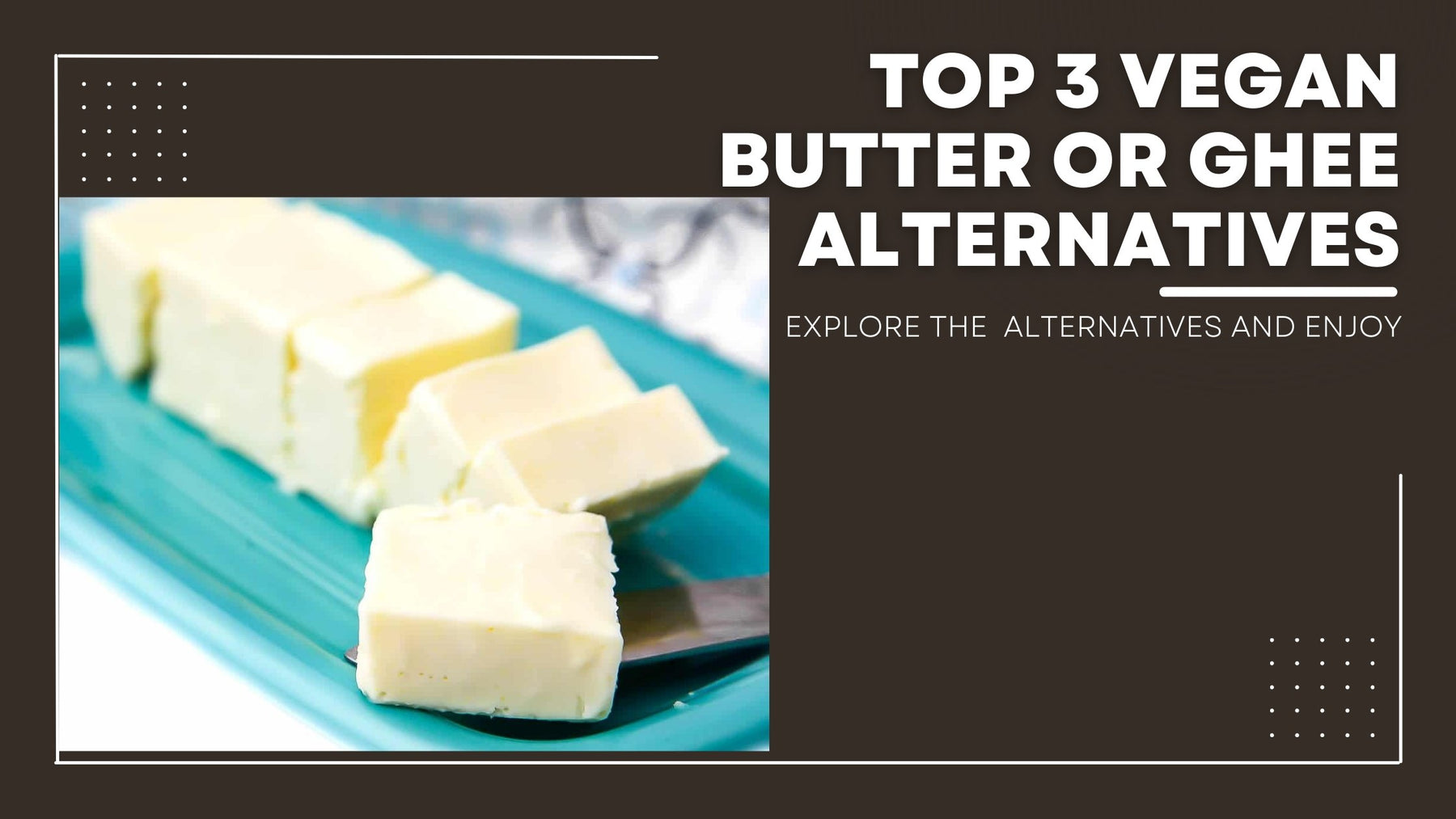 Top Vegan Butter or Ghee Alternatives in India.
A growing number of people are now opting for plant-based diet substitutes for health, environmental, or even ethical reasons.
From milk alternatives to vegan cheese, numerous plant-based products are on the market, including plant-based butter.
Vegan butter is a non-dairy butter substitute that is typically made with oil such as olive, avocado, coconut, palm kernel oil, or also a combination of oils.
You also have the option of Vegan Ghee that can be used for regular Indian cooking.
Plant-based ghee might be low in saturated and trans-fatty acids and also contains no cholesterol. It is a great option for people with lactose intolerance along with the benefit of having a similar texture and taste as non-vegan ghee.
Here are my top 3 vegan butter or ghee alternatives that you can definitely give a try:
Good Mylk Vegan Butter.
It is a brand that delivers to almost all major cities in India. They also have salted butter options, and it is very flavorful.
Emkay Lite
This plant-based Ghee has become my personal favorite over time. This is because Emkay has an amazing, melting, ultimate gooey vegan Ghee that can also be great on roti's!
Though the Ghee has zero cholesterol, it is still high in fat and I would suggest consuming it sparingly.
Live Yum Premium Vegan Ghee
Livyum has an amazing plant-based ghee that tastes exactly the same as regular ghee. It is a highly preferred ghee alternative in my household as well.
Root and Soils Ghee
This vegan ghee substitute is produced using coconut milk and also has a desi flavour. It is infused with turmeric and Indian spices and is prepared by competent local ladies from Pollachi taluk.
The fragrance and taste are appealing, leaving you wanting more while still being nutritious and delicious. This vegan ghee has no preservatives and may be used in Indian and Continental cuisines, as well as as a phulka's.
Homecraft Garlic Butter Spread
The Homecraft Garlic Butter is a 100% vegan butter spread that is a great alternative for dairy butter. This is just like regular butter which can be used as a spread, for searing, sautéing, and baking, with the extra bonus of being 100% plant based.
They have the garlic flavoured and regular butter too.
This butter spread, which is similarly prepared from coconut milk, is now only available for delivery in Mumbai. It is a nutritious dairy free butter replacement that is gluten-free as well as cholesterol-free.
Jus Amazin Seed Butter
Jus Amazin Seed Butter is a distinctive crunchy spread prepared using seeds and nuts pumpkin, organic flax seeds, watermelon, and organic sunflower seeds to name a few. Micronutrients and flavonoids are highly abundant in these superfood. This micronutrient profile is particularly very advantageous to pregnant women and nursing moms.
Because this butter is derived from so many healthful seeds, it is also incredibly nutritional, making it a must-have in your collection of plant-based butters. Jus Amazing was started by a couple after their son was diagnosed with a nut allergy and they were unable to find seed butters in they market that were healthy and tasty.
Peepal Farm - Almond Butter
The almond spread by Peepal Farm is simply wonderful with whatever flavour combo you wish to try, be it from cookies to salad dressings. It can also be an excellent replacement for anyone who is allergic to peanuts.
Peepal farm is also an animal sanctuary and proceeds from your purchase go towards animal welfare. Moreover, because there is no added sugar or salt, you may customise this spread with a range of complementary ingredients.
Urban Platter – Good Spoon Vegan Ghee
This vegan ghee by Urban Platter is fully dairy-free, palm oil-free, as well as transfat-free. It is packed with Vitamins A and D and is made using a distinctive combination of sesame and canola oils along with curcumin.
Good Spoon Vegan Ghee is simple to make, tasty to eat, and adaptable in the kitchen. It is excellent for spreading, baking, and frying. You can also use it as a spread over Chapatis, or add it to tadka, or create delectable jalebi and halwa.
You can find all of the above, and many more vegan dairy alternatives online now.
I cannot emphasize enough that the above are great options for people with lactose intolerance but should be enjoyed only from a taste perspective.
Using them regularly is not healthy. My Roti's have been without Ghee for years now, but I don't shy away from adding a little bit of vegan Ghee on my khichdi every once in a while. Enjoy them as a treat once in a while instead of making them a regular in your household.
Let's Just Talk. No Obligations.
I do free consultations every Tuesday's and Thursday's. Either way you will get some actionable tips to reach your fitness goals faster.