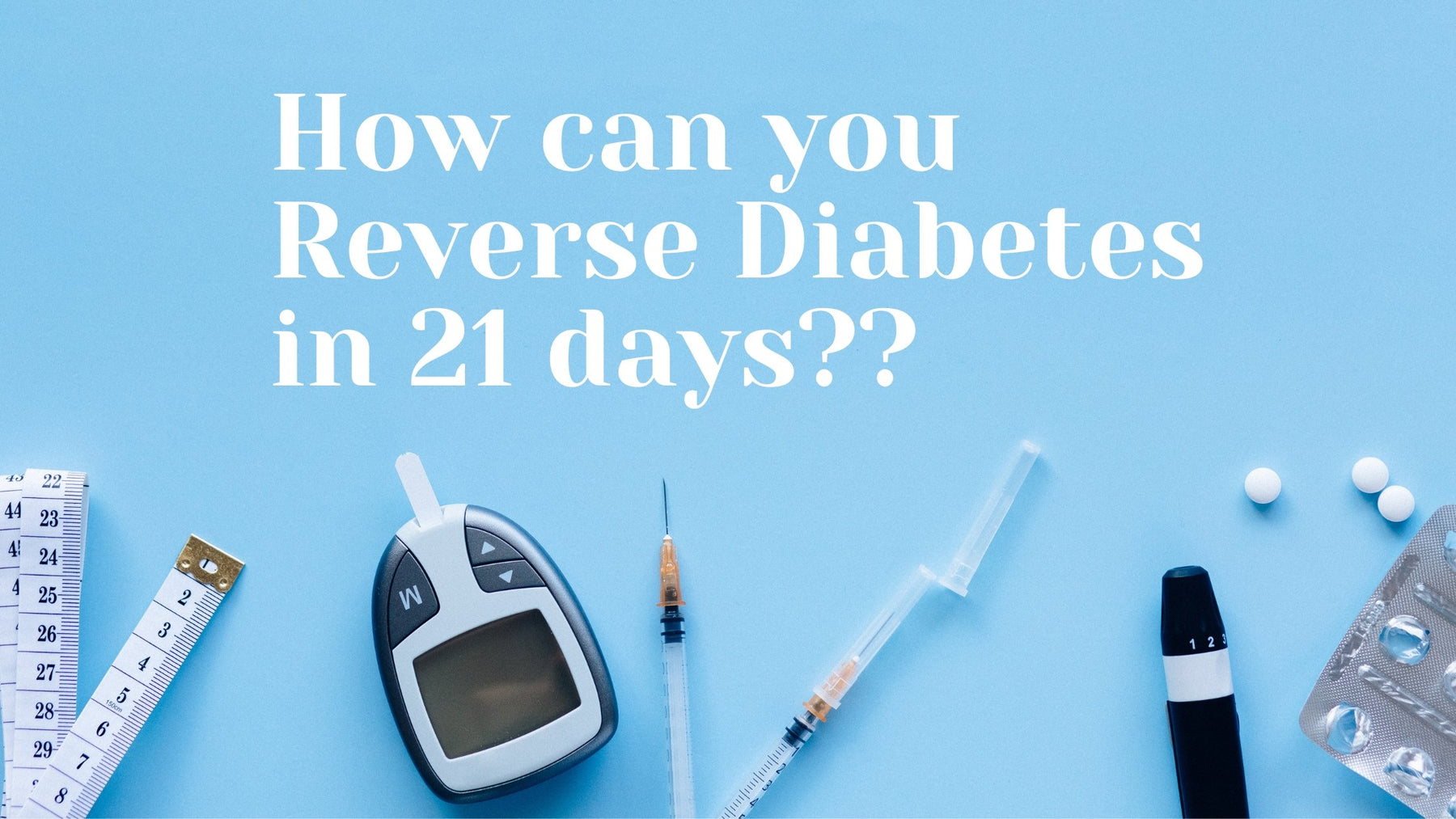 How can you reverse diabetes in 21 days?
'Is it true that diabetes is reversible on a plant-based diet?'
When it comes to diabetes, we always think of dropping carbs as being the only solution. This is not only far from the truth, but also harmful to the probiotic bacteria in our system.
What most people think is that only carbs are broken down into glucose so if we stop consuming carbs, there won't be excess free-flowing glucose. Well, that is not exactly true.
If your body doesn't get enough carbs, it starts breaking down proteins through the process of gluconeogenesis into glucose. Fats also can breakdown in a similar process to be used as energy.
Thus, limiting carbs (or sugar) intake alone is not the solution. It is like painting your brown grass green to make it 'look' healthy. You need to understand WHY the body is not storing the excess glucose as glycogen and WHY is the body resisting blood sugar (the hormone responsible for this conversion).
Read here for lifestyle changes to tackle diabetes.
Here is also a fantastic video I insist you watch:
MEAL PLAN- 25TH/ 26TH JAN.
BREAKFAST
Hummus Toast Sandwich
Ingredients:
100 grams homemade hummus (you can add 1/2 cup beet juice to the hummus for the beautiful red colour).

4 slices of whole wheat bread.

Microgreens and veggies of choice.
Cook the hummus in a big batch to eat as a snack later through the week.
LUNCH
​Black Bean Corn and Rice Skillet
Recipe Credits: Lord Byron's kitchen
Ingredients:
2 cups black beans, (drained and rinsed)

2 cloves garlic, (minced)

1 large red or green bell pepper, (finely chopped)

1/2 large red onion, (finely chopped)

½ cup finely chopped tomatoes.

2 half slit green chillies

2 cups frozen corn

2 cups brown rice, (cooked)

1 whole lime, (juiced)

1 teaspoon chili powder

1 tablespoon paprika

1 tablespoon cumin

½ teaspoon salt

¼ th teaspoon ground black pepper

½ tablespoon oil

1/4 cup finely chopped coriander

1/2 large avocado, diced (optional)

1 tablespoon Soy sauce (optional)
Instructions:
Please note: Soak the black beans in water overnight or in the morning so that the beans are soft and easy to cook.

In a large skillet, over mediumhigh heat, add the oil, green chilies, onions, tomato, and bell peppers. Saute for 5 minutes.

Add the garlic and saute for another 3 minutes.

Next, add the chili powder, paprika, cumin, salt, and black pepper. Stir into the onion and pepper mixture until well incorporated.

Next, add the cooked black beans, corn, and brown rice. Stir well to combine all ingredients.

Lower heat to medium-low and cook for 10 minutes or until the beans, corn, and rice and fully cooked.

Lastly, cut the lime in half and spritz the juice over the mixture.

You can also serve it with diced avocado or add some soy sauce to flavor your dish!
DINNER
Lentil curry (daal) with rice.
Ingredients:
60 grams mixed lentils (uncooked weight).

50 grams brown rice (uncooked weight).

1 medium tomato.

Spices of choice.
Instructions:
Heat a pressure cooker and add dry whole spices of choice. I like to add cloves, bay leaves, and cumin seeds. Once these start to pop, add 2 cups of water.

Once the water comes to a boil, chopped tomato and season to your liking.

I like to add chilly powder, turmeric, and salt.

Finally add the soaked lentils, close the lid and let it cook for 30- 35 minutes.

Garnish with cilantro and lemon if needed.
Simultaneously also cook a cup of brown rice to go along with the daal.
Let's Just Talk. No Obligations.
I do free consultations every Tuesday's and Thursday's. Either way you will get some actionable tips to reach your fitness goals faster.