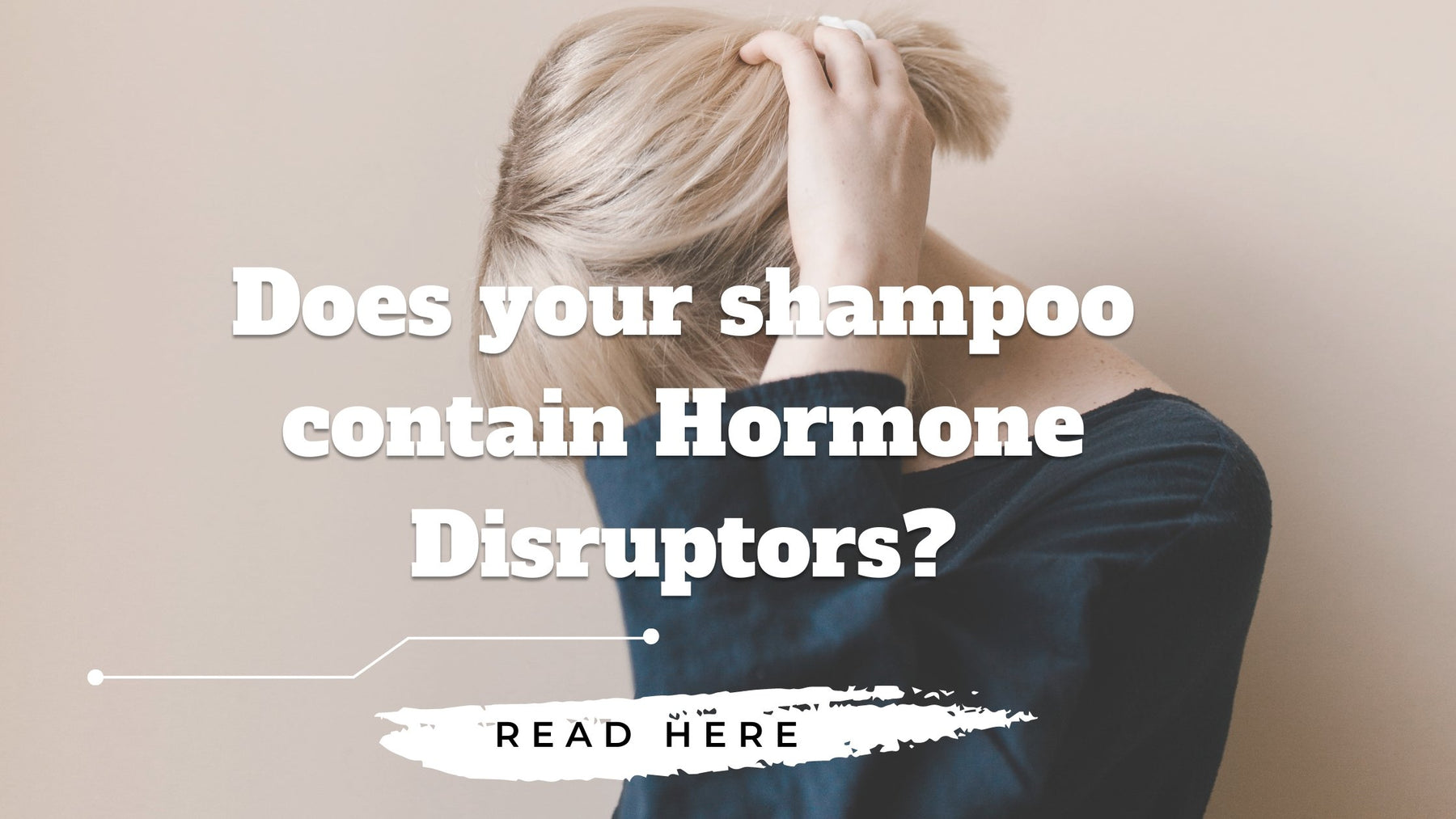 Does your shampoo contain hormone disruptors?
What chemicals are you exposed to on a daily basis?
Let's talk about hormone disruptors.
There are certain chemicals we come across in the environment that has an effect on our hormones. A decade back, we were not as exposed to environmental toxins as we are now. But now we are exposed to them more than ever.
I put up a story on my Instagram a few weeks ago talking about BPA (highly active hormone disruptor and a cause for PCOS) exposure through shopping receipts.
So every time you have sanitizer on your hands (or even sweat/ water), the chemicals from the receipt make its way into your skin.
Here is an exaggerated picture to help you understand the point:
But what are the other common hormone disruptors we might be exposing ourselves to?
Here is an overwhelming list for you.
Let's make this easy to understand. Start by picking up a skin or hair care product you use almost daily. Look at the ingredients and see if it has any of the below. Take just one product per day and in a month, you would have replaced all the hormone disruptors from your home/ office.
1. BHA and BHT
Used mainly in moisturizers and makeup as preservatives. Suspected endocrine disruptors and may cause cancer (BHA). Harmful to fish and other wildlife.
2. Coal tar dyes
P-phenylenediamine and colours listed as "CI" followed by five digits P-phenylenediamine is used in some hair dyes; other colours are used in a variety of cosmetics. Potential to cause cancer and may be contaminated with heavy metals toxic to the brain.
3. DEA, cocamide DEA and lauramide DEA
Used in some creamy and foaming products, such as moisturizers and shampoos. It can react to form nitrosamines, which may cause cancer. Harmful to fish and other wildlife.
4. Dibutyl phthalate
Used as a plasticizer in some nail care products. Suspected endocrine disruptor and reproductive toxicant. Harmful to fish and other wildlife.
5. Formaldehyde-releasing preservatives
DMDM hydantoin, diazolidinyl urea, imidazolidinyl urea, methenamine, quarternium-15, and sodium hydroxymethylglycinate. Used in a variety of cosmetics. Slowly release small amounts of formaldehyde, which causes cancer.
6. Paraben, methylparaben, butylparaben and propylparaben
Used in a variety of cosmetics as preservatives. Suspected endocrine disruptors and may interfere with male reproductive functions.
7. Perfume
Any mixture of fragrance ingredients used in a variety of cosmetics. Some fragrance ingredients can trigger allergies and asthma. Some linked to cancer and neurotoxicity. Some harmful to fish and other wildlife.
8. PEGs (e.g., PEG -60)
Used in some cosmetic cream bases. It can be contaminated with 1,4-dioxane, which may cause cancer.
9. Petrolatum
Used in some hair products for shine and as a moisture barrier in some lip balms, lipsticks, and moisturizers. A petroleum product that can be contaminated with polycyclic aromatic hydrocarbons, which may cause cancer.
10. Siloxanes: Examples; cyclopentasiloxane, cyclohexasiloxane and cyclomethicone
Used in a variety of cosmetics to soften, smooth, and moisten. Suspected endocrine disruptor and reproductive toxicant (cyclotetrasiloxane). Harmful to fish and other wildlife.
11. SodiumLaureth Sulphate
Used in some foaming cosmetics, such as shampoos, cleansers, and bubble baths. It can be contaminated with 1,4-dioxane, which may cause cancer.
12. Triclosan
Used in some antibacterial cosmetics, such as toothpaste, cleansers, and antiperspirants. Suspected endocrine disruptor and may contribute to antibiotic resistance in bacteria. Harmful to fish and other wildlife.
How does your shampoo affect hormones?
Remember the recent Johnson and Johnson controversy? It took years of law suits to get some of their products off the shelf.
One of the chemicals, used by Johnson and Johnson, that has been of concern is called parabens, which are commonly used as preservatives in personal care products such as lotions, creams, and shampoos.

Research shows that parabens may have estrogenic activity, meaning that they can mimic the hormone estrogen in the body and potentially disrupt normal hormone function.

Our hormones regular multiple functions in the body including metabolism, reproductive health and even auto- immune diseases. It is thus of utmost importance that we are careful about what we put on our skin, our biggest organ.
In our daily lives, we are usually exposed to several products, including bathing bottles from your beauty basket, that can severely impact our hormonal without us knowing it. 
Although the bath products we select are conceptually designed to cleanse our skin, that doesn't generally entail those filled-in solutions are "clean."
Endocrine disruptors have been the subject of extensive research in the products we use every day. These chemicals can disturb the body's hormones and cause conditions including cancer, thyroid issues, asthmatic, and reproductive abnormalities.
Hence, researchers are cautious about the exposure to the general public.
Here are a few ways hormone disrupters can affect your health:
Hampers children's growth
According to recent research from the University of California, Berkeley, many popular shampoos, soaps, and oral products contain endocrine-disrupting chemicals (EDCs) in heavy measurement that hamper growing children's hormones.
The study discovered that exposure to certain EDCs is causing young girls to hit puberty much ahead of usual. It also revealed that testosterone levels in boys are also dropping, which is a consequence of using impure items.
While girls typically enter adolescence at around age 11, contact with EDCs in shampoos is pulling that age down to about eight—or possibly earlier.
Phthalates, parabens, and phenols—three harmful ingredients frequently found in personal care products—are EDCs that contribute to these disorders since they mimic human hormones. Such chemicals can seep into the body when used orally or applied to the skin, maturing adolescents of both genders much earlier than normal.
Boost the chances of Autism
EDCs have also been associated with Autism—a common condition that hinders children's healthy development.
Researchers from some of the finest universities globally studied blood and urine specimens collected from 175 expected women and followed individuals for up to five years.
Researchers found a massive trace of EDCs that boosted the likelihood of autistic behavioral features in infants, starting in the womb and continuing throughout early life.
Why are people looking at shampoo without endocrine disruptors?
As mentioned earlier, using shampoos with EDCs and other harmful chemicals can lead to several ailments that you'd definitely not want to welcome. Therefore, the application of 'clean beauty' products is increasing at a skyrocketing pace and is one of the fastest-growing buzzes.
Shampoos with clean ingredients refer to products that don't contain harmful components. Sulfates, mineral oil, retinyl palmitate, parabens, phthalates, hydroquinone, coal tar, triclocarban, formaldehyde, triclosan, and formaldehyde, including all artificial perfumes are examples of these compounds.
In simple words, people these days prefer shampoos and other beauty care products narrating non-toxic, chemical-free, eco-friendly, cruelty-free, and vegan features. All these are simply to avoid being affected by the severe impact of these poisonous chemicals. 
Tips on choosing the hormone-friendly shampoo.
Currently, reducing your usage of chemical shampoos, in general, is the best approach to reduce your exposure to potentially harmful chemicals. Select natural, toxic-free shampoos, that are made with organically sourced products.
Avoid the following chemicals in your shampoo bottle — 
Phthalates and Fragrances
Phthalates are a horrible chemical group that prolongs the shelf life of fragrances at the price of your well-being. They're also carcinogens, disruptors of hormones, and respiratory pollutants. 
Fragrances themselves aren't overly sweet either. Many of the compounds found in fragrances are considered allergens, hormone disruptors, and bronchitis triggers, and they can enter the bloodstream through the skin. The classification of others includes neurotoxins or carcinogens.
Since the perfume industry monitors itself, the components in perfumes are not listed because they're classed as "trade secrets" and are exempt from mandatory safety testing. The word "fragrance,"—often the word on the label—can cover up to 100+ potentially harmful substances.
Parabens
Parabens are another toxic substances to avoid. In numerous studies, parabens, which mimic estrogen—have been closely linked to breast cancer. Tumuors and urine samples from cancer patients have proven to contain the identical parabens used in shampoos and other beauty products. 
They are often used as preservatives to increase the shelf life of products. The good news however, is that paraben free products are easy to find with some simple research and often do not cost you a lot more. 
SLES and SLS
Sodium Laureth and sodium lauryl sulfates are emulsifying and surfactant chemicals that aid in producing foam and are common ingredients in shampoos. SLES is extensively associated with organs and systems toxicity and irritation of the skin, eyes, or lungs.
The fact that 1,4 dioxane (a cancer causing agent) is frequently present in shampoos that contain SLS or SLES is a primer cause for concern. This is due to the fact that this cancerous by-product is contaminated during the production of these sulfates.
Search for shampoos that advertise being "sulphate free" and double-check the ingredient label to be sure they are not present.
Retinyl Palmitate
Retinyl palmitate, a synthetic version of palm oil, is a likely carcinogenic present in the majority of shampoos on the market.
Polyethylene Glycols (PEG)
PEG is a petroleum-based thickening additive that frequently contains byproduct contamination. There isn't enough data to say that PEGs themselves are as toxic as the components in shampoo, but some of their typical byproducts can be threatening. 
Formaldehyde
A known human carcinogen, formaldehyde has been shown to be soaked up through the skin in experiments on animals. It's frequently added by manufacturers directly to items as a preservative agent, but it can also be discharged over time by a chemical reaction from other varieties of additives.
If you're not clear on what to search for in shampoos, quaternium-15 is a common additive in shampoos. Additionally, they are present in the chemicals that hair salons use to perform Brazilian blowouts.
Save the Safer Options
A beauty regime is a healthy and unavoidable practice for humans. 
However, finding a natural shampoo option is rare due to the overwhelming count of shampoos in the market containing destructive chemicals and agents. Here is a list of few brands which we suggest you explore and are safe to use:
Top five global beauty brands that are EDC-free. 
Acala
Acala was founded in 2018 by a progressive environmentalist Hanna, whose passion was to install equilibrium between the people and the planet. The brand develops its wide range of products with 100% natural and vegan-friendly ingredients.
Their sustainable hair-care range includes shampoo bars to plastic-free hair accessories that protect your hair from toxic and harsh chemicals.
Acala also ensures that it lowers the carbon footprint for itself as well as its consumers through eco-friendly packaging and shipping.
The brand's DIY skincare line is well-suited for amateurs who are seeking to switch to a sustainable lifestyle. As a young, like-minded brand, Acala has built its communities where DIY skincare makers communicate and help each other with fun and inspirational tips. 
Wearth London
Launched in 2017, Wearth London partners with over 250 independent brands from the UK to develop contemporary and eco-friendly products for consumers who shop ethically and care to opt for a more conscious lifestyle.
Its natural, sulfate-free range of shampoos is suited for all hair types. The products are packaged with sustainable materials and are refillable, thereby allowing the consumers to not buy bottles every time they run out.
They also sell other hair care varieties like shampoo and conditioner bars, dry shampoo powders, zero waste kits, etc. Wreath London believes that smaller changes can make a big difference for the environment and teaches the same to its thriving online community. 
Rainwater botanicals
Rainwater Botanicals is a brand that started out with a commitment to provide health and well-being to its customers as well as the planet. They have a fine variety of sulfate-free shampoo and conditioner bars for your daily hair care routine; that don't require plastic bottles and have minimal water usage.
Their products are made in small batches with locally sourced and high-quality ingredients to ensure quality and freshness. The products are thoroughly tested before being sold to their consumers.
Eco Roots
Pick out your favorite flavors and ingredients from Eco Roots' extensive collection of zero-waste shampoo and conditioner bars. Their silicon, phthalate, and paraben-free shampoo bars last for around 50+ washes and can be used by both men and women.
Eco Roots promotes vegan and cruelty-free products and believes that health and beauty can be made for every person. The brand ensures that its packaging and shipping are done using recyclable and upscalable materials, basically eco-friendly from start to finish.
Etee
Ettee believes that their shampoo and conditioner bars go together like peanut butter and jelly. They have the same formulation as any other liquid shampoo and are very gentle on your hair.
Etee's sustainability mission is to make the planet plastic free and hence it offers genuine solutions through its eco-friendly packaging and products.
Top five Indian beauty brands that are EDC-free. 
Bare necessities
Founded by Saha Mansoor, Bare necessities is the vision of an entrepreneur who wanted to impart his zero-waste values to the world through his products.
The brand's curated range of hair care products includes natural and vegan ingredients that are perfectly suited for the Indian hair type.
It's 'You had me Alo' liquid shampoo includes ingredients like soapnuts, shikakai powder, aloe vera, amla, flax seed, etc, and is one of the best-selling products.
All contents are locally sourced and manufactured in India.
Raw Beauty
Prepared from natural ingredients and hair superfoods like amla, fenugreek, soapnut, hibiscus, etc, Raw Beauty's shampoos are to die for. They have three selections of shampoos each for different hair types.
The products sold by Raw Beauty are safe to use and are 100% natural. The brand which started with its founder Sunayana's tooth powder now has over 50 products that are loved and praised by its existing consumers.
It urges its audience to consume mindfully and embrace confidence without having to match conventional beauty standards. Raw beauty partners with local NGOs and farmers to source the best ingredients for its shampoos and other products.  
Juicy Chemistry
Juice Chemistry is a young progressive beauty brand that is not shy with its upfront nature. They developed each of their products by basically asking the right questions about beauty and nature and understanding the physical and chemical properties of each of the ingredients in use.
They are COSMOS certified, cruelty-free, and GMO-free and all their products are fresh, handmade, and use only organic ingredients. They have three liquid shampoos and other hair care products like dry shampoo, conditioner, hair oil, etc.
Their shampoos are extremely fragrant despite using only organic ingredients. These certified organic shampoos not only cleanse but strengthens the hair follicles, remove frizz, and give your hair the shine and bounce it deserves. All of their products are dermatologically tested for biocompatibility. 
Himalayan Origins
Fresh from the mountain of the Himalayas straight for your hair and skin, this brand borrows subtly from the givings of mother earth and develops natural products that are true and honest.
Himalayan Origins natural range of vegan shampoo bars is a crowd favorite and a must-try. They swear to use no hidden ingredients in their shampoos and nothing is harmful to the environment or contaminates groundwater. The shampoo bars are extremely nourishing for their hair and provide all the care that it requires. The brand has tried to go 99% plastic-free and sustainable with its packaging.
Time to change your brand now, perhaps!


Let's Just Talk. No Obligations.
I do free consultations every Tuesday's and Thursday's. Either way you will get some actionable tips to reach your fitness goals faster.