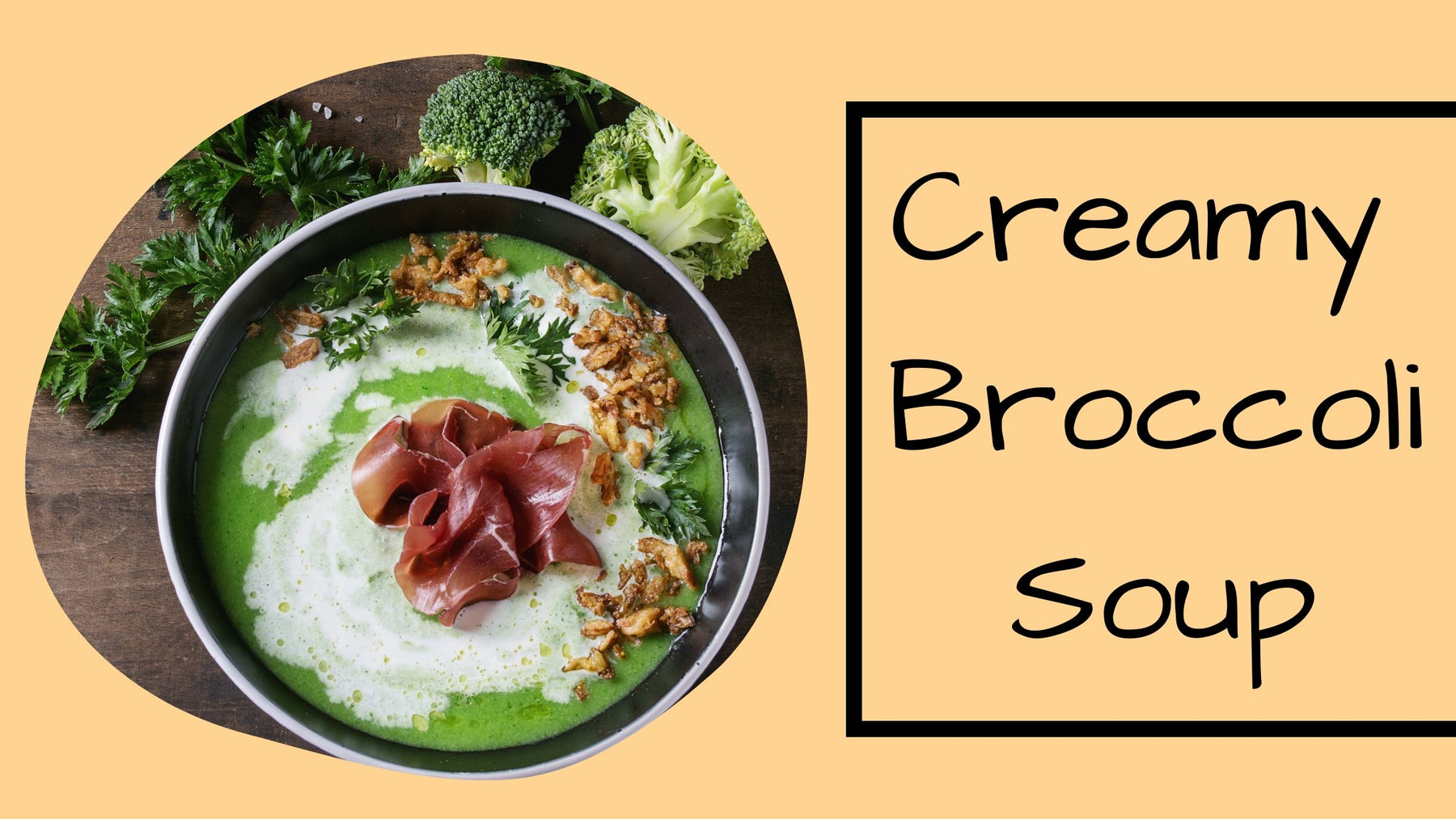 Creamy Broccoli Soup.
Cruciferous vegetable soup recipe.
As promised,
Here is a cruciferous vegetable soup recipe to try!
Vegan cream of broccoli soup
Ingredients
Soup ingredients
2 large crowns Broccoli

1 large, diced White Onion

3 cloves, minced Garlic

3 cups Organic Vegetable Broth

1 leek, diced
"Cheese" soup base
3 medium baking potatoes, cut into large chunks

3 large carrots cut into large chunks

3 cups Organic Vegetable Broth

1/4 cup Nutritional Yeast

3 Tablespoons Soy Sauce or Tamari

3 teaspoons Garlic Powder

3 teaspoons Onion Powder
Instructions
Prepare Base
Boil a large pot of water.

Add cut potatoes and carrots (skin on).

Boil for 30 minutes uncovered until soft when pierced with a fork.

Drain water (save for later) from potatoes and carrots using a colander.

Add 2 cups of vegetable broth to a high-speed blender.

Add potatoes and carrots.

Add nutritional yeast, soy sauce, garlic powder, and onion powder.

Add 1 more cup of the saved water.

Blend until smooth.

Return half of the cheese mixture to the pot you used to cook the potatoes and carrots.
Broccoli
Remove stems from broccoli.

Cut into large pieces and place in a vegetable steamer.

Steam for 8 minutes.

Remove half of the broccoli and place it on a cutting board.

Place the other half into the blender with half the cheese base.

Blend on high until smooth.

Pour into the broccoli/cheese mixture into the other cheese soup base.

Do not add the cut-up broccoli on the cutting board yet.
Onions and Garlic
Dice onions and leek

In a non-stick skillet, saute onions, leek, and garlic.

Add vegetable broth to avoid sticking.

Cook until translucent.

Add to the pot with the cheese base.

Roughly chop the broccoli on the cutting board. •

Add to the large pot.

Stir.

Cook on low, frequently stirring until heated through.

Ladle into bowls
Do let me know if you like it!
Loving you always,

Roshni Sanghvi.
Let's Just Talk. No Obligations.
I do free consultations every Tuesday's and Thursday's. Either way you will get some actionable tips to reach your fitness goals faster.